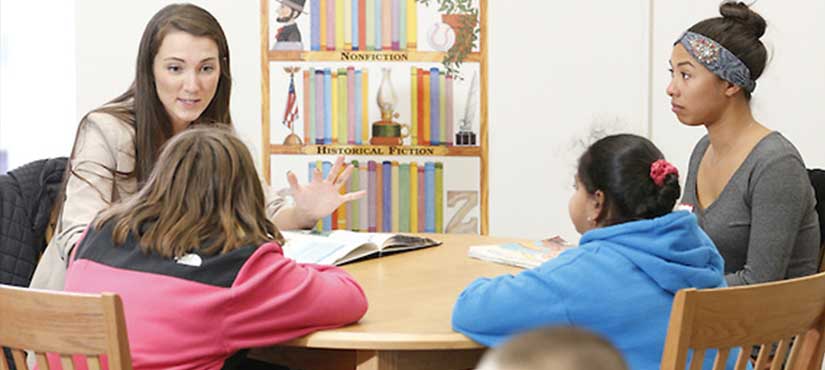 Master of Science in Teaching (M.S.T.) Special Education: Childhood (Grades 1-6)
This program provides an opportunity for individuals with Bachelor's degrees outside of Education to earn teacher certification in Special Education. The program leads to initial certification in Childhood Special Education. Graduates of this program will become eligible for professional certification in Childhood Special Education after they complete three years of teaching special education.
Springbrook Partnership:
Through this partnership, teaching assistants working in Springbrook's new school for children with autism have the opportunity to earn a master's degree in Special Education at SUNY Oneonta, tuition-free. Many of the classes are taught on-site by faculty from the college's nationally accredited Division of Education and Springbrook will pay for employee tuition each semester. For more information about the partnership program between SUNY Oneonta and Springbrook, please contact the Office of Graduate Studies at 607-436-2523 or visit the Springbrook Website.
Degree Requirements:
SPED 507 Foundations & Research
SPED 508 Methods of Teaching Content: Math, SS, Science, LA
SPED 510 Intro to Special Education
SPED 511 Instructional Design
SPED 512 Applied Behavior Analysis
SPED 513 Teaching Learners with Severe Needs
SPED 514 Teaching Math/Written Language
SPED 515 Assessment for Special Needs
SPED 516 Reading for Exceptional Students
SPED 517 Assistive Technology
SPED 518 Communication and Collaboration
SPED 519 Teaching Young Learners With Special Needs
SPED 521 Education Law Requirements
EPSY 530 Life Span and Human Development
EPSY 531 Advanced Educational Psychology
EDUC 577 Diversity and Education
EDUC 584 Language Acquisition and Emergent Literacy
SPED 600 C Student Teaching
SPED 600 D Student Teaching
Program Total: 61 s.h.
Minimum GPA of 3.0
Admission Requirements:

Students applying for admission to the M.S.T. Special Education Program must:
Submit a completed graduate degree application with a non-refundable $50 fee. Application Fee of $50 waived for SUNY Oneonta Alumni.
Provide evidence of completion of a bachelor's degree in a functionally related area by submitting all official undergraduate transcripts.
Have achieved a minimum undergraduate GPA of 3.0.
Have a minimum of six semester hours in each of the following subject areas (total 24 semester hours): Math, English, Social Studies and Science.
Have coursework in technology, artistic expression, communication, information retrieval, humanities, written analysis and expression, a language other than English, concepts in history and the social sciences, scientific and mathematical processes.
Submit GRE scores (a minimum score has not been established - the three specific GRE sub-scores: verbal, quantitative and writing, are used to determine candidates qualifications)
Provide evidence through undergraduate transcripts of a content core in a major, concentration or equivalent with a minimum of 30 semester hours in a single school subject: Science, Math, History or English.
Provide three letters of recommendation (may be submitted online as part of the online application)
Complete a clinical interview
Fall admission only