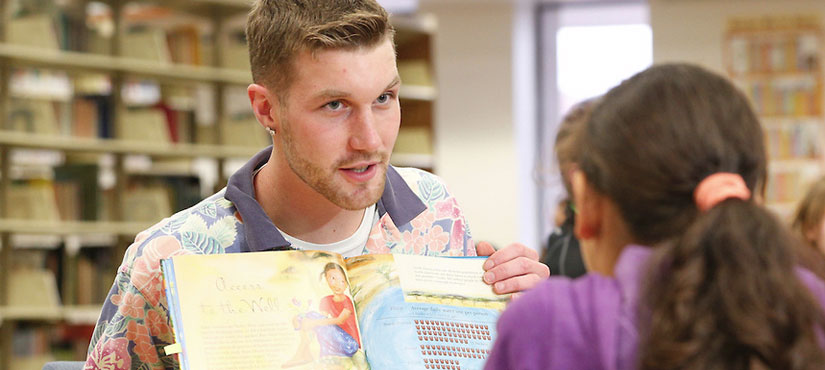 Graduates of this program have met the educational requirements to receive professional teaching certification in New York State. The Graduate Literacy Education Programs build upon initial skills and knowledge and further develop educational professional coaches and leaders who are committed to academic and professional excellence, the best research-based teaching practices, and empowerment, respecting diversity and social justice.
If you have a Master's in Education and you're interested in getting certified in Literacy Education, you may do so by taking only a few graduate courses. Contact the Elementary Education program at 607-436-3176 for details. SUNY Oneonta cannot advise on the requirements of the pathway and/or the applicability of particular courses to particular requirements, but instead certificate applicants need to contact NYSED (or the certification officer of their local BOCES) to inquire.
Admission Criteria
All students applying for admission to degree status are required to:
Submit a completed application and the non-refundable fee (fee waived for SUNY Oneonta alumni)
Submit a copy of New York State initial teaching certification in a functionally relevant area*
Provide evidence of completion of a bachelor's degree in a functionally related area
Have achieved an undergraduate GPA of 3.0 overall
Have earned at least 3 credits of developmental psychology, child or adolescent development
Have earned at least 6 credits in reading or the teaching of reading
Submit an essay outlining your specific academic areas of interest and your career goals, including what you anticipate doing in the next ten-year period
Submit GRE scores. The department will also accept the following exams in lieu of GRE: edTPA, GMAT, Miller's Analogies or Praxis Core Academic Skills for Educators.
* Teaching certificates from other states are considered and can be forthcoming.
Please note: Applicants for fall and spring admission to the Literacy B-6 program are limited to choosing part-time study only. For summer admission, you have the choice of full- or part-time study.
Application Deadlines
Summer 2018 Admission: March 15
Fall 2018 Admission: June 25
Applications submitted after the deadline will be considered if there is space in the incoming class.
Literacy Clinics
For important information about how online literacy clinic courses are conducted, please contact our literacy program coordinator, Dr. Gwen Frank, at Gwen.Frank@oneonta.edu.
After acceptance into our literacy program, it is the student's responsibility to contact their advisor to determine which courses to take and to find out how online literacy clinics are taken in this program. In online literacy clinic courses, students tutor children in educational institutions and videotape some interactions. There are specific requirements pertaining to this tutoring and technologies.