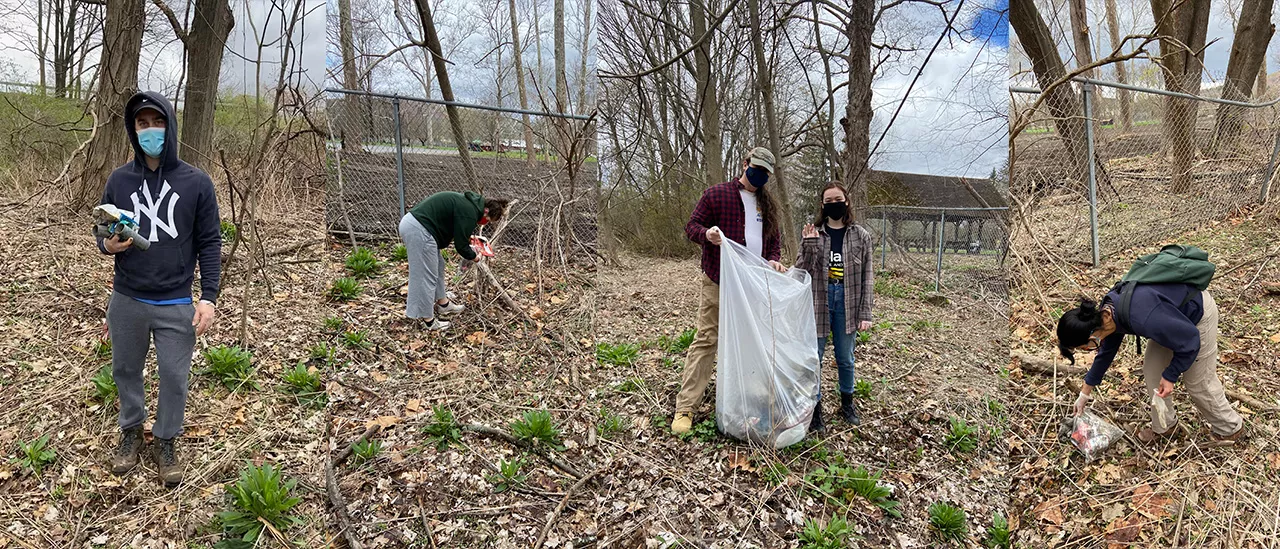 As spring flowers and trees begin to bloom at SUNY Oneonta, the college's annual Green Dragon Week, which features events and initiatives celebrating Earth Day and supporting the college's core value of sustainability, is in full swing.
We Speak for the Trees
Green Dragon Week has special meaning this year, with the recent news that SUNY Oneonta has earned 2020 Tree Campus Higher Education recognition from the Arbor Day Foundation for promoting healthy trees and engaging students and staff in the spirit of conservation. The college received similar honors in 2018 and 2016.
To obtain the distinction, a campus must meet five core standards for sustainable campus forestry required by Tree Campus Higher Education, including "establishment of a tree advisory committee, evidence of a campus tree care plan, dedicated annual expenditures for your campus tree program and the sponsorship of student service-learning projects."
SUNY Oneonta Sustainability Coordinator Rachel Kornhauser said Green Dragon Week is the perfect time to announce this honor.
"It seems fitting that we are receiving this news now, as we're hosting these events on the importance of sustainability and celebrating Earth Day and, soon, Arbor Day," she said. "It's especially meaningful for the students and staff who have played a huge part in obtaining this certification and prioritizing sustainability initiatives on campus. From the President's Advisory Council on Sustainability to the Environmental Science Club and Botany Club to The Campus Tree Committee, this is an honor for everyone involved."
Kornhauser said the Environmental Science clubs regularly take part in service-learning projects and tree plantings within Otsego and Delaware counties. On campus, they have created maps and pamphlets identifying different tree species and notable trees and then led tree tours. Students also serve on campus tree advisory committees to plan for tree care and maintenance.
Two Weeks of Sustainability Events
Come One, Come All, Clean Up!,
Now in its eleventh year, SUNY Oneonta's Green Dragon Week showcases the campus' commitment to sustainability through events and activities. This year, it has been extended to two weeks and features both virtual and in-person activities and asynchronous challenges and contests for students and the rest of the campus community, from documentary screenings to faculty presentations to "Plastic-Free Bingo."
Last weekend's main event, called "Come One, Come All, Clean Up!," encouraged students to pick up litter wherever they were, take a photo and use the hashtag #greendragonweek. In Oneonta, eight students teamed up and went to downtown Oneonta to clean up litter at Neahwa Park, collecting four trash bags full of garbage.
Green Alumni Share Experiences
The week will culminate in a virtual "Green Careers Panel" networking event Thursday, where students will have the opportunity to hear from five recent Oneonta graduates who are pursuing or have begun careers or graduate programs related to sustainability.
Kaylee Basil, a senior Environmental Sustainability major and president of the Environmental Sciences Honor Society, will be facilitating the event. Basil said Green Dragon Week offers a "great opportunity for students to promote sustainability throughout the campus community," and this final event should provide guidance and reassurance to students who want to go into a sustainability field.
Alumni who will present include Kyle Dudgeon, who graduated in 2019 with a degree in Environmental Sustainability and now works as a wildlife photographer. Dudgeon said he's happy to help provide insight to current students who may be unsure of the future because he was once in the same boat.
"In the environmental and earth sciences, we are all on the same team, working toward a goal of saving the planet," Dudgeon said. "By talking with students about what worked for me to get where I am today, I would hope to inspire them to follow the path they've laid out and make their goals a reality."