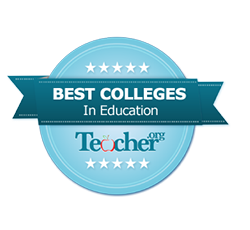 SUNY Oneonta has the No. 2 Elementary Education program in the United States, according to a new ranking of more than 780 qualifying colleges by Teacher.org.
SUNY Oneonta students interested in teaching at the early childhood, preschool or elementary school level can choose between two nationally accredited programs: Childhood Education (Grades 1-6) or Early Childhood/Childhood Education (Birth through Grade 6).
Our education class sizes typically range from 20 to 30 and allow for plenty of classroom interaction, individual attention and faculty support. A strength of the program is the "block" semester, when students enroll as cohort groups of 20 to 25 in a block of five methods courses. The purpose of these block semesters is to promote a collegial and supportive environment as students develop and practice their teaching strategies. We have very strong partnerships with area school districts, and the block semester culminates in a three-week, full-time teaching assistant experience in local classrooms.
A new Teacher Residency Program offers an immersive experience for about a dozen specially selected teaching candidates each year. Through the program, which was developed in partnership with Oneonta's Riverside Elementary School and is now in its second year, student teachers spend two semesters working four days a week in Riverside classrooms, with one day of classes on campus.  By spending so much time in one school, the students gain rich hands-on experience and have the opportunity to build relationships with both their teacher-mentors and the elementary school children.
The final semester consists of two student teaching placements, which may be done in various districts throughout New York state.