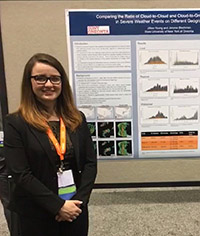 SUNY Oneonta meteorology majors Matt Beitscher and Jillian Young attended the 97th American Meteorological Society (AMS) Annual Meeting in Seattle from Jan. 22–26, 2017. More than 4,400 scientists, educators, students and other professionals from across the weather, water and climate community came together to share, learn and collaborate.
Young, a senior from Sidney, NY, presented original scientific research conducted as an independent study under the guidance of Jerome Blechman, professor and chair of the Earth & Atmospheric Science Department.
Titled "Comparing the Ratio of Cloud-to-Cloud and Cloud-to-Ground Lightning Strokes in Severe Weather Events on Different Geographic Scales," Young's poster presentation provided preliminary data from an ongoing research project on lightning in severe thunderstorms. Young examined radar and lightning data from three severe weather outbreaks in Oklahoma and Arkansas to test her hypothesis that there is a relationship between the ratio of cloud-to-cloud and cloud-to-ground lightning strokes on three different geographic scales.
"Getting to present my research was an incredible opportunity," said Young. "I was not only presenting to fellow students who have the same interests as me; I also presented to professionals in the field. To get their feedback and hear that they enjoyed my research really meant a lot."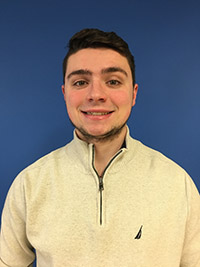 At the conference, Young and Beitscher were recognized for being selected to receive one of 22 highly competitive scholarships awarded by the AMS in 2016 to outstanding undergraduate students across the country. Beitscher received the $2,500 Guillermo Salazar Rodriguez Undergraduate Scholarship, and Young received the $2,000 Om and Saraswati (Sara) Bahethi Scholarship.
Three SUNY Oneonta meteorology alumni – all of whom are now graduate students at other universities – also attended the conference.
Beitscher  received grants from SUNY Oneonta's Caroline '67 and David D'Antonio Undergraduate Student Travel for Excellence Fund and the college's Student Travel Excellence Program to help defray travel expenses.
"I've been to a local and a regional conference in the past, but this was my first time attending a national meeting," Beitscher said, "The entire experience was surreal. I got to shake hands with the heads of the National Centers for Environmental Prediction and the National Oceanic and Atmospheric Administration, something I had never envisioned for myself. I also got the opportunity to network with professionals and fellow students. All in all, it was an invaluable week of my college career that I wouldn't trade for anything in the world."
A senior majoring in meteorology with minors in mathematics and water resources, Young plans to pursue a master's degree with a focus on hydrology after graduation in May 2017.
Beitscher is a senior meteorology major from White Plains, NY, who transferred to SUNY Oneonta from Westchester Community College.  After graduation in December 2017, he hopes to pursue a career at a private company forecasting risk management, or forecasting for the Federal Aviation Administration or National Weather Service.