Stay tuned for upcoming Fall 2021 OGE events and activities!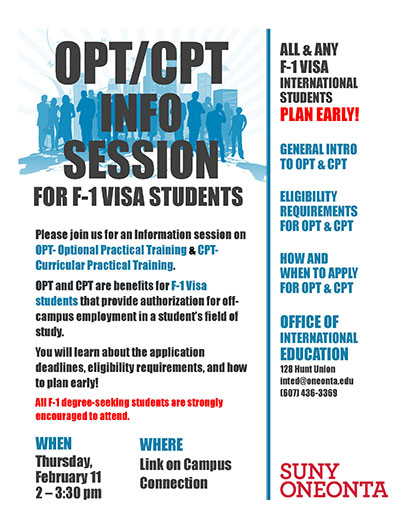 OPT/CPT Info Session for International Students
Are you interested in gaining approved work experience off-campus, either for an internship or after graduation? Then join us for an Optional Practical Training (OPT) & Curricular Practical Training (CPT) info session to learn more about how and when you can participate in OPT or CPT!
February 11, 2021, 2:00-3:30pm - View Recorded Session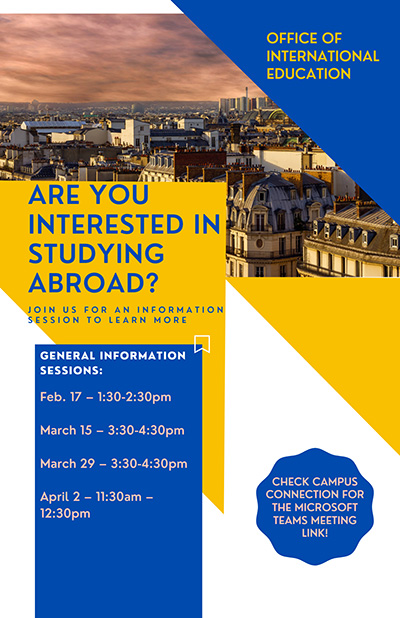 General Study Abroad Info Sessions
Are you interested in studying abroad? Are you curious about what international education options you have open to you? Then join us for a study abroad info session to learn more about how, when, and where you can study abroad!
February 17, 2021, 1:30-2:30pm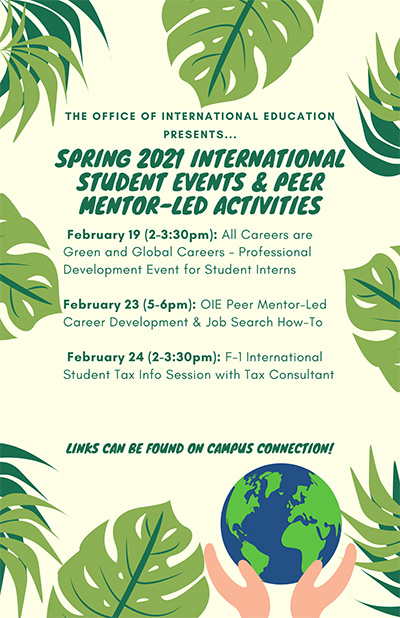 All Careers are Green and Global Careers - Professional Development Event for Student Interns
A free professional development opportunity for student interns and employees on campus to learn about how they can connect sustainability and global education with their internships and future careers and identify skills related to these two areas that can translate to any position.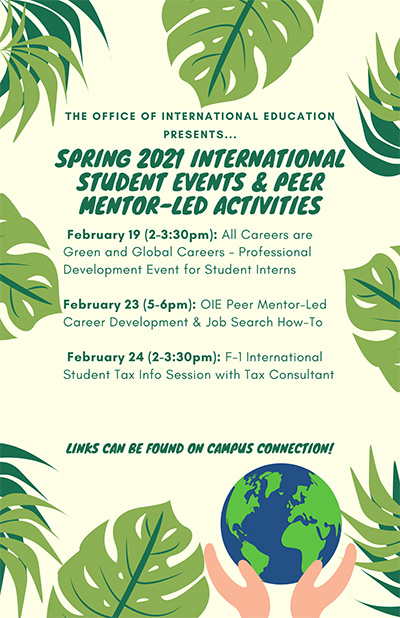 OGE Peer Mentor-Led Career Development & Job Search How-To
Are you interested in working on campus? Join Alyssa Carbone, OGE International Student Peer Mentor, and the Career Development Center to learn job search tips and how you can receive a job on-campus.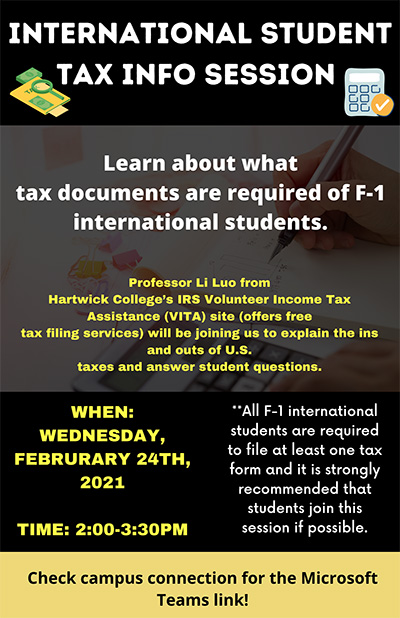 International Student Tax Info Session
Learn about what tax documents are required of F-1 international students. Professor Li Luo from Hartwick College's IRS Volunteer Income Tax Assistance (VITA) site (offers free tax filing services) will be joining us to explain the ins and outs of U.S. taxes and answer student questions.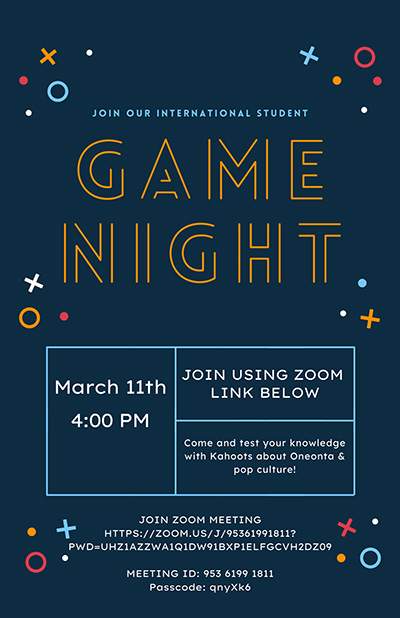 Virtual Game Night with International Students
Join us for an International Student Game Night. ALL are welcome to join and meet some of our international students! We will be getting to know each other through fun Kahoot activities on Oneonta fun facts and pop culture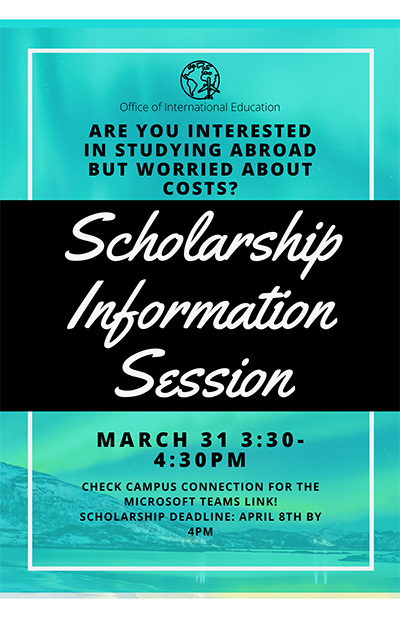 Study Abroad Scholarships Information Session
Are you interested in studying abroad?  Are you worried that cost might be a prohibiting factor for you?  Then join us for a study abroad scholarships info session to learn more about the financial options that can help you pursue your international education!
The deadline for study abroad scholarships through SUNY Oneonta for Fall 2021 programs is Thursday, April 8, 2021 at 4pm.  Students can find the scholarship application on the OGE website under Funding Study Abroad.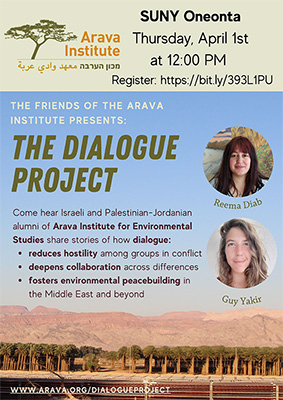 The Arava Dialogue Project: Peacebuilding & Environmental Sustainability
Join Israeli and Palestinian-Jordanian alumni of the Arava Institute for Environmental Studies (international partner of SUNY Oneonta) as they share stories of how dialogue reduces hostility among groups in conflict, deepens collaboration across differences, and fosters environmental peace building in the Middle East and beyond. This event is co-hosted by the Office of Sustainability and interested students will receive LEAD credit for their participation.
Please register ahead of time at the following link to attend and receive the event link: https://bit.ly/393L1PU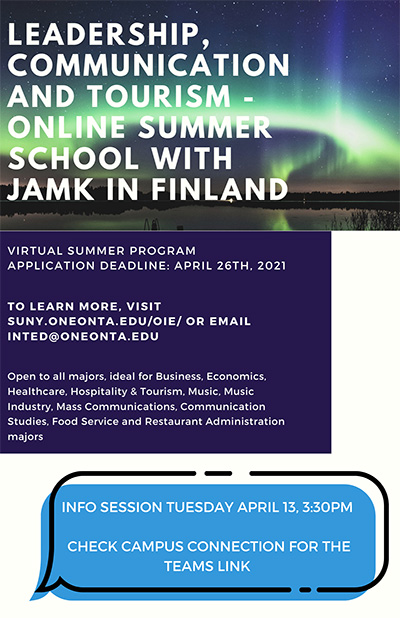 Online Summer School with JAMK in Finland Info Session
Are you interested in gaining international education experience this summer? Join the Office of Global Education for an info session about Jyväskylä University of Applied Sciences's virtual summer program: 'Leadership, Communication and Tourism'. Open to all majors, ideal for Business, Economics, Healthcare, Hospitality & Tourism, Music, Music Industry, Mass Communications, Communication Studies, Food Service and Restaurant Administration majors.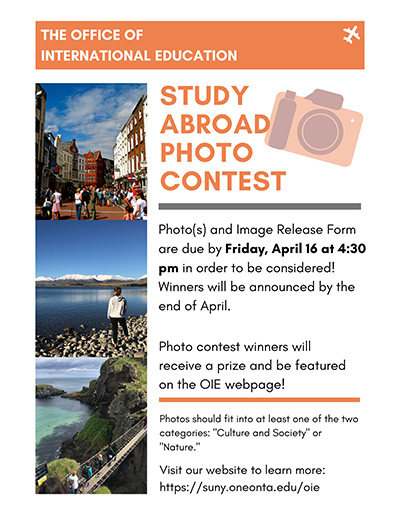 2021 Study Abroad Photo Contest
We miss traveling, and we know you do too! The Office of Global Education is excited to resume study abroad programs as soon as it is safe to do so. In the meantime, we want to see your favorite study abroad photos for inspiration for future travels! We are inviting students who studied abroad in the past 3 years to submit photos for consideration for a chance to win a prize and be featured on the OGE website!
For more information see the OGE Photo Contest Website.
Photo Contest Deadline: April 16, 2021, 4:30pm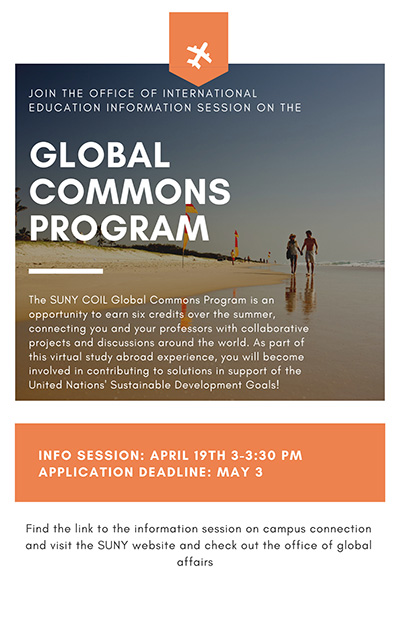 SUNY COIL Global Commons Program Info Session
The SUNY COIL Global Commons Program is an opportunity to earn six credits over the summer, connecting you and your professors with collaborative projects and discussions around the world. As part of this virtual study abroad experience, you will become involved in contributing to solutions in support of the United Nations' Sustainable Development Goals! The program application deadline is May 3rd, so attend this helpful info session to learn more about this exciting opportunity!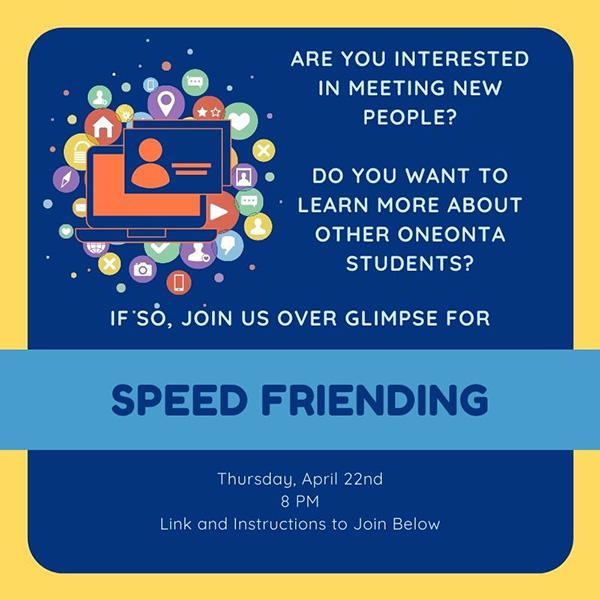 Speed Friending!
Are you bored and looking to make new friends? Do you want to meet new people from all across our campus community? If so, come and join RA Alyssa's Speed Friending Event! We will be using a video call platform known as Glimpse. See the instructions for further details on how to join.
Use the following link to join the event using Glimpse: https://app.joinglimpse.com/room?key=7C9F445 You can join the event using the link and event key as a guest (you do not need to make a Glimpse account). Just be sure to put your name and a fun fact about yourself in your profile. Then, you will be randomly matched with others who have joined the event for 4-minute intervals with icebreaker questions to get to know each other better. If you have any questions at all during the event or encounter any technical difficulties, just email carba72@oneonta.edu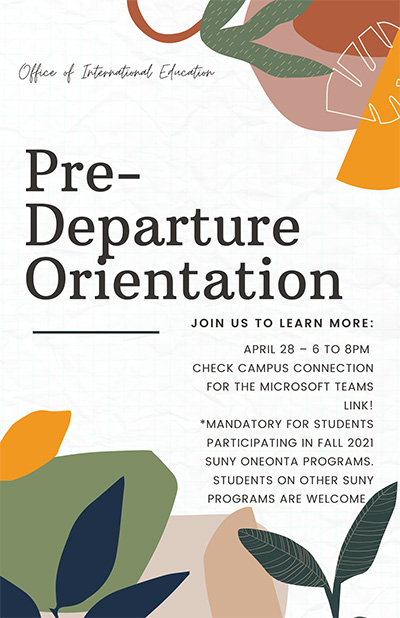 Pre-Departure Orientation
Are you studying abroad in fall 2021? Then join us for this mandatory pre-departure orientation so that we can set you up for success abroad.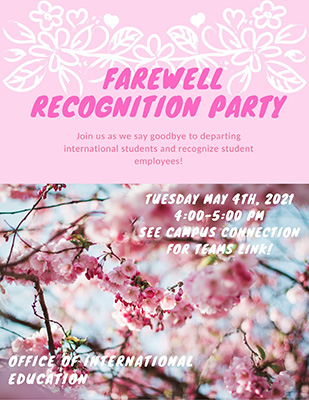 Farewell and Recognition Party
Join the Office of Global Education in celebrating the end of the year, our graduating students and student employees, and say good-bye (for now) to friends and fellow classmates!