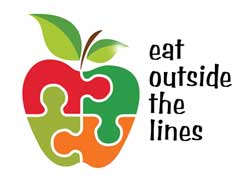 The Eat Outside the Lines initiative is a joint effort between the Office of Health Education, the Dietetics Major and Residence Life and OAS. Senior Dietetics majors can apply to intern in the Office of Health Education to design and implement nutrition outreach on campus.
The primary areas of focus are on students transitioning to life on campus in the Freshmen and Transfer Student Experience Residence Halls and in campus Dining Halls.
What We Do
Meet up with an Eat Outside the Lines Nutrition Advisor for:
Nutrition Advice:
Have questions about whether your choices are healthy? Are you not sure where to even start? Have a complicated relationship with vegetables? The Nutrition Advisement team is here to help!
Current Times and Locations (updated 10.4.2016)
Golding Hall (ATM office) Tuesday 4-6pm; Wednesday 4-6pm;
Hays Hall (location TBD) Monday afternoons
Hulbert Hall (ATM office) details coming soon
Littell Hall (ATM office) Monday 3:30-5:30 pm; Tuesday 5-7pm
Tobey Hall (ATM office) Wednesday 4-8pm
Wilber Hall (ATM office) Wednesday 4-8pm
Educational Programs:
November 2, 2016 7pm (location TBD) learn about the EOTL Team's top tips for eating healthy on campus
Follow Our Ideas for a Healthy Plate on Social Media:
Interested in Joining the EOTL team?
Email your Health Educator: Rebecca Harrington