From Sri Lanka to Oneonta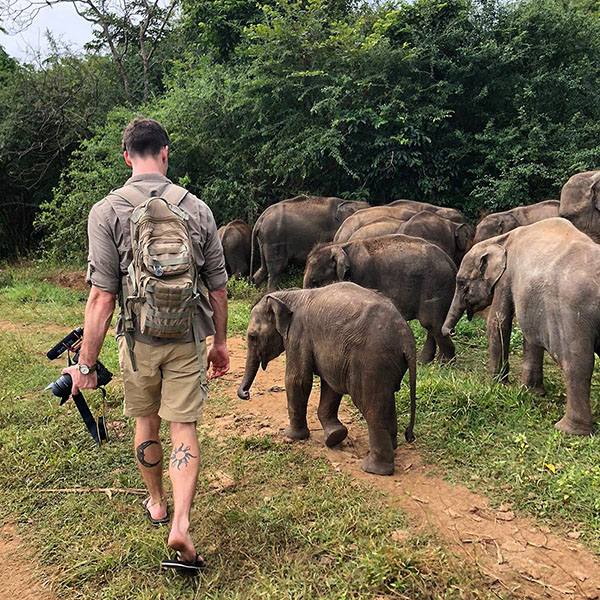 Garrett Camasi wasn't able to make it to his freshman orientation at SUNY Oneonta, but he had a very good excuse: He was photographing Asian elephants at a Sri Lankan orphanage with nonprofit Veterinarians International.
"It was amazing," Garrett described. "Playing and bonding with baby elephants and taking their photos. Seeing how intelligent and caring and intuitive they are. Learning about the danger they're in. Eating Sri Lankan food and experiencing that culture and meeting new people – it was life-changing."
At 27, Garrett is far from the typical college freshman. In fact, he already has a budding career as an amateur wildlife photographer and conservationist, having worked closely with lions, tigers, elephants, giraffes, kangaroos, a variety of birds and many other wild animals in various countries.
Garrett works closely with Veterinarians International, donating his time to help with photography, videography and social media. He traveled to Sri Lanka to document the setup of the organization's Asian Elephant Program, which provides veterinary training, equipment and expertise to the Elephant Transit Home (ETH), part of the Department of Wildlife Conservation. The ETH cares for orphaned elephant calves who are victims of human-elephant conflict, which includes snare or ditch entrapment and abandonment. The ETH is Asia's first and only orphanage that successfully rehabilitates elephant calves to the wild.
Tiger King
Garrett's story began back at his home on Long Island, where, after earning an associate's degree from a nearby community college, he worked at several different veterinary hospitals as a technician. This eventually led him to apply for an internship at a big cat rescue/preserve in North Carolina.
"That's where I fell in love with working with large carnivores, especially cats," he said. "The illegal trade of big cats is a multi-billion dollar industry in the U.S. alone, but not too many people know about it. After working with rescued tigers, I am deeply passionate about this issue. … My favorite animal is the leopard."
When the internship ended, and with a growing interest in cats, Garrett attended a lecture presented by The Explorers Club, an international multidisciplinary professional society based in New York City that's dedicated to the advancement of field research and serves as a meeting point and unifying force for explorers and scientists worldwide. At the lecture, which was on human-lion conflicts in Tsavo, Kenya, Garrett met several safari guides who recommended that he travel to Africa to experience it for himself. So he did.
"I went by myself to South Africa for a 60-day course to become a certified safari guide and to do some research," he explained. While there, Garrett helped rehabilitate cheetahs and re-release them into the wild and assisted in de-horning a white rhinoceros, which is done to deter poachers from killing them. After returning to the United States, he was offered a full-time job working at the big cat preserve in North Carolina, where he worked for a year.
Realizing a Dream
With all of these experiences under his belt, Garrett returned to Long Island and started working at a new veterinarian's hospital. It was at this hospital that he met Dr. Scarlett Magda, founder of Veterinarians International. After sharing stories with Dr. Magda, Garrett showed her his wildlife photography, and she enlisted him to help out with Vets International's social media, photography and videography.
Since then, Garrett has zeroed in on his dream – to travel, capture wildlife footage and produce documentaries for National Geographic, the Smithsonian or BBC. He is majoring in biology in order to learn more about the science of animals and conservation.
"Photography is a powerful tool in spreading wildlife awareness and also showing the negative impact humans have on our ecosystems," he explained. "I want to travel and be that guy, like on `Planet Earth,` who gets to climb around right next to the sloth and be front-and-center and taking photos and video."
Until then, Garrett is focusing on his classes and on sharing his wildlife photography on his personal Instagram account, @CreatureCatalog, where he has almost 5,000 followers. He hopes to travel to the Galapagos Islands next January, and would love to go back to Sri Lanka someday.
A highlight of Garrett's journey has been getting to meet one of his idols, Steve Winter, a wildlife and conservation photojournalist with National Geographic who has gone undercover exposing the tiger trade.
"The main thing I've learned so far is that, no matter what you're doing, you have to pretty much accept every opportunity that comes your way," Garrett said, "because you never know what other opportunities it could lead to."
---