Due to unforeseen circumstances, Chancellor Johnson is unavailable to deliver the Keynote Address. We are grateful to Dr. Grace Wang for stepping in to address SURC presenters and guests via video conference.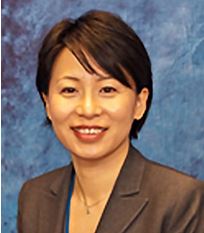 Dr. Grace Wang was appointed Interim Provost by the State University of New York (SUNY) Board of Trustees in September 2017. As Interim Provost, Dr. Wang supports the Chancellor and Board of Trustees to foster academic excellence across the System and ensure that SUNY education is accessible and of the highest quality. Dr. Wang drives academic programs and policies; supports the University's deep commitment to diversity, equity, and inclusion; leads strategic enrollment across SUNY campuses; guides the enrichment of the educational experience; enables pathways for student success and completion, and leads the identification and implementation of best practices at scale.
Dr. Wang has also served as Vice Chancellor for Research and Economic Development since January 2017. In this role, Dr. Wang plays a lead role in designing, directing, and expanding the footprint of SUNY's research, graduate education, industry relations, and economic development activities. She supports the SUNY Chancellor in advancing SUNY's overall strategy and mission, and serves as a liaison to the SUNY Board of Trustees in the areas of research and economic development. She is committed to supporting SUNY research faculty, and coordinates the SUNY Research Council and Vice Presidents for Research Council. She works with the Research Foundation for SUNY, providing the research vision and strategic directions the organization will work to operationally support.
Prior to SUNY, Dr. Wang served as Acting Assistant Director for Engineering at the National Science Foundation (NSF). In this role, she led the Engineering Directorate at NSF, managing a funding portfolio of over $900 million dedicated to investments in frontier engineering research, supporting engineering education, and fostering innovation and technology commercialization. She previously served as NSF's Deputy Assistant Director for Engineering, overseeing the operation of the Directorate for Engineering and helping to identify and implement research, innovation, and education priorities. Previously at NSF, Dr. Wang was the Division Director of Industrial Innovation and Partnerships (IIP) division. She joined NSF in June 2009 as a Program Director for the SBIR/STTR Program, focusing on investing in small businesses in the areas of nanotechnology, advanced materials, and manufacturing.
Dr. Wang began her career at IBM/Hitachi Global Storage Technologies, focusing on research and development of magnetic thin film and carbon overcoat for data storage. She holds seven U.S. patents.
Dr. Wang received her Ph.D. in Materials Science and Engineering from Northwestern University.