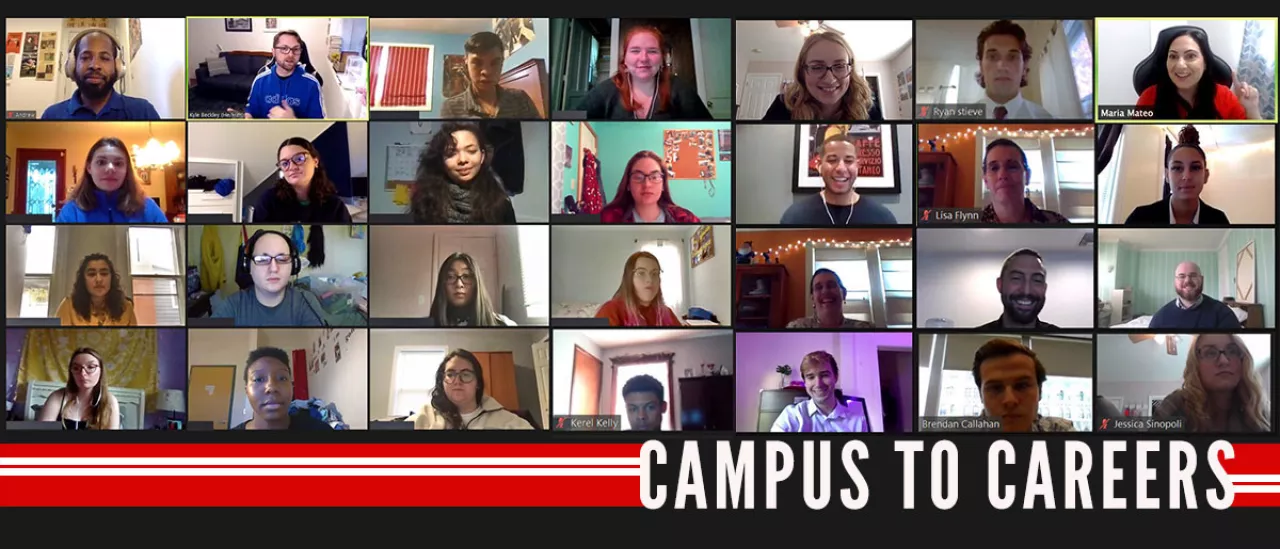 This February, more than 40 SUNY Oneonta students had the opportunity to connect with well-established alumni in their chosen fields of study despite being in the midst of a pandemic, thanks to the Alumni Association's virtual adaptation of annual networking programs.
These "Campus to Careers" virtual sessions were an extension of more than 22 networking events held during the fall semester. There have been eight sessions held so far this semester, and 18 more are planned, with more than 30 alumni scheduled to participate.
Student liaison and participant Casey McShea, a Media Studies major, said Campus to Careers sessions offer the perfect opportunity for students to meet alumni and ask them about their real-world, after-Oneonta experiences.
"Some students know exactly what they want to do when they graduate, and others are still exploring," McShea said. "These programs allow students to get an idea of the opportunities and fields they can pursue once they graduate."
Making the Move Online
Each year, the Alumni Association works with academic departments across campus to bring students and alumni together through employer site visits and in-person networking events. Students meet with alumni in finance, accounting, law, entertainment, theatre, education, mass communication, and a number of other career fields at their places of business in New York City or Washington, D.C.
Unable to meet in person this year because of COVID-19, the five Campus to Careers programs took a digital form. Backpacks to Briefcases (School of Economics and Business), Mixing Board to Management (Music Industry), Academics to Agencies (Communication and Media Studies), Goodrich to Broadway (Theatre) and Campus to Capital (Political Science) were conducted virtually through Zoom.
Students met with alumni in various career fields to hear about their experiences, positions, career paths and industries. They were given advice and were able to ask questions about the journey from student to top executive.
"It's a privilege to hear the stories and advice from alumni about how to handle the professional world drawn from their years of experience," said Jessica Sinopoli '20, student representative on the Alumni Association Board of Directors and member of the Oneonta Future Alumni Network. "I can say confidently that they have helped better prepare me and many other students for what lies ahead once we graduate."
"Inspiring and Reassuring"
SUNY Oneonta's Campus to Careers programs are designed to inspire students to jumpstart their careers by beginning to build their professional networks. They are funded by the Oneonta Student Association and the SUNY Oneonta Alumni Association through charitable gifts to the Fund for Oneonta.
Participating alumni included:
Peter Butchen '84, vice president of pricing and inventory for the National Football League;
Rich Saperstein '81, founder and chief investment officer at Treasury Partners;
Remi Farnan '15, assistant project manager for Sciame Construction;
Tom Glennon '09, director of Project Management at Live Nation Entertainment;
Jill Reda '14, manager of synch licensing at BMG;
Alice Maggiore '10, director of Communications for the Downtown Committee of Syracuse;
Hal Luftig '79, award-winning theater producer;
Ryan Quinn '13, singer/songwriter and a contestant on Season 10 of NBC's The Voice; and many more.
Maggie McCann, president of the college's political science club and student liaison for Campus to Capital, said her eyes were opened during a session with Class of 2005 alumnus Michael Yannucci, who spoke with students about the twists and turns his career took from college to his current position as a principal in the Massapequa School District. He also talked about formative experiences at SUNY Oneonta, including attending the National Model UN conference with Professor Robert Compton and completing an internship with the NYS Department of Education, supervised by Associate Professor Richard Barberio.
"Getting to learn about the post-undergrad experience of a former Political Science major, especially someone who ended up in a very different and even more fulfilling position than he was originally intending, was inspiring," McCann said. "There is a lot of reassurance in hearing an alum's story, and being able to ask questions directly to a former Oneonta student about their experience was incredibly valuable."