Live Video Chat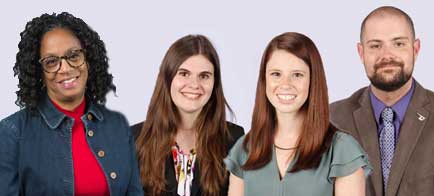 Need to talk with an Admissions Counselor? Live Video Chat is available from 10 a.m. to 3 p.m. Monday through Friday.
Admissions Criteria
We welcome a first-year class of about 1,300-1,400 students each year. We look for well-rounded applicants who show the potential to succeed in a rigorous academic environment and the desire to get involved in our campus community.
SUNY Oneonta considers a number of factors in our holistic review process including: academic performance, rigor of the course work, exam scores (including Regents, IB, and AP), commitment to extra-curricular activities (including community service, leadership in student organizations and athletics, performance and artistic activities, and part-time employment); among other measures.
Applicants for admission are expected to complete a minimum of 16 units of college preparatory coursework as follows:
4 units of English
4 units of Social Studies
3-4 units of Mathematics (including Algebra, Geometry, and Algebra II)
3-4 units of the same Foreign Language
3-4 units of Science (2 Lab)
*If less than three units are taken in one of the subjects, a minimum of four units will be required in one of the others.
Education Applicants: All students wishing to declare education as a major will need a grade-point average of at least 3.0 or they must rank in the top 30 percent of their high school graduating class.
2020 Class Profile*
Class enrollment: 1,482
Applications received: 12,083
First-generation students: 39.9%
Students of color: 26.8%
Average high school GPA: 90.9
High school GPA middle 50%: 87-93
Average SAT: 1126
SAT middle 50%: 1050-1180
Average ACT: 23
ACT middle 50%: 21-25
*As of 9/14/2020
SUNY Oneonta is now test optional and will not require submission of SAT or ACT scores from students applying for undergraduate admission during the Spring 2021, Fall 2021, and Spring 2022 semesters. While we will consider scores if submitted, SAT/ACT results are not required. If you would like your test scores considered in the review process, please request your official scores to be sent to SUNY Oneonta from your high school or testing agency.
Oneonta SAT Code: 2542
Oneonta ACT Code: 2940
Applying
 Additional materials are required for:
ART & DESIGN (BFA): All students wishing to declare a major in Art and Design must submit a portfolio for review by the Art Department. The Office of Admissions will review all applicants for academic preparation. Students found admissible will be admitted, but the major will not be finalized until the portfolio review process is completed. 
MUSIC: All students wishing to declare a music major are required to schedule and successfully pass an audition with the Music Department. Students will receive additional information at the time of application. The Office of Admissions will review all applicants for academic preparation. Students found admissible will be admitted, but the major will not be finalized until the audition process is completed. All auditions are coordinated through the Music Department.
To maintain consistency in how we read applications from all students and to ensure we can thoroughly evaluate whether you've met the necessary foundation of skills and academic credentials to be successful at Oneonta as a home-schooled applicant, you must submit the following materials in addition to those required of all first-year applicants: 
An individualized home instruction plan (IHIP) for all four years or a complete portfolio of your work. Quarterly reports covering your entire "high school" time are also accepted. 
One of the following: 

A letter from the superintendent of the school district in which you reside attesting to your completion of a program of home instruction that is the substantial equivalent of a four-year high school course of instruction 
A high school equivalency diploma (GED). Provide the score report (a passing score is required) and the diploma itself. 
Educational Opportunity Program special talent process
Scholarships
Merit scholarships are awarded to students who have demonstrated academic achievement, distinction or excellence. There is no separate application process for most SUNY Oneonta and College at Oneonta Foundation scholarships. Priority is given to students who apply for admission by January 15, 2021.
---
IMPORTANT APPLICATION NOTE
SUNY Oneonta uses email as its primary method of communication. Please be sure the email address provided on your application is correct. You should also add SUNY Oneonta (admissions@oneonta.edu) to your contacts to avoid important notifications being send to spam folders.