Disable Pop-Up Blocker in Safari & Firefox 
Safari 12 for MacOS
Block or Allow A Websites by Default
Select "Safari" > "Preferences", then select on "Websites" at the top of the window.
Select "Pop-up Windows" on the left side.
Use the "When visiting other websites" drop-down menu and select Allow.
Screen Capture of Steps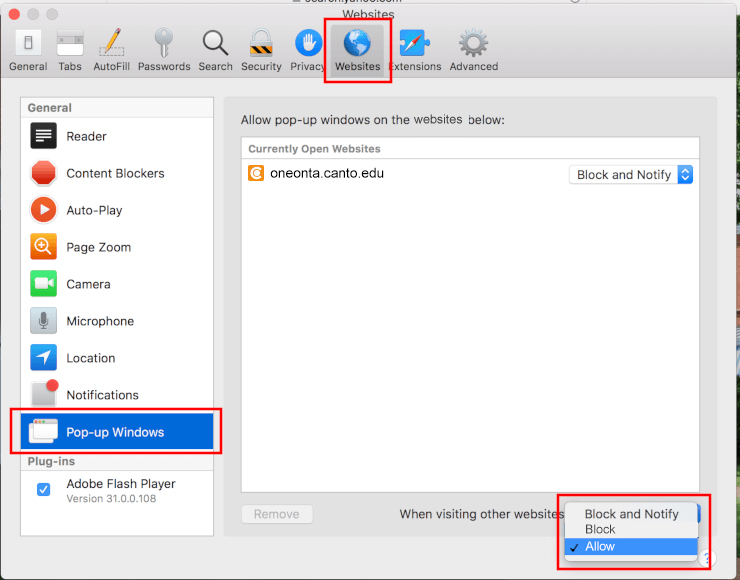 Firefox 68.3  for MacOS
Unblock One Site (Canto)
Look for the yellow bar at the top of the page.  
Click Preferences, then Allow pop-ups for [address of website] (if available) or Show [address of pop-up].
Close the window. Changes automatically save.
Screen Capture of Allow

Resize, Crop & Compress
If you would like to try out the resize/crop function, here are some quick instructions. This is a feature we didn't have in our old photo library, allowing you to resize, crop and reduce image sizes for web sliders, Instagram and other uses at the same time you are downloading the image; no need to open Photoshop!
Select the photo you want and hit the download button in the top left corner.
 Use the dropdown arrow under File Type to select Resize, Crop and Compress
Underneath the photo, type the width you want in the W box. Then hit the padlock icon to LOCK the proportions and hit the Next button.
Put your mouse in the top left corner of the photo and draw a crop box across the full width of the photo. Now enter the height you want in the H box. Use your mouse to drag the crop box to the precise position you want. When you're done, hit Next.
In the last step, you can easily reduce the file size for web and social media. Simply move the Quality slider to the left to  reduce the file size. You'll be able to preview the difference in quality as you go.
Once you're happy with the image, hit the Download button in the bottom right.
Crop a Banner "Slider" Image
Crop a Portrait in Canto
---
For additional information on sizes we recommend please visit our Adding Images section of this website, and locate the Size Recommendations in the right column, or on mobile the bottom of the page.
Page Sliders:
Width: 1280px
Height: 549px
Resolution: 72dpi
Square Images
Width: 400px
Height:400px
Resolution: 72dpi
Faculty Profile Images
Width: 400px
Height: 480px
Resolution: 72dpi
or Width: 320 x Height: 480