Jordan F. Smith
Tuesday February 19, 2019, at 7:30pm
Craven Lounge, Morris Conference Center

Jordan Smith is the author of seven books of poems, most recently Clare's Empire, a fantasia on the life and work of John Clare from The Hydroelectric Press, and The Light in the Film, The Names of Things Are Leaving, and For Appearances, all from the University of Tampa Press. His earlier books appeared from Princeton University Press, Wesleyan University Press, and Copper Beech Press, and his chapbooks are from The Pudding Press, Right Hand Pointing, and Swan Scythe. His poems have been published in a wide range of literary journals, including Agni, Antaeus, Poetry, The Paris Review, and The Yale Review. he lives in upstate New York, where he is the Edward Everett Hale Jr., Professor of English at Union College.
Terry Roberts
Tuesday April 2, 2019, at 7:30pm
Craven Lounge, Morris Conference Center
Terry Roberts' direct ancestors have lived in the mountains of Western North Carolina since the time of the Revolutionary War. His debut novel, A Short Time to Stay Here, won the Willie Morris Award for Southern Fiction, and his second novel, That Bright Land, won the Thomas Wolfe Memorial Literary Award as well as the James Still Award for Writing about the Appalachian South. Both novels won the annual Sir Walter Raleigh Award for Fiction, given to the author of the best novel written by a North Carolinian. Born and raised near Weaverville, North Carolina, Roberts is the Director of the National Paideia Center and lives in Asheville, North Carolina.
Mecca Jamilah Sullivan
Mecca Jamilah Sullivan explores the intellectual, emotional, and bodily lives of young black women, through voice, music, and hip-hop-inflected magical realist techniques. She is the author of the short story collection Blue Talk and Love(Riverdale Ave 2015), a finalist for the Lambda Literary Award for fiction. She is the winner of the Charles Johnson Fiction Award, the James Baldwin Memorial Playwriting Award, and fellowships from Bread Loaf, Yaddo, the Center for Fiction, and the NEA.

A proud native of Harlem, NY, Mecca is currently Assistant Professor of English at Bryn Mawr College. She holds a Ph.D. in English Literature from the University of Pennsylvania, and her critical and scholarly work on sexuality, identity, and poetics in contemporary African Diaspora culture has appeared widely in publications including Palimpsest, GLQ, Ebony.com, Zora Magazine, TheRoot.com, Ms. Magazine online, and The Feminist Wire.
To view YouTube video of Mecca click here
Ishion Hutchinson
Ishion Hutchinson is the author of two poetry collections, Far District and House of Lords and Commons. The latter was recently awarded the 2017 National Book Critics Circle Award for Poetry. Pulitzer Prize winning poet Henri Cole calls Hutchinson's poetry "luxurious and stern at once. His hammered language has a jazzy, classical, rough, painterly beauty." Hutchinson lives in Ithaca, NY, where he teaches in the graduate writing program at Cornell University.
For more information, please contact Ruth Carr, (607-436-3446) or Robert Bensen at robert.bensen@oneonta.edu
Bradley J. Fest and
Julie Suarez Hayes
Bradley J. Fest is the assistant professor of English at Hartwick College. He is the author of two volumes of poetry, The Rocking Chair (Blue Sketch, 2015) and The Shape of Things (Salò, 2017), along with a number of essays on contemporary literature and culture. More information is available at bradleyjfest.com.
For Youtube video of Bradley J Fest click here.
Julie Suarez Hayes has recently retired from Hartwick College where she was an Assistant Professor of English for thirty-four years. Her poems have appeared in Salmagundi, Phoebe, Women's Voices of the 20th Century, La Presa, The Traveler's Vade Mecum, and the New York Times Sunday Magazine. Her chapbook, It Does Not, was published by Bright Hill Press in 2006.
Christine Kitano
Tuesday, April 17, at 7:30 p.m.
Craven Lounge, Morris Conference Center
Christine Kitano is the author of two poetry collections, Sky Country (BOA Editions, 2017) and Birds of Paradise (Lynx House, 2011). Her most recent project, Who You: The Issei, a co-edited collection of oral histories about the first generation of Japanese immigrants in Hawai'i and is forthcoming from the University of Hawai'i Press/Japanese Cultural Center of Hawai'i. She teaches at Ithaca College and in the low-residency MFA Program for Writers at Warren Wilson College.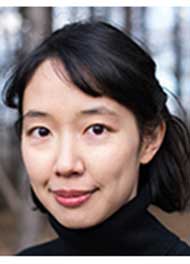 Sandra Steingraber
Wednesday, April 18, at 7:30 p.m.
Hunt Union Ballroom
An acclaimed ecologist and author, Sandra Steingraber explores the links between human rights and the environment, with a focus on chemical contamination, climate change, and shale gas extraction via fracking. She takes a personal and scientific look at the issues and offers insights into how we can protect our environment and our communities. Steingraber brings a clear, lyrical voice to the complex evidence of biology.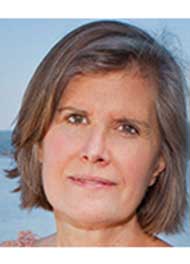 Melora Wolff
Melora Wolff is an essayist and prose writer whose work has appeared in numerous journals including The Southern Review, The New York Times, The Normal School, Brick, West Branch, The Chronicle Review and Salmagundi, and in anthologies such as Every Father's Daughter: 24 Women Writers Remember Their Fathers; Best American Fantasy; Best New Writing 2016; and The New Brick Reader. She has received three Notable Essay citations from Best American Essays; two Special Mentions in Nonfiction from The Pushcart Prizes; and her essay "Mystery Girls" received the Thomas A. Wilhelmus Award in Nonfiction. The Parting, a collection of her prose poems and flash fictions, is available from Shires Press.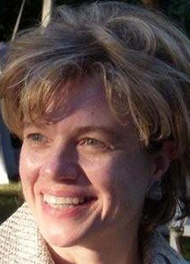 David Mills
David Mills is a writer and actor who has worked professionally in the dramatic and literary communities for more than a decade. For three years, he lived in Langston Hughes' landmark home where he was inspired to create a one-person dramatic rendition of Hughes' poems and short stories.
He has two collections of poetry: The Dream Detective, a small-press bestseller, and The Sudden Country, a finalist for the Main Street Rag Prize. His work has appeared in Ploughshares, Fence, Jubilat, Callaloo, and elsewhere. Mills was commissioned to write a play for Julliard, the narration for Deborah Willis' exhibition, "Reflections in Black: A History of Black Photographers" and for I Giullari Di Piazza's folkdance piece, "Tarantella."
This lecture is presented in collaboration with the Department of Africana and Latino Studies' celebration of Black History Month.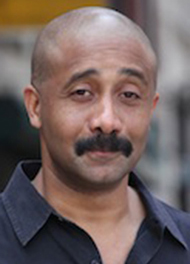 George Hovis
George Hovis is a SUNY Oneonta Professor of English. His short stories have appeared in such publications as Carolina Quarterly, Limestone, New Madrid, and Stone Canoe.
He is the author of a monograph, Vale of Humility, and numerous essays devoted to the study of Southern literature.
Peter Ramos
Peter Ramos is Associate Professor of English at Buffalo State and author of one book of poetry, Please Do Not Feed the Ghost and three shorter collections.
Highly regarded as both critic and poet, his poems have been published in such journals as The Cincinnati Review, Colorado Review, and Indiana Review.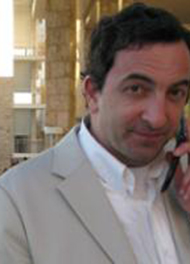 Michael D. Lemonick
Michael D. Lemonick is currently the Chief Opinion Editor at Scientific American Magazine. He was previously Senior Science Writer at ClimateCentral.org, and, prior to that, Senior Writer at Time magazine for more than 20 years, during which he wrote more than 50 cover stories on every aspect of science.
He has also written cover stories for National Geographic, Discover and Scientific American, and teaches writing at Princeton University. "The Perpetual Now" is his seventh book.