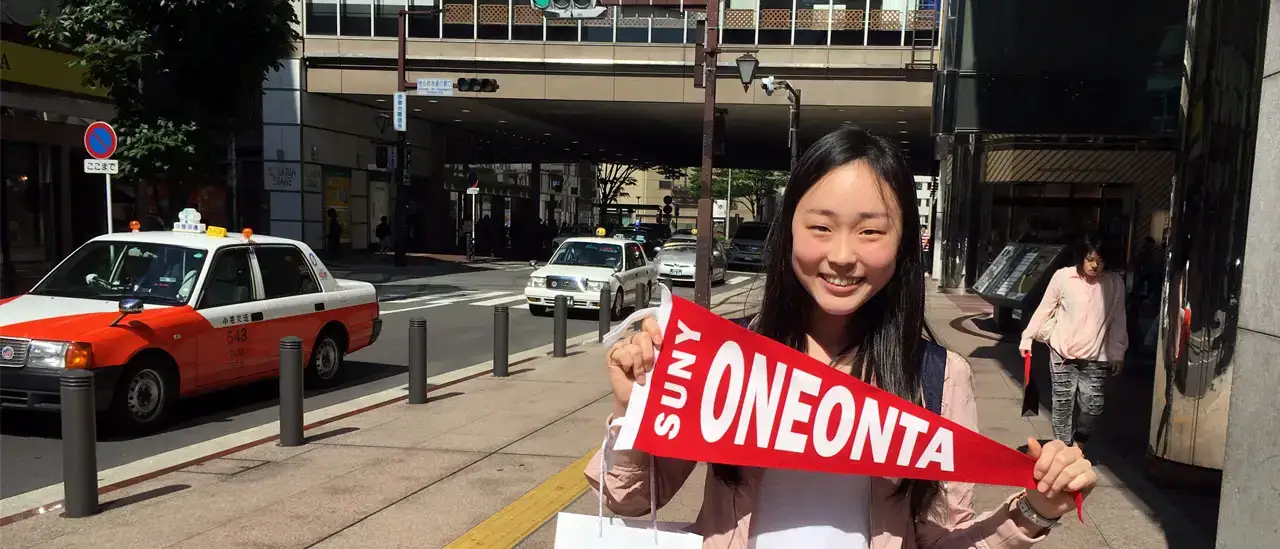 Note: This page is ONLY for Exchange or Visiting (fee-paying) Students to apply for a semester or academic year at SUNY Oneonta
If you are NOT an exchange student (from a SUNY Oneonta Partner Institution) and would like to study at SUNY Oneonta for your whole degree, or are transferring from another U.S. institution, please visit the SUNY Oneonta Admissions Page. 
Instructions:
1. Exchange/Visiting Student Applicants must first be nominated by their home campus' international office and then complete the application online by clicking the link in the SUNY Oneonta photo tile below (must create an account):
2. After clicking the photo tile link above and clicking "Request to Apply", students should see the words, "Not a SUNY Oneonta Office of Global Education Student, Faculty, or Staff?", and below those words, click "Sign Up". 
Note: Do NOT click on the large red "Sign In" button - this is for SUNY Oneonta students ONLY (see screenshot below).
Note: After you've created your account, to get back to your application, click the small "Sign In" words (next to "Sign Up")
3. After signing up in the OGE Global Portal, students will be asked some questions and then will be taken to their Profile Page.
4. Click on "Programs" at the top of the page. There will be a page showing ALL Oneonta Programs Abroad. Students must select the "United States: SUNY Oneonta" program option (you can also type it in the search bar).
5. On the United States: SUNY Oneonta Exchange and Visiting Students program page, students should select the term they are applying to and click "Apply" to complete the Exchange Student application. Students must submit the required supporting documents electronically as listed on the application, which include:
Exchange Student Essay
Exchange Student Recommendation Form
Financial Support Documentation (documentation should be current - dated within 6 months of application deadline, must be translated in English & must include the conversion to U.S. dollars)

Certified bank statements (personal and/or from family/guardians), and/or scholarship and financial aid letters
Signed Letter of Financial Support (if student is being supported by anyone other than themselves)
NOTE: Financial documentation should show liquid assets (liquid assets are those financial resources which are readily available in cash or can be converted to cash easily)

.

Official Transcripts from most current university attended 

3.0 or higher GPA requirement or B average

Proof of English Proficiency (one of the following)

Recommended TOEFL iBT (internet-based test) score of 61 or higher
Recommended TOEFL PBT (paper-based test) score of 500 or higher
Recommended IELTS score of 6.0 or higher
ITEP of 3.7 or higher
ELS - 112 Level (Enclose copy of your ELS Certification)

Copy of photo and signature pages of passport (passport must be valid at least 6 months after your entry into the United States)
Application Fee
Exchange and visiting students pay no application fee but must meet admission standards under the respective exchange program agreement. 
Application Deadline
Fall semester admission: May 15th
Spring semester admission: November 15th
Students are encouraged to apply early by consulting with the coordinator at home institution about the internal deadline.
Course Posting
Course listings are normally posted online in March for the following fall semester, and in October for the following spring semester. Not all courses are offered every semester, so students must review the online course list of the semester that they plan to enroll.
Course Registration
Exchange students will be registered after arriving on campus during the Orientation
Exchange students are encouraged to search for courses on their own and complete the Exchange Student Course Approval Form (found in "Forms" on our online OGE Global Portal after students are accepted)
Course registration is prioritized by major and student status (senior, junior, sophomore, and new students). Not all courses will be available by the time of registration. So please select a combination of 10 major and non-major, 100 and higher level courses as some courses will be closed by the time Orientation starts. Some 200 and 300 level courses including Capstone courses may be restricted by majors only.
F-1 students must register for a minimum of 12 credits.
New international students are required to take the English language placement tests. Some students may be required to take the ESL classes based on the test results.
Search for Courses
Select the term under "Search by Term," then click Submit
Select a subject then click on Class Search. You will see a list of courses.
A sample course display in Music:
Click on the CRN number to view more details about the course
Click on the course title to see if there are any Prerequisite requirements. *Students must meet the prerequisites in order to take the course.
Note: If a course has a "C" in front of it, it means it is closed/filled.
To learn more about SUNY Oneonta and the resources available for international and exchange students, see our International Student Handbook
SUNY Oneonta International Partner Institutions: 
American College of Greece, Greece
Chungnam National University, South Korea
Hankuk University of Foreign Studies, South Korea
Hanze University of Applied Sciences, Netherlands
Jyväskylä University of Applied Sciences, Finland
Linnaeus University, Sweden
Ludwigsburg University, Germany
National Chung Cheng University, Taiwan
Seinan Gakuin University, Japan
Tokyo Metropolitan University, Japan
University of Cape Coast, Ghana
University of Lincoln, UK
University of Würzburg, Germany (J-1 student exchange instructor only)
Yonsei University Mirae Campus, South Korea