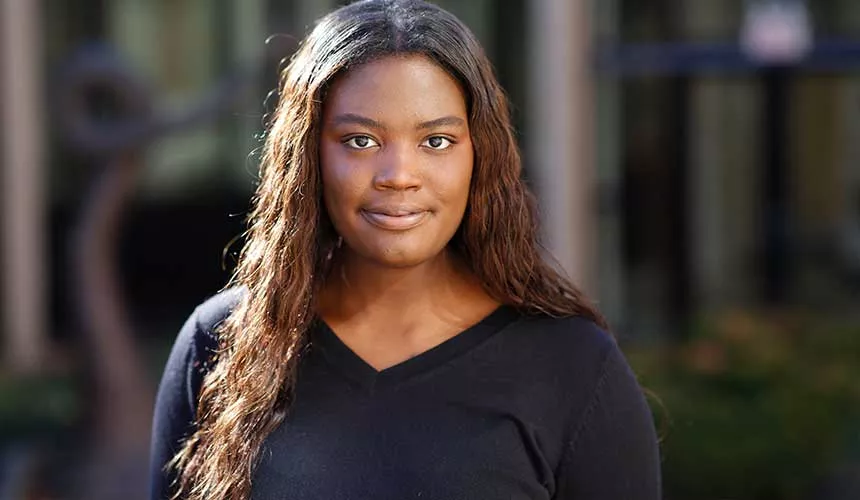 Before even graduating from college, SUNY Oneonta senior Adrianna Newell got an opportunity many aspiring photographers can only dream of.
In April 2022, a photo editor from The New York Times came across her work and emailed her to offer a freelance assignment photographing Danny Roberts from MTV's "The Real World." She said, "Yes!" and has since completed eight additional assignments for The Times, building a portfolio that includes portraits of American playwright and director Ken Ludwig and Indian-British-American actress, television personality and writer Madhur Jaffrey.
Adrianna became interested in photography at age 10 and purchased her first professional-grade camera four years later. She has nurtured her passion for photography ever since, honing her craft as a student at Oneonta High School and into her college years as a Digital and Studio Art major at SUNY Oneonta. She will graduate in December 2022.

Why SUNY Oneonta?
I chose to come to SUNY Oneonta because I am from Oneonta. It's my home. I initially wanted to go away from it, but it was the best option in terms of money. I had friends here who went to SUNY Oneonta, and I thought, "This is the best option for me."
Best experiences at Oneonta?
Some of my best experiences have definitely been going to art openings on campus, connecting with people who are artists and within my major, and then just also taking a bunch of classes that are not affiliated with my major, but help greatly with my art.
How has what you've learned in the classroom influenced your photography?
With anthropology, if you get the cultural perspective of different people and countries and areas where they live, it's easier to connect with people within photography specifically, because you know where they're coming from, and that's important. Especially when you are handling different subjects for publications and stuff like that and you're touching on different stories.
I would say that Wesley Bernard, the assistant professor of photography, is an amazing person that we have in our department. He has really helped me get to the point where I wanted to be sooner. He teaches you the business side of everything and it's amazing. I'm very thankful that he's one of my mentors.

How did you get a photography gig with The New York Times?
I got an email in my inbox right before I had my psychology class. I was just stunned that this was even in my inbox, and I got on a call right then and there.
The way that they found me was completely random. I'm not sure which photos were looked at specifically, but one of their photo editors came across my work in April. I got an email in my inbox right before I had my psychology class. I was just stunned that this was even in my inbox, and I got on a call right then and there. It was a very quick, short turnaround. I had to shoot that weekend, basically. 
They told me, "We really love your work, and we really want you to just take beautiful images of Danny Roberts from MTV's 'The Real World.'" He had a little reboot, and I was like, "Yeah, of course!" They sent me all the way to Vermont, and that was my start with working for The New York Times, freelancing for them.
What projects are you currently working on?
So, a lot of my work has themes of family, queerness, being a woman and just investigating those frameworks. I have, for the longest time, been working on what I call my "Sisters" project. It's a project that resonates with me because I have sisters, myself. I wanted to go outside of that and see the perspective of other sisters and their relationships, and how they relate to mine. So, I sat down with a bunch of sisters over the course of a summer, and I'm still working on it now. I just interview them, and we have a very relaxed conversation, and then I photograph them afterward.
I'm also working on a project about queer people who have chosen to stay within rural areas, rather than going out to bigger cities where they may find more support in those communities. That idea came from my own head and everyone that I have been meeting who is queer and moved to upstate or other rural areas specifically, whether they want to become farmers or they just like the small-town life. Rural areas are a little bit more conservative, and it's a little bit harder to get by.
I'm queer myself, and I don't have any intentions to move to the city anytime soon. I always love to relate my projects back to who I am and other people. It allows me to get more vulnerable shots. Everyone that I have worked with told me that they were comfortable and that they've never experienced such a level of comfort in a photo shoot before. That's everything that I have ever wanted to hear, each time – it's such a vulnerable position.
I've been in multiple exhibitions in the past few years, but I've had two different solo shows for my "Sisters" series. One was at the Community Arts Network of Oneonta, and the other one was here at the college. The most recent group show that I was a part of was in London, UK, for the Palm Photo Prize 2022.
 
The next step for my career is to continue doing what I'm doing, working on personal projects, and getting into shooting for bigger brands, clients, publications and designers. SUNY Oneonta has allowed me to really become a well-rounded person within my major and outside of that. Being able to learn from some of the best professors, doing critiques, presentations and getting insight from other coursework that isn't just about art has helped me tremendously. I think this is important for my life and career after graduation.