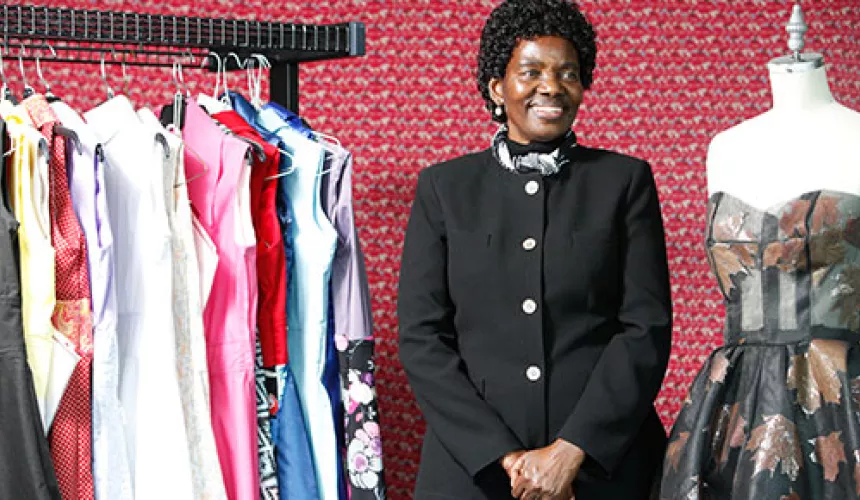 Professional Title
Associate Professor of Fashion and Textiles
When the lights are turned down, music is turned up and models hit the catwalk for the Student Fashion Society's Spring Fashion Show at SUNY Oneonta each year, Associate Professor of Fashion and Textiles Annacleta Chiweshe is the one cheering the loudest.
A Passion for Fashion
In her almost 20 years at SUNY Oneonta, Chiweshe has contributed much to the Fashion and Textiles program. She has created new courses; honed the curriculum; brought in state-of-the-art software, industry-standard sewing machines, dress forms and 3D body scanners; increased real-world opportunities for students as Internship Coordinator; and pioneered the Sustainability in Fashion Earth Day Fashion Show and the Fashion Advisory Board, where students can meet and network with alumni who are now experts in the industry.
"It gives me a lot of satisfaction when I see students learning the skills I teach them and producing something unique."
Chiweshe has also led the program through two accreditations and has helped the Student Fashion Society grow to become one of the largest and most popular student organizations on campus. Classes she teaches include Socio-Psych Aspects of Dress, Computer Applications in Fashion, Apparel Design – Draping and Innovations in Wearable Art, where students think outside the box and create clothing from recycled and non-traditional materials ranging from Starburst candy wrappers to old newspapers. Under her supervision, several students have published original designs and won design competitions.
"I love teaching creative subjects," Chiweshe said. "When I see students create something from scratch, it's almost like giving birth."
From Zimbabwe to Oneonta
Growing up attending an all girls' school in colonial Zimbabwe, Chiweshe's education choices were limited. She gravitated toward home economics, so she learned all she could and, upon graduating, taught the concepts to high schoolers. After getting married and starting a family, the country got its independence, and everything changed.
"All of a sudden, there were so many options," she said. "I went back to university and got my bachelor's degree in home economics, but I just couldn't stop. It was like opening Pandora's Box."
After getting married and starting a family, Chiweshe earned a scholarship to come to the United States. At the University of Nebraska, she earned a master's in Clothing and Design and a doctorate in Textile Science.
Since joining the SUNY Oneonta Human Ecology Department faculty, she has earned awards for Outstanding Work as a Faculty Member, Faculty/Student Research Work and Sustainable Design for Educators for Socially Responsible Apparel Business.
Research that Makes a Difference
In her spare time, Chiweshe likes to play chess, read and sew. But she's most passionate about designing and creating custom garments for women who have undergone mastectomies so "they can still feel beautiful." As part of her research, she has created custom-fit outfits for more than a dozen mastectomy patients from local hospitals in upstate New York. She has included students in her research on Clothing Preferences: Post-Mastectomy and has been awarded grants to pursue the project. She collaborates with area hospitals, patients, two faculty members from Cornell University and a colleague from Nebraska.
"I read an article about what happens with women who have mastectomies and the stigma they face, and my mind kept going back to it. I felt so sad," Chiweshe said. "One of my goals is to publish my research and establish ways for women who have had mastectomies to have access to stylish, affordable garments."
In the meantime, Chiweshe finds great fulfillment from teaching, developing relationships with the young people in her classes, and networking with alumni to increase the number of quality internship placements for her students. She loves hearing from former students who have had designs published and "made it big" in the fashion industry.
"I have students from 10 and 15 years ago who still keep in touch," she said. "I enjoy my job, and every morning I just jump out of bed. I can't wait to come to work."