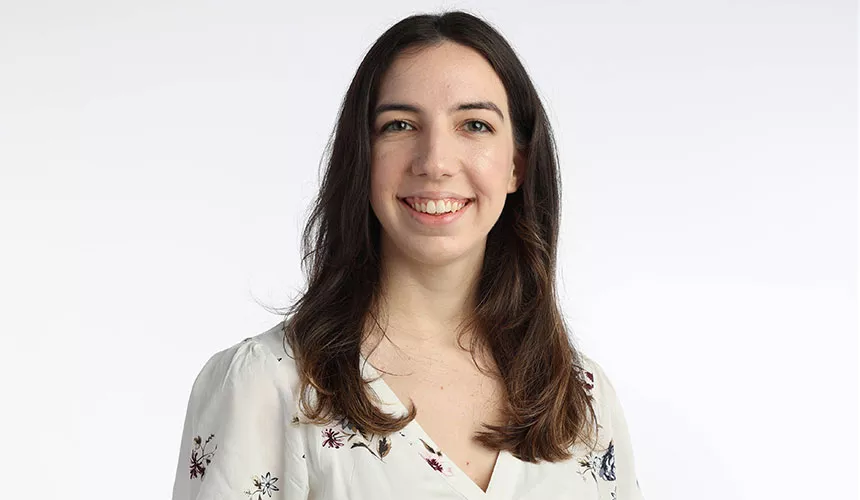 Studying Fashion at SUNY Oneonta and FIT, Cassidy Napolitano realized her passion for sustainability. The classes she took, clubs she was involved in, and internships she completed helped her personalize her degree path, allowing her to incorporate her two passions: fashion and sustainability. Now, she's ready to find a career that will allow her to do the same thing.
"The fashion industry contributes so much waste already," Cassidy said. "I realized I don't want to create anything that's going to contribute to the problem – I want to help solve the problem."
Why SUNY Oneonta?
I actually went to college in the city my freshman year, and it was too fast paced for me. I transferred to Oneonta because I loved the campus when I toured, and I loved all of the clubs and involvement. I felt like there was a place for me to make my own community, to enjoy being me and find myself. And I've done exactly that.
My Activities
I've been super involved on campus! I joined Wire TV and was the producer and show runner for "Girl Talk" during Spring 2022, and it was the most-viewed show that semester. This experience was especially important to me because I was able to get my friends involved in areas that they were passionate about and had the opportunity to support marginalized voices on campus. The show focused on creating a safe space and often involved sensitive conversations about mental health and inclusion. Two episodes focused on designers from SUNY Oneonta and promoting their brand. I got a lot of leadership and public speaking skills out of this. I was also the Marketing Coordinator for the Revival of Apparel Club and the Red Closet Thrift Shop on campus, so I ran our social media accounts, volunteered in the store and helped with events. That was the best experience ever because I got to connect with students in my major. I was also editor of the Student Fashion Society magazine, so I helped with photographing and managing the magazine committee.
Favorite Class
Fashion Entrepreneurship, hands down. It helped in my career goals by giving me a true understanding of what a sustainable business model is. We did a semester-long project where we each had to create a sustainable, socially responsible fashion retail business plan, and we entered these into an international competition for undergraduate students. The project I developed with my classmate was a hypothetical brand called AquaFeet, which uses a newly developed textile called SquiTex. SquiTex is inspired by the protein in squid teeth, which self-repair when broken. We utilized this textile to create self-repairing socks. The project ended up taking third place, which was absolutely incredible! We were so excited, and the experience helped give me confidence and clarity in my career goals.
About My Major
I'm enrolled in Oneonta's one-year visiting program with the Fashion Institute of Technology (FIT) in New York City. So, after three years at SUNY Oneonta and one year at FIT, I will have a bachelor's degree in Fashion and Textiles from SUNY Oneonta and an associate's degree from FIT in Textile Development & Marketing. Doing the Fashion Merchandising concentration while at Oneonta, there was a focus on marketing, retailing, promotions, economic analysis, entrepreneurship and fashion journalism. So I got all of the merchandising and business side of the industry at Oneonta, and now I'm at FIT, learning more about the creative side of the business – the design and so on. So it's very complementary, and doing both makes you very well rounded.
Best Experiences
I've had so many wonderful experiences, I don't really know where to begin. I completed several inspiring internships, including two with fashion businesses in downtown Oneonta. One was with the Underground Attic, which is owned by an Oneonta alumna, and one was with Island Premium Printing Co, so I learned how to operate screen printers and made t-shirts for Girl Talk. Then, I landed an amazing internship with Paramount as a Toy Licensing Intern and had the opportunity to be involved in Nickelodeon's sustainability initiative, Operation Sea Change. This actually led to part-time employment while I finish my degree. Another amazing opportunity was connecting with alumnus Scott Saltzman '86, PUMA's national sales manager, who came to speak in one of my classes. He invited students to come to his PUMA showroom over spring break and I went! I've been a few times since then, and I have a good relationship with him where I could text him and I know I would hear back. This never would have happened if it weren't for the Oneonta connection.
Plans, Goals, Dreams
Going into the industry, I feel more prepared to combat sustainability issues and educate others. I also feel comfortable identifying unsustainable practices within a company's supply chain and taking action against them. My dream job would be doing product development or fabric sourcing.