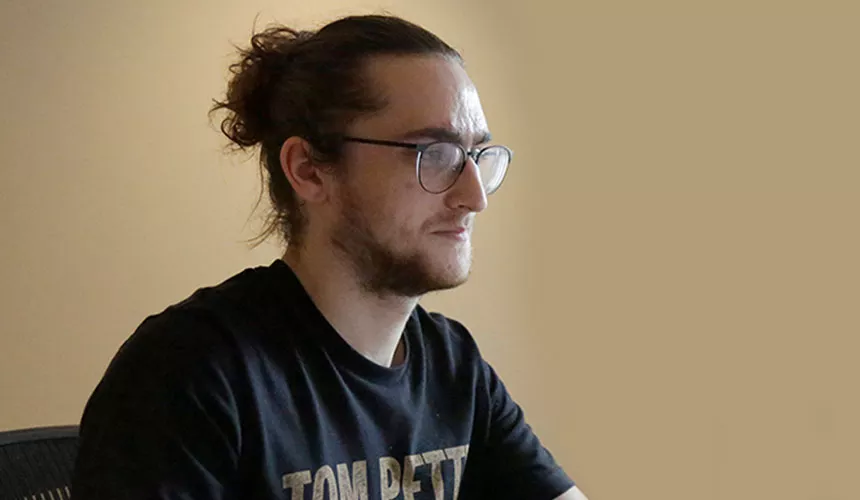 Clayton Davis arrived at SUNY Oneonta with no art or design classes under his belt from high school. By the end of his junior year, he had taken on SUNY Oneonta as a client and designed 10 new banners that now hang on the exterior of the Fine Arts Center on campus.
When he isn't busy creating something, Davis is likely running with the SUNY Oneonta track and cross- country teams or with his friends and family. Davis has post-graduation plans to pursue a career in graphic design.
In addition to the banners at the Fine Arts Center, Davis has had his artwork on display in multiple art shows, including the "Hartwick X SUNY Oneonta Student Show" at the Community Arts Network of Oneonta and a solo exhibition on campus during the fall 2023 semester. His portfolio can be viewed online at https://claytonevandavis.com.
Why SUNY Oneonta?
The main reason I came here was for the track program, and then eventually, I found out there was an amazing art program here. I run the 8k in cross country and the 1500m and the 800m in track.
I didn't take art classes in high school, and I had zero idea what to major in while I was here during my first semester. My parents helped with that decision. I couldn't decide what path to pursue, and they asked me, "What do you enjoy doing with your time?" Creating art was the obvious answer for me.
Best Experiences
I think my best experiences here have been making art, finding new things I like and finding new styles that I enjoy doing. I just love making art. I'm in an environment where I can just constantly create and create, over and over again, without any limitations.
My favorite class was Darkroom Photography. I remember going into the class and being nervous because film was another new art form for me to learn. Film became the greatest experience I've ever had with any art medium. I had the opportunity to create my own style, and being in the darkroom was an amazing experience.
Solo Art Show
In my solo show "Vestiges," I have these abstract charcoal and ink studies pieces that I worked on last year, alongside some acrylic paintings. I put so much effort into making the perfect abstractions, bending my brain into thinking completely outside of anything I have done before. I also tried keeping a comprehensive look to them so anyone can still understand the emotional complexity behind the abstractions. My solo show is on display in the Open Space Gallery until Nov. 11.
Other Activities
I've taken advantage of paid work opportunities, especially in the Music Department. There are a lot of people who need designs for album covers, shirts, logos and more all over campus. I've gained a lot of experience just from that work alone.
I play several instruments, including guitar, bass, piano and saxophone. I was in a band in high school, and then once I got to SUNY Oneonta, I expanded every aspect of making music because many music skills can translate across similar instruments. So, I write and produce my music, playing whatever instrument I need for that song.
Fine Arts Center Banner Project
I took Advanced Graphic Design with Associate Professor Katherine Spitzhoff, and the final project required us to get a client and work with them through the process of creating a product. Professor Spitzhoff approached me with SUNY Oneonta as a client to design the banners outside the Fine Arts Center. The old ones were getting weathered, so I created the new banners through a lot of back-and-forth with the school.
One of the biggest things that was a help to me personally was that back-and-forth with SUNY Oneonta. I received a great learning experience from this project by making a final product everyone was happy with.
For my design process, I noticed that the old banners weren't necessarily anything that would distract people as they walked by the Fine Arts Center. My goal was to create the brightest and largest design possible so people would walk by and get a taste of what our art program is like here. I decided to go with the colors of the rainbow because they stick out to people, and those colors relate to how the school can be more inclusive – and that relates to my work a lot. There is also an art piece that I'm working on now with lines and abstract shapes that will go into the gallery eventually, and I was able to turn part of that design into the banners that hang up on the wall now.
My favorite part of this whole project was creating something that eventually I was able to see. Before, it was just a project on my laptop, and it's different when you don't see it anywhere. I was able to go through the whole design process. I was running by the Fine Arts Center one day, and I saw these beautiful banners up on the building – and it was amazing to experience.