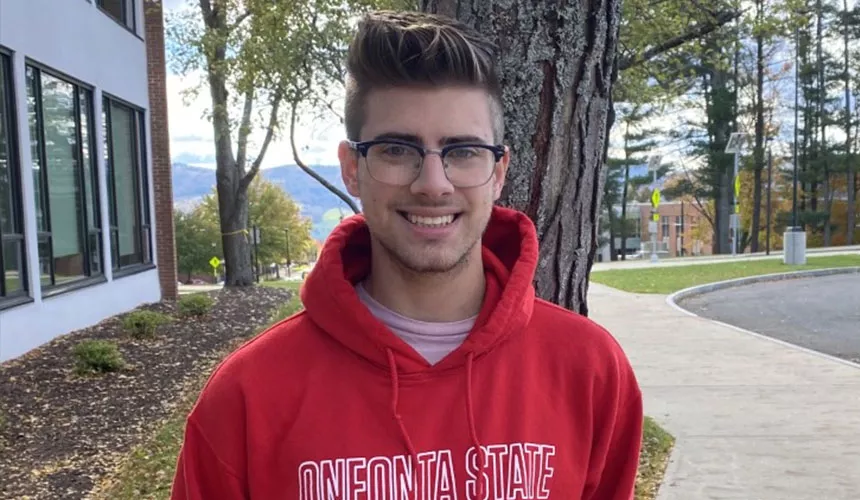 Hometown
Richmondville, NY
Why Oneonta?
I chose SUNY Oneonta because I knew that my interests and initiatives would not go unnoticed. I believed that SUNY Oneonta was the best decision to guide me on the right path to my future. SUNY Oneonta has an outstanding Education and Educational Psychology department; their dedication to my education made SUNY Oneonta the one for me. 
My Activities 
I am involved with many clubs and activities. I work with the Office of Student Success (OSS) as a Dragon Guide and Orientation Leader. I am involved with the men's club volleyball team and the E-Board. I have begun involvement with the intramurals department and staff. I am a part of the Educational Enrichment program dedicated to a learning and teaching experience towards early and middle grades. All of these involvements happened within my first year at Oneonta!
Best Experiences
One of my most memorable experiences so far has been meeting my current roommates. When I transferred to Oneonta, I knew no one. After a short time in an online class, I met three great guys. For the past two years, I have shared many of my college moments with them. Another experience I have come to greatly appreciate was my employment with the Office of Student Success. I have grown as a leader and as a person. The amount of knowledge and skills I have learned are only a fraction of the impact it will have on my future. 
Plans, Goals, Dreams
I have two five-year plans for after graduation and I'd like to say either of them will bring positive changes to my future. One plan is to stay close to home, find employment at a school; or apply to graduate schools for the following year of graduation and reside nearby graduate school; whether it's in New York or not. I am also certified to coach volleyball and the dream would be to coach a collegiate men's volleyball team. Academically, I will be an educator, so I intend to become a superintendent or potentially open a high school for all extra talented students in STEM, fashion, art, music, design, etc. 
About My Major
I'm an adolescent education major with a concentration in social studies. My particular interests include government/economics and U.S. history. I really enjoy the variety of classes to choose from each semester. I always find myself struggling to decide between one class and another! My favorite part about the history professors here is their incredible stories, even if they do not pertain to the class. I have enjoyed many of my lecture classes and night classes just because of the amazing professors. 
 
I am First-Generation
---
What does being a first-generation college student mean to you?
To me, being a first-generation college student means that I'm taking control of my life and making independent decisions about my future. By being a first-generation college student, I have learned life skills and fundamentals of life.
What obstacles have you faced and overcome in this context?
Although there are many positive outcomes of being a first-generation student, it has not been the easiest. I have little guidance and mentorship from family, which forces me to rely on other people during difficult times. Additionally, it is hard to balance choices that could better or worsen my life. There is constant pressure to succeed. 
What advice do you have for other first-generation students?
Continue on your own path of taking control of your life. Lead by example.