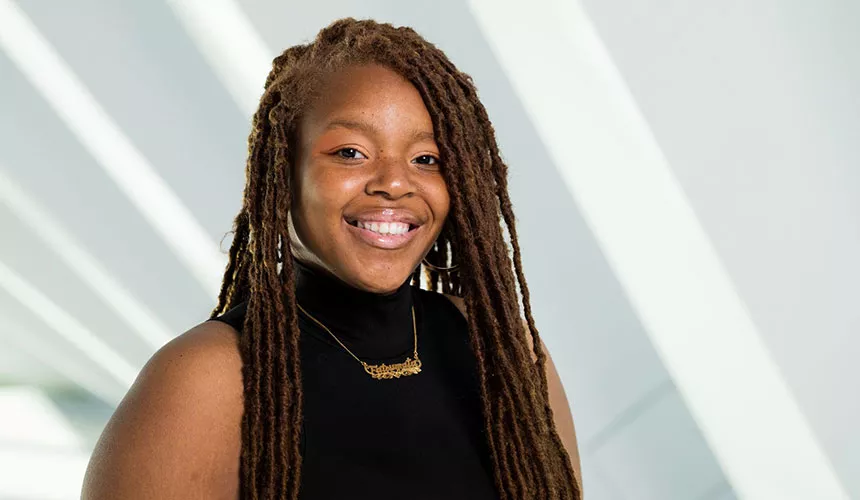 Professional Title
Associate Director of Program, School & Community for Special Olympics New York
Why SUNY Oneonta?
The main reason I chose SUNY Oneonta was because I was offered a diversity leadership full scholarship. It was nice to see that the school saw great potential in me because I was a leader and someone who was very active and on top of her academics. I also came to Oneonta because I wanted to attend the school that was going to push me outside my comfort zone rather than just attending a city school that wasn't going to really push me in ways that I needed. I've grown so much since I graduated from Oneonta, and I'm grateful that it pushed me academically and socially.
A Day in the Life
In my role as Associate Director of Program, School & Community for Special Olympics New York, I'm responsible for supporting, coordinating, and monitoring all program-related activities for both school- and community-based clubs serving children and adults with intellectual disabilities. 
What's rewarding about this job is that I'm able to provide sports and physical activity opportunities to a community that doesn't normally have access to sports and physical activity. Many of our sports structures were created for able-bodied people, which creates a barrier for anyone who doesn't fit that criterion. To be able to eliminate that barrier is such a life-changing experience! Every single BODY should have the opportunity to engage in sports and/or physical activity!
Best Experiences at Oneonta
I was involved in the Women's Oneonta Rugby Football Club (WORFC), Sigma Omega Epsilon Incorporated, OVents and was an RA. I would also president of my residence hall. I'm the type of person who likes to take charge and organize social events, and this helped me realize this. We did this really big party for the freshman class, had a great turnout and happened to get an award for the best hall. 
I'll always remember attending all the events, whether sorority or Student Association and/or multicultural events. I met my best friends, rugby teammates and sorority sisters at Oneonta, and I still talk to most of them today!  
About My Major:
When people think of Sport Management as a major, they think it's just sports fans coming together to be part of sports. It's so much bigger than that. Sports has the ability to bring people together regardless of what they look like or what their upbringing is. That's where I discovered my passion for community relations and youth development in sports. 
I want to be able to empower the next generation through sports. That's why I aspire to start my own nonprofit someday to inspire, empower and elevate young girls through the power of sport.  Sports made me who I am, and I want to spread that passion to the younger generation! I also see a need for there to be more females in the field, so I want to make a difference in that way, too.