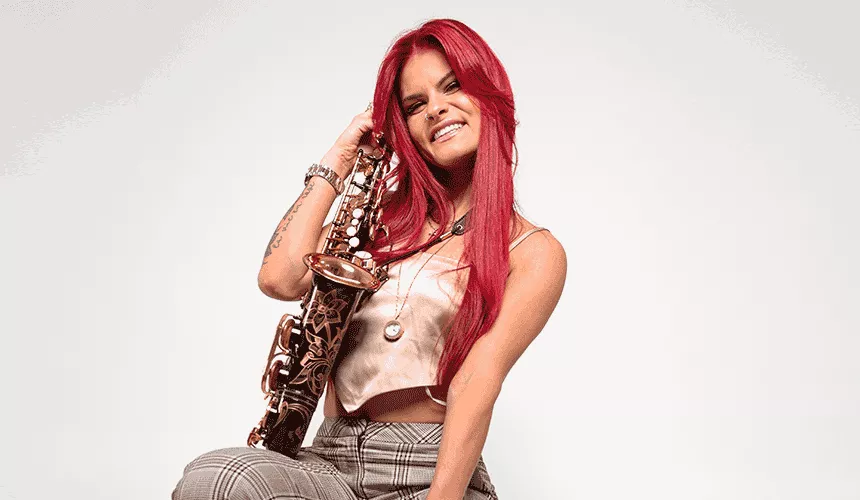 Professional Title
Touring Musician
As a young girl playing the saxophone for an audience of stuffed animals, Gabi Rose Feliciano never dreamed she would one day be performing in front of 40,000 people. 
Majoring in Music Industry at SUNY Oneonta, she joined every ensemble imaginable, formed deep connections with professors, and developed a passion for playing live shows. Now, she's living her dream, performing side-by-side with the Jonas Brothers in arenas and stadiums during their world tour.
On a rare day off in Saint Paul, Minnesota, Gabi sat down for a phone call to chat about her career path, what inspires her, and what's next. 
My Journey So Far 
After I graduated in 2017, I started really putting myself out there, writing and performing full time, first in Barcelona and then in New York, playing weddings and corporate events. Through some of the connections I've made, a trumpet player I did gigs with mentioned my name to this music director who was putting together The Tour for the Jonas Brothers, and he looked me up online and on YouTube, and the rest is history. By the end of June, I was getting sheet music for the show. We had eight days of rehearsals in August to learn all the choreography and blocking and nail everything before our first shows, which were Aug. 12 and 13 at Yankee Stadium. There are 65 shows in the U.S. and Canada for this leg of the tour, ending Dec. 9 back in New York.
The saxophone is my main instrument, but I also play the flute in the show. There are four horn players, a rhythm section and four backup singers. The production is gigantic. I've never been part of anything this big. The Jonas Brothers was the first concert I ever went to, I was such a fan. I was in music in school but I didn't ever picture myself doing something like this. I never saw a path to how I would get there. Getting to meet them felt very full circle. They're so down to earth and kind and easy to get along with – it's definitely extra special that its them because I grew up listening to their music.
A Day in the Life 
It's nice because, for this tour, there's no dancers but a big band. And everyone in the band is always hanging out, so we're such good friends already. On a day off, we sleep, go to the gym, go to dinner together and explore the city we're in. I write my own music and have a band at home, Enrose, so I keep in touch with them and keep things moving on that front. On show days, we have the morning off and then we head over to the stadium or arena in the afternoon for a soundcheck. Then we're there until the show ends at 11 p.m. We're dancing the whole three hours, which is perfect for me because, growing up, I had my hands in everything – I was a dancer and athlete and theatre kid! So I get to use all of that in the show.
The best part is that every day is different, and it feels like an adventure. I'm challenged and of course I get homesick, but I can't imagine a better job. I want my career to consist of different amazing adventures like this. I'm focused on one thing at a time, and who knows what's next? Anything can happen.
Why SUNY Oneonta?
I wanted a school that had arts programming that I could do as an extracurricular – that was important to me because I wasn't planning on majoring in music originally. I got a great scholarship to attend Oneonta, too, and when I visited it just felt right. 
Best Experiences at Oneonta
I vividly remember being a freshman and going to a show at the Oneonta Theatre downtown where all of these ensemble groups from the college were performing, and I went and I remember this lightbulb going off, like – 'Wait I can do that?' I had never seen anybody around my age performing like that and sounding like that. I didn't have that growing up, but I knew that was what I wanted to do. 
After that, I started getting involved in everything I could. I joined ensembles like Big Band; Chamber Choir, where I met some of my best friends and roommates; Funk Band with Jeremy Wall; Jazz Octet with Rob Roman; Jam Band with Joseph Pignato; and I took singing lessons for the first time with Colby Thomas and did some musical theater stuff with her, as well. Being involved in so many different ensembles was the best kind of music performance education I could have ever had. I didn't have this pressure of "I need to be great and perfect already," and I was surrounded by my friends and professors who were so supportive – it didn't feel like a competition. 
About My Major
I feel like the well-rounded education I got is the reason I felt encouraged and empowered to do this at a professional level. I got a lot of skills that I still use today. Because, performing on tour, I'm not just doing one thing. Musical theater classes taught me how to perform, doing funk band I got this wide repertoire and I had never improvised before until then. Now I do it all the time. I loved all of my professors, who are all experts in their fields. They taught me how to really play music. I try to stay in touch with them and hope to make them proud. Ever since my senior year, seeing alumni come back to speak and being so inspired by them, I hoped that would be me someday setting an example for what's possible out of a music career. 
Best Part of My Job 
My favorite part of performing is seeing other people just having the absolute most fun. That's why I continue to do this. I can see so many faces from onstage and when I walk down the catwalk, and there's such a crazy energy – it's the most wholesome and genuinely happy environment, and it feels good to provide that for people. 
Offstage, it also feels really good to meet people, sign stuff and take pictures with them. I feel like I'm connecting with people who are like me, who grew up listening to the same music. Especially other women. Because there aren't as many female sax players out there. I've had a lot of women reach out and say 'you've inspired me,' or 'I brought my daughter to the Jonas Brothers show and now she wants to get involved in the band at school.' And that, to me, is just so amazing and rewarding. I want to be an example like that and pave the way for little girls.