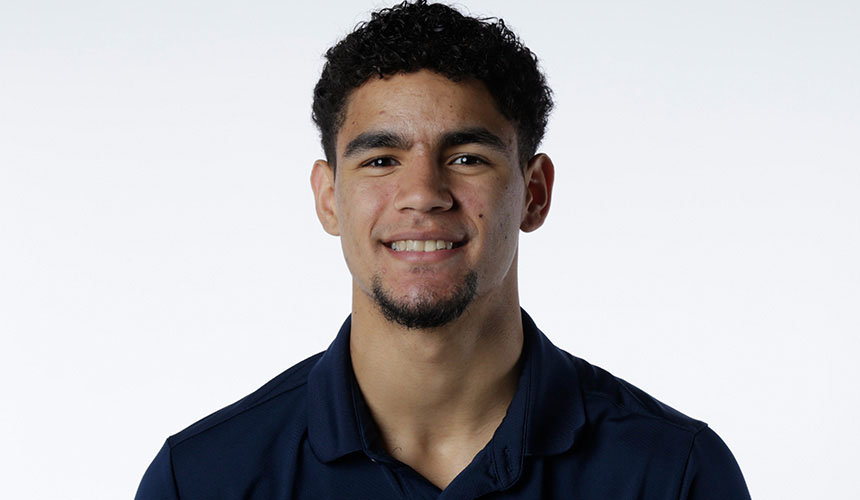 Why Oneonta
Oneonta made it easy to transfer here. All my credits transferred from my school in Pennsylvania, and everyone here helped me throughout the process.
There aren't many Exercise Science programs in the state, either, so that was a factor. I was impressed with how hands-on the program is at SUNY Oneonta. You can apply the information you learn in class, whether in labs or community service. 
The campus is relatively small, and I like how they organize the Exercise Science classes. You're only getting about 20 people in a class, so you get to know your professors well. It's like a big family.
My Activities
I'm on the Student-Athlete Advisory Committee (SAAC) and part of the men's basketball team, and I'm looking forward to joining the Exercise Science Club next semester. Next year I'll be a mentor in Oneonta Players Reaching Other Students, which is a program where athletes from each team aid in alcohol education.
SAAC is a subgroup of NCAA legislation. We get to vote on some of the rules and regulations implemented by the NCAA. It's cool because you're getting into sports politics, representing your team and other athletes. I like being a leader and representing my peers. 
This summer, I have an internship at a local outpatient clinic called Connect Physical Therapy with Dr. Chelsea Leahy. She's allowing me to be vocal, and when it comes to a patient's recovery process, I can give her ideas about some exercises we can incorporate and run the patients through them. It's very hands-on, and that's what I love about the opportunities in this area. A lot of the clinics want you immersed in the process.
Why Exercise Science
I want to be a physical therapist after I graduate and go to a physical therapy school to dive deep into the specifics of the human body. That attracted me toward Exercise Science, which ultimately made me decide to transfer and change my major.
Favorite Classes
I really like Sports Psychology with Dr. Katie Griffes. That course is about the mind-to-body connection and how psychological aspects can affect someone's performance at all levels of athletics.
I also like Biomechanics because that gets into the physics of sports performance and human movement.
Advice for Transfer Students
Transferring is a big decision, to begin with, but if you're ready for that change, it's definitely worth it. I don't regret switching schools at all, and Oneonta really makes it easy to transfer.
Once you make that decision and you're here at Oneonta, just give it some time. It will take a while to immerse yourself in the traditions and culture here. It took me some time to develop relationships with my peers in and outside my major.
Being yourself is so important, and Oneonta allows you to do that. You have unlimited opportunities, so seize them and figure out what you want to do with your time here. Once you figure that out, find those people who will put you on the right track.