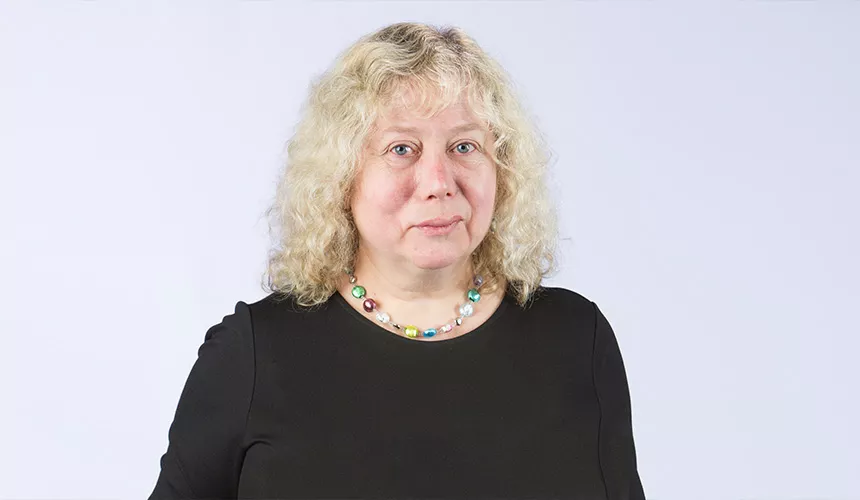 Professional Title
Professor
When hearing the term "artificial intelligence," most people think of robots, spies and cars that drive themselves. But, according to Dr. Izabella Lokshina, professor and chair of SUNY Oneonta's Department of Business, the average person is actually much more familiar with the field than they may realize. 
Artificial Intelligence, or AI, is all around you, as Lokshina's students learn. It's in use when you ask SIRI a question or tell Alexa to play a song, when your Roomba vacuums your living room, and when you unlock your iPhone using facial recognition. It's also in use when search engines predict what you're going to type into the search bar before you even finish typing.
A.I. 101
With 30 continuous years of acclaimed research, Lokshina is an expert in the fields of Artificial Intelligence and Telecommunications. She received her doctorate from Moscow State Mining University in Russia, where she grew up and lived until 1998. 
"When I was getting my education, the field was in its childhood stages," Lokshina said. "It was brand new then and very few people knew about it, but I was lucky enough to work with the fathers of artificial intelligence in Russia." 
Since then, Lokshina has really made a name for herself. Her publications have received more than 300 citations, according to Google Scholar, and she has presented at prestigious academic conferences around the world. In 2019, she received SUNY's Chancellors Award for Excellence in Research and Creative Activities, and she is an active member of several exclusive scholarly organizations and professional societies, such as the European Technology Institute and the World Scientific and Engineering Academy and Society.
Despite this success, Lokshina is a down-to-earth, caring professor who will go out of her way to help and who teaches based on her extensive experiences rather than from a textbook, often inviting professional colleagues from Europe or Penn State to speak to her classes. 
From Moscow to Oneonta  
In 1998, Lokshina moved with her husband, two sons, and just eight pieces of luggage from Russia to the United States, where she got a job working for a small computer company in Albany. But she always knew she had a passion for teaching. When she interviewed for a position at SUNY Oneonta in 1999, she felt as though she had come home.
"I had always lived in a very big, crazy city," she said. "In Moscow, it's all skyscrapers. You don't see trees, and everyone runs and is busy and nobody cares about you. People don't stop for five minutes to look at the sun. My first impression of Oneonta was that people I didn't know were saying hello to me. It opened a new world for me. I just fell in love with the scenery and the warm, friendly people here and knew this is where I wanted to be."
Lokshina's classes cover everything from the basics of management information systems – hardware, software, databases, and telecommunication systems – to the more complex, such as how these systems are used to support operational-, tactical-, and strategic-level decision making and problem solving for companies.
"You need information, calculations and models to handle risk and uncertainty and make the right decisions," she explained. "Artificial Intelligence is key here because it provides the tools to predict developing problems and come up with solutions. You're making decisions that will impact tomorrow, so you have to have foresight into what tomorrow could be like."
A Deeper Connection
Lokshina knows first-hand the value of a SUNY Oneonta education because her son Alexander graduated from Oneonta with a degree in Professional Accounting.
"He has a wonderful job now and works with people who went to Harvard and other Ivy League schools," she said. "I can say for certain that our education is on par – he is respected the same as his colleagues."
 When not teaching, you can find Lokshina traveling, cooking, playing the piano or engaging in a lively game of chess, which she enjoys because "like A.I., it puts you in these situations where you have to think ahead, strategize and predict what the other person will do in order to come out on top."
She also enjoys keeping in touch with her former students.
"You invest so much of yourself in them and care about what happens outside of the classroom as well," she said. "Over time, I care so much about them that I have found myself emotional before final exams – they become like your own children. So yes, I'm very proud of them when they start sending updates and are interested in my opinion on something. That's the most precious for me – when you see their success, you have this feeling that you did something right."