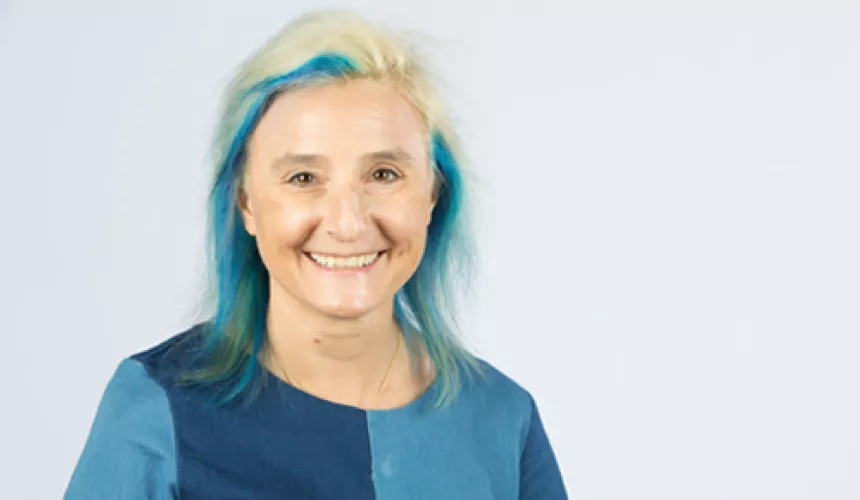 Professional Title
Assistant Professor of Acting, Directing and Movement
Just like Hermia in Shakespeare's "A Midsummer Night's Dream," SUNY Oneonta Assistant Professor of Acting, Directing and Movement Kiara Pipino is little, but she is fierce. And her students know that better than anyone.
In fact, they often comment on her uncanny ability, despite being 5 feet, 1 inch tall, to command a room and even the hallway she's walking down. Each semester, students notice, Pipino said, and they want to know how she does it.
That's where Pipino's course on Movement for the Stage comes in. It's one of her favorites to teach because it attracts students of all majors and "provides important life skills."
"I explain to them that 75 percent of communication is body language but, most of the time, we're not aware of how we use it," Pipino said. "Learning how to use your body to make your communication stronger – by walking with purpose and having good posture, for example – is something I am really fascinated by, and it's very rewarding to see it register with students."
Movement is important to Pipino who, as a teenager, competed as a professional downhill skier in her native country, Italy. Every other morning, she wakes up and runs 8 miles on the indoor track at Alumni Field House.
Later, inside the Fine Arts Center, she stands in front of her students, a shock of electric blue in her hair, and explains to them how theatre can and should be used to make a difference in the world.
A Stage of Her Own
After earning a Ph.D. in Architecture for Performance in Italy, Pipino moved to the United States 11 years ago to earn an MFA in directing at the University of Arkansas. She returns to Italy each summer to serve as artistic director of Festival Valle Christi, a theatre festival she founded 14 years ago in an abandoned monastery.
Pipino has directed more than 27 productions and participated in and/or spoken at theatre workshops and seminars around the world, including in Greece, Belgium and the Philippines. Her involvement as an instructor for the Prague Shakespeare Company's Summer Shakespeare Intensive in the Czech Republic has led to incredible study abroad opportunities for SUNY Oneonta students.
When she's not backstage or overseas, Pipino can be found researching, writing and working to earn equality in the theater world for minorities and women. Her fourth book, "Women Writing and Directing in the USA: A Stage of Our Own," was published in March 2020.
Creating Community with an Army of Crockpots
When she came to SUNY Oneonta in 2018, Pipino was instantly drawn to the university's moderate class sizes and warm, "community feel."
"We have just the right amount of students in the theatre program," she said. "There's an adequate number of people where you can cast new and different people for each show, but it's still small enough that you can have personal relationships with the students and really get to know them."
When directing a student show, Pipino and her actors are often in rehearsals until 10:30 or 11 p.m. Because she doesn't want them to miss dinner, she cooks meals for them every Sunday night.
"I have an army of crockpots, and I cook like crazy," she said. "When you sit down and share a meal, you bond. The students have a moment where they get some nutrients, and it's also a nice way to create a community. Then we go into rehearsals and get to work."
And all that hard work pays off. Recently, Pipino and her student actors were invited to perform their production of "The Wolves" at The Kennedy Center American College Theater Festival. They won several awards, including Outstanding Production of the Year, Outstanding Cast and Outstanding Directing.
"Awards look good on a resume, but I'm most proud of every time I'm able, as a director, to empower my actors – whether professional or students," Pipino said. "The moment I see I'm able to help them create something that is a combination of their work and artistry and MY point of view, that, to me, is the most rewarding thing."