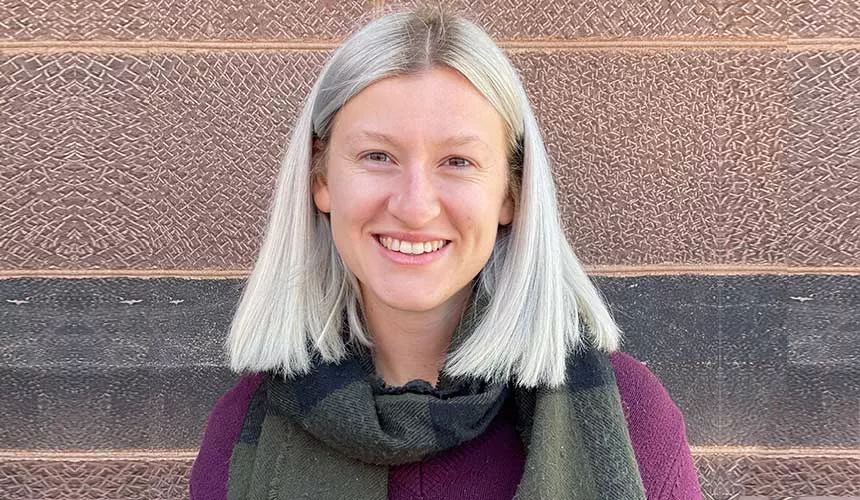 Hometown
Baldwinsville, NY
The course of Yale University Ph.D. student and graduate researcher Kimmy Cushman's life changed dramatically on an autumn day inside SUNY Oneonta's Science Discovery Center.
A freshman halfheartedly studying dietetics, Kimmy had finished early with the assignment for her gen-ed chemistry lab that day. With time to spare, she and her lab partner decided on a whim to explore the nearby A.J. Read Science Discovery Center, a hands-on STEM museum on campus that features interactive exhibits and displays.
Kimmy was immediately flooded with memories of her high school physics class, which she had thoroughly enjoyed. After striking up a conversation with a few physics majors working in the center, Kimmy was encouraged to "go upstairs and find Dr. Michael Faux," a theoretical and mathematical physicist, professor and chair of Oneonta's Physics Department. By the end of that first conversation with Dr. Faux, Kimmy's future was solidified. 
"From that point on, I fell in love with physics," she said. "Dr. Faux is the person who introduced me to the world of theoretical physics, and he ended up being an academic mentor to me, as well as a career mentor."
Kimmy graduated from SUNY Oneonta in 2017 with a double major in physics and mathematics (and minors in astronomy and chemistry). These days, you can find her working on her Ph.D. in computational methods of particle physics, the study of dark matter and "the smallest building blocks of the universe," at Yale. Her research is funded by a U.S. Department of Energy Computational Science Graduate Fellowship. 
Why SUNY Oneonta?
From the moment she visited SUNY Oneonta, Kimmy knew she "could be super happy here and feel at home." On visits to larger schools, she felt she would "just be a number." Oneonta, on the other hand, reminded her of home – rural Baldwinsville, NY. She also had "a really friendly tour guide, and everyone seemed happy and friendly on campus."
After changing her major, Kimmy zeroed in on physics and mathematics and was presented with many opportunities for experiential learning. She tutored other physics majors, explored advanced topics during independent studies in particle physics with Dr. Faux, presented at regional, national and international science conferences and, during her sophomore year, completed astronomy research with Dr. Joshua Nollenberg.
"That ended up being really useful in my future career because I got hands-on research experience and learned to computer program," Cushman said. "That led to a summer internship placement at University of Notre Dame in the nuclear physics department and, after that, getting to work in an atomic physics lab in Germany. My whole career has built off of that initial astronomy research."
Dream Big, Start Small  
If Kimmy could give students one piece of advice, it would be to take advantage of all the opportunities at college and not to worry if you don't know what you want to do yet. 
"The great thing about Oneonta is that it's a liberal arts school, so you can take a lot of different classes and expose yourself to a lot of different things," she said. "I didn't know what I wanted to do, I just kept doing the next thing that seemed really fun. Try different things and, if something feels exciting and you're looking forward to doing it again, talk to other people who are interested in that same thing."
For Kimmy, those people were her professors, who shared both her passion for physics and the feeling that attempting to understand the universe can be a spiritual pursuit.  
"My relationships with my professors were a huge, huge part of me getting to where I am today," Cushman said. "Of course there was coursework that was part of the curriculum at Oneonta that prepared me for my career, but the biggest benefit was the close relationships with my professors. That's how I got to learn about more advanced topics and see what was on the horizon as far as what I could do in graduate school and beyond."
Looking Forward, Giving Back 
After finishing her Ph.D., Kimmy hopes to transition into science policy, where she can combine her expertise in research and communication in science with her passion for economic and climate justice. 
This passion for giving back began at Oneonta when she and several physics classmates secured funding from the American Physical Society to develop an outreach program called Oneonta Sparking New Attitudes in Physics (O-SNAP). The program sought to inspire high school students at rural schools to pursue physics and engineering through exposure to female role models. She is also involved in a similar program at Yale, working with middle school girls.
"Before I came to college, I didn't realize you could be a scientist for a career," she said. "It's really important that people have role models so they can see what kind of future they can have."
There are so many problems affecting the world right now, Kimmy said, especially climate change. She hopes to use her background in physics and science to help reduce climate change through public policy by improving sustainability and reducing greenhouse gas emissions.
Kimmy said she is grateful to Oneonta for lighting this fire within her. 
"It's interesting because, at Yale, there aren't very many students, especially in physics, coming from smaller schools like Oneonta," she said. "But, for me, Oneonta was the perfect environment to explore all the things I was passionate about. It was an amazing time academically and socially and just exploring what life has to offer, and I would do it all over again in a heartbeat."