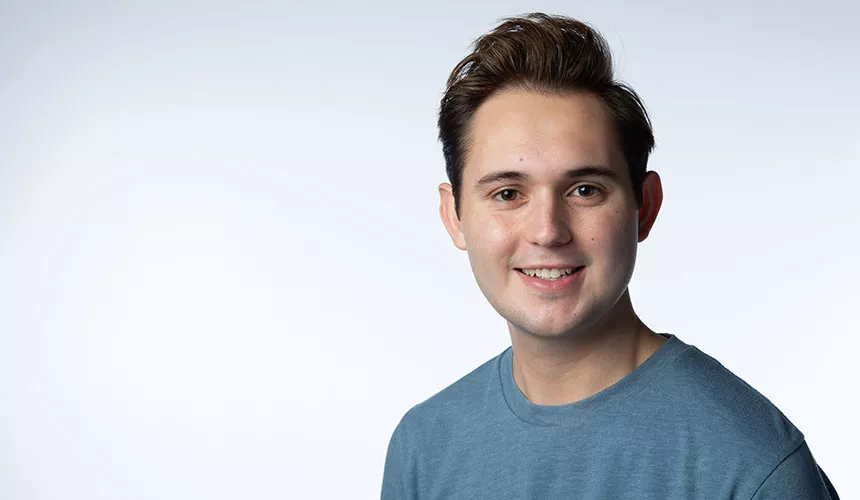 One of the biggest lessons senior Luke Mock has learned in college is that being successful in the music industry is all about who you know and how those people know you. SUNY Oneonta has been the perfect fit for him because of the connections he's been able to make.
Why SUNY Oneonta?
I wanted to learn more about the music industry, so I decided to look at music business schools and found Oneonta. The combination of the music industry program and the audio minor was very attractive to me. Plus, it's a very beautiful campus.   
My Activities
As a freshman musician, I played every show I could and took advantage of many opportunities presented through the Music Industry and Songwriters' clubs. I became known within the Oneonta music scene and met classmates with similar goals and dreams. By the end of my first semester, I had teamed up with a senior who saw my ambition and believed in my music, and we started recording together.
Best Experiences
When the Music Industry Club coordinated a conference on campus, we were able to get Oneonta alumnus Ryan Quinn '13 – from Season 10 of NBC's "The Voice" – to come to Oneonta to perform and speak. I was chosen to open for him, so I got to know him. Because of that, the university's Alumni Association asked us to record two songs together and create several performance videos for a special awards ceremony. I learned a lot from him about what it takes to be in the industry.
What do you like about your major?
I've gone twice to NAMM, the world's largest music trade show, which is held in California and organized by the National Association of Music Merchants. The second time, I got to meet Oneonta alumnus Noah Rakoski '07, who is Head of West Coast Label Partnerships for YouTube Music at Google. He gave us a tour of Google, which was an amazing opportunity, but what I appreciated most about meeting him was how down to earth and honest he was.
I've always wanted to perform in front of thousands of people, share those special moments with others, and work in the music industry. Thanks to all the great experiences I've had here, and the many valuable connections I've made, SUNY Oneonta has made me want all of that even more.