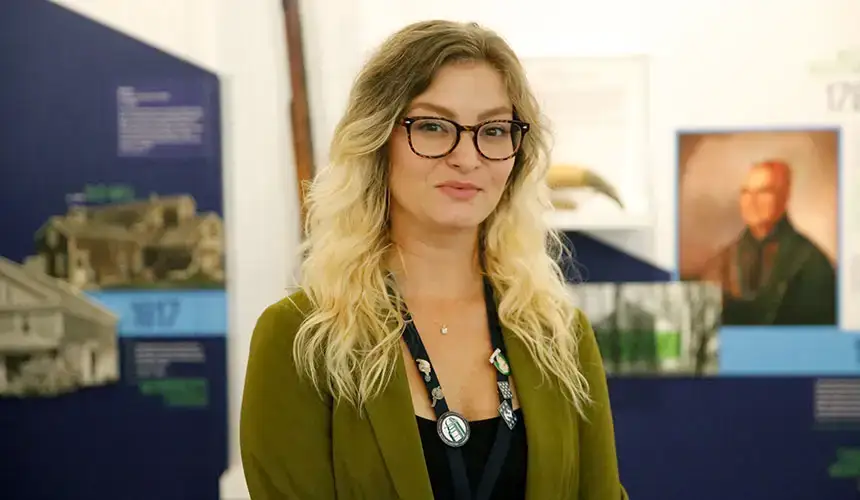 Professional Title
Executive Director of the Greater Oneonta Historical Society (GOHS)
 "To me, history is just a whole bunch of stories. It's people's lives and their experiences, and that's what I find to be the best part about it – to be able to bring that to life is an incredible honor."
 
As a child growing up in Oneonta, NY, Marcela Micucci wasn't into dolls. When other little girls were playing with Barbies, she was writing mini historical fiction novels about the Titanic and the Underground Railroad. 
Years later, while majoring in history and women's studies at SUNY Oneonta, she doubled down on her love of the past inside the classroom and during History Club meetings.
 
After earning a master's and doctorate and completing successful stints at two prestigious museums, Micucci has returned to her hometown to step into what may be her most meaningful role yet: Executive Director of the Greater Oneonta Historical Society (GOHS).
Why SUNY Oneonta? 
I chose to stay local for college because I already had a network of family and friends here and knew I could get a great education. I was also a straight-A student and was able to get quite a few scholarships and aide. I lived at home all four years and worked, so was able to save some money, which really helped me when I went on to grad school.
Coming Full Circle 
After graduating in 2010, I went on to Binghamton University, where I earned my master's and Doctor of Philosophy degree. From there, I found a post-doctoral fellowship opportunity working at the Museum of the City of New York in Manhattan, where I got to be curator for the exhibits "Rebel Women: Defying Victorianism," "Debating Vice: The Anti-Obscenity and Birth Control Movements, 1870-1930," and "Beyond Suffrage: A Century of New York Women in Politics." Beyond Suffrage was one of the first major exhibits I worked on and one of my favorites. My advisory committee included Gloria Steinem, Hillary Clinton and all of these fantastic women I had always looked up to and now was working alongside and getting to know. As a woman's historian – and just as a woman in general – that made my entire life.
From there, I went to Philadelphia to work at the Museum of the American Revolution, where I curated the exhibit "When Women Lost the Vote: A Revolutionary Story, 1776 – 1807." Not long after, the COVID pandemic hit, so I moved back home to Oneonta to stay with my family and continued my contract remotely. 
When COVID lasted longer than anyone could have predicted, I felt really lost. I didn't think I would ever find work again, especially in Oneonta. But, a few weeks later, GOHS posted the director job, and it was just so serendipitous. They took a chance on me, and I hit the ground running. And the rest is history. 
A Day in the Life 
It's really busy. We're a very small staff, and I have a fantastic group of volunteers. I do a little bit of everything here. I come in, open up, have a lot of meetings throughout the day. I pay the bills, manage our social media, manage our collections, curate all of our exhibits, apply to grants, do payroll, run board meetings, execute events… I wear a lot of different hats, but I like that a lot because you're never doing the same thing, and it's never boring. 
Immediately after getting my bearings and starting here, I jumped headfirst into the renovation of the first floor of the building: fundraising, applying for grants, tracking down designers, building an exhibition committee and hiring contractors. Our grand reopening was in May of 2022. It was a whirlwind, but I'm very proud of this one. It's my baby. Next is the third floor! 
Best Experiences at SUNY Oneonta
My best experiences were really in the classroom. I loved Dr. April Harper and took all of her classes, and she became so much more of a friend and colleague to me after I graduated and gave me such great advice. But I can honestly say I wouldn't have gone to grad school if it weren't for Dr. Thomas Beal. He was the one who introduced me to the topic of infant abandonment and infanticide in antebellum New York City, which became the focus of my dissertation.
Looking back, I really came into my own at SUNY Oneonta. I found my voice as a student and I think also as a woman. My fondest memory is being in a classroom and being called on, being nervous, but I knew that I knew the answer. And Dr. Beal would call on me and say, "Marcela, what do you think?" I found my voice and my point of view, and that was really my favorite. I couldn't have gone to grad school if I didn't find that voice, and I owe that to SUNY Oneonta because it was a small enough environment where you felt comfortable, but it wasn't so small that you didn't feel pressure to excel and push yourself. It was the perfect place for me.
Most Rewarding Part of My Job 
The appreciation I've gotten from the community and getting to work with such great people. My volunteers, staff, board, members – they are just the best. Everyone always has a story, or they think of us and bring something in. Just to feel appreciated and like you're a part of something is so fantastic to me. And of course working on this exhibit and having people come in and to be able to share it with them, it's a legacy and such a labor of love. Seeing my vision come to life, it's shown me that hard work really does pay off. And it feels good knowing that I'm helping make the community a better place. We're a free, accessible resource for the community. Anyone can come here and learn. To be able to provide that to the place I grew up and love so much is priceless.