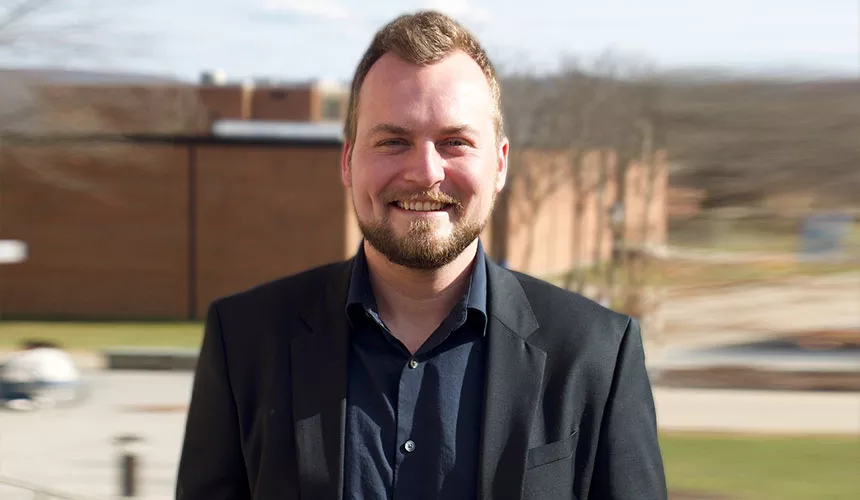 Hometown
Horovice, Czech Republic
Professional Title
Sales Director, Albertina Machinery, a subsidiary of Fillmatech
Why Oneonta
It's kind of an interesting story. I feel like SUNY Oneonta more chose me. I was looking at some colleges in the Czech Republic and I was actually visiting my friend in 2014 just for the summer, and he used to be an English professor here at SUNY Oneonta. We went to visit the campus, it was beautiful, and my friend and I were just like, 'Wow! It would be great to study here." And so we went to visit the people at the international student office and they were like, "Well, you can do it. We can get everything set up and you can start in September if it works out." So, we did. It was a lot of work in a short period of time but yeah, that's the story of how I got here.
Why Business Economics
I always had an interest in business. In Czech Republic, we have a little different schooling system, so once you graduate the middle school, then you choose your high school. And so, I went to business academy. You know, even in elementary school my mom, she would give me lunch bags and stuff like that and instead of eating it, I would actually sell it to my friends and make more money so I could buy what I wanted. So yeah, business was always my thing. (And for that, I actually got in trouble, so I had to stop.)
How I would describe SUNY Oneonta to people in Czech Republic
Amazing people, really very nice people, great education, and I really love that I actually met a lot of people from all over the world, again thanks to the international student office. I'm still in touch with people from Netherlands, Germany, Japan, China, South Korea and other places. So that would be definitely how I would describe it. And it's also cold. Very cold.
How I adjusted to American culture and life I Oneonta
I've been in contact with Americans since I was 10 years old and when I was 16, I actually moved to Canada for a year in an exchange program, and Canadian and American cultures are very similar so for me it wasn't much of a culture shock. But still, it is very different compared to the Czech culture. People are very nice. They always smile. You know in my country people are more like, rough, when you first look at them, but then you have a beer and everyone is very friendly, you know.
But I really like how people here cheer for you. When you want to try something new, they are not really going to put you down, like "No, man. It's not for you" or, "You shouldn't do that. ""They're like, "Dude, try it, that's amazing! Great opportunity! Great for you." That's really different from, I would say, the European culture as a whole. They really support each other in this sense, and I really, really love that.
Highlights of my experience as a business major
All the classes are very interesting, but the professors, they're very important…. For example, business law. I really enjoyed that one, but I actually failed it for the first time. I still loved it, but it was very difficult for me to understand the American business law, plus there were a lot of words that I couldn't really understand because of the language barrier, you know. I took it with Dr. Sean Shannon and I had a great time talking with him in class and outside of the class about my business ideas and if it would be possible to do it this way or that way in the United States, and he always had great answers.
I also had some professors from China, and China is now an amazing business country so there was a great opportunity to see their point of view on business, especially how to market stuff. That was also really great, that there weren't just American teachers but teachers from all over the world. One of the last classes I had, a management class, was with a professor from Romania and it was just awesome.
My Campus Activities
During the summer, I would help at the international student office. Also, I would help [Assistant Director of Business Services] Graig Eichler to set up things for the events that were happening during the summer, like the baseball teams and other stuff. Then I would also work in the dining hall to make some extra money. That was also very nice, nice people. And we would do volunteer programs for my geography class. I took a bunch of geography classes, amazing department. We would do hay rides at Halloween, about a 30-minute drive east from Oneonta, and that was a lot of fun. We don't have that in Europe. I also took a lot of music classes, and I was a TA, helping the professor to teach a student guitar. We would do little shows in front of the Mills Hall. We would have electric and acoustic guitars and we would play for people.
After Oneonta
It's always been my dream to do a cross-country road trip and see the whole continent, pretty much, and live some time in California. I really like the California vibe. So I took a car and drove from New York to San Diego.… We met this beautiful community in downtown San Diego. It was like a hostel; first we were working for free and staying for free and meeting amazing people. I was in a sales job, and I was social working for two charities. And then in December 2018 I got a job as a marketing executive for Marriott Hotels, so I was helping with the marketing for five different hotels in San Diego. When my Optional Practical Training program expired, I went back to Europe. In San Diego I met a girl, and now she's my wife. She's from Japan… and we thought that we would go to Asia, but in the meantime my friend that I went to high school with contacted me about his company and that they needed someone to help expand to the United States … and I agreed. The company that I work with now is Albertina Machinery. We produce production machinery and robotic applications: filling machines, capping machines, labeling machines, pretty much anything that can help with packaging automation and production automation.
How SUNY Oneonta set me up for success
SUNY Oneonta and the business major absolutely helped to get me where I am now. Not just the classes, the classes, of course, are important, but also the networking. You meet a lot of people, and networking, I would say, is one of the most important things when people want to do business. If I hadn't been here, I wouldn't be expanding the company to New York at first, but this is such a great location and there's so much opportunity here.