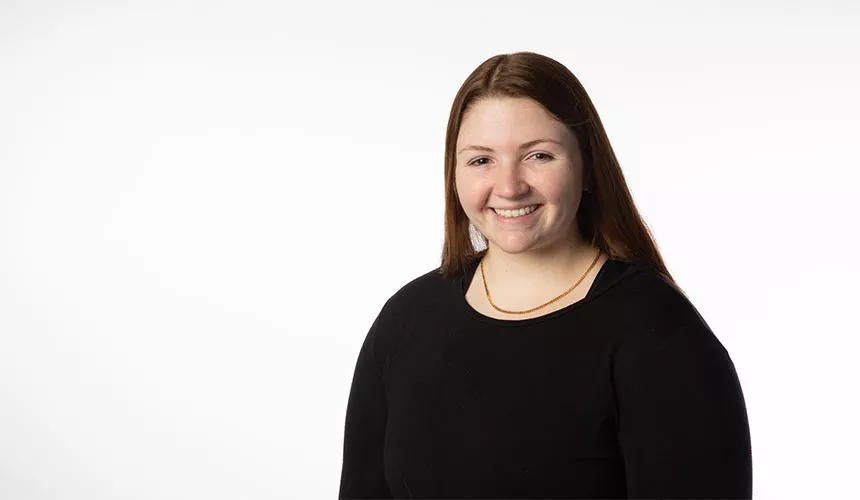 Meghan Field was in fourth grade when Hurricane Sandy hit. She remembers like it was yesterday going outside with her dad, using a hairbrush as her microphone and "reporting" on the storm.
That's where her passion for weather and dream of becoming a broadcast meteorologist began. Thanks to a host of real-world experiences and applied learning opportunities at SUNY Oneonta, she's well on her way to achieving that dream.
Why SUNY Oneonta?
When I visited Oneonta, I loved the beauty of the campus and the "like home" feeling I got. I also fell in love with the sky lab in Perna Science, which is still my favorite spot on campus. It's the best place to see the sun rise or study with friends. 
My Activities
I'm co-president of Broadcasting Club and a member of Meteorology Club. A forecast I created for fun for Halloween weekend was actually shared with the campus and beyond on Twitter, and Oneonta alumnus Bill Karins '96, who is chief meteorologist at MSNBC, gave me a shoutout and said I did a good job! It's nice to know Oneonta alumni still care even after becoming successful. And, if he can get there, so can I. 
What do you like about your major? 
At Oneonta, I've learned forecasting by practicing the skills every day in the classroom, from producing mock forecasts to releasing a weather balloon and analyzing the rooftop data. One of my favorite professors introduced me to the WxChallenge, the North American collegiate weather forecasting competition, where you forecast the maximum and minimum temperatures, precipitation, and wind speeds for certain U.S. cities. One week I took 10th place, and another week I took fifth, which made me feel confident that I can do this as a career!
I also really love my professors and I love the small class sizes. Our department in particular is a tight-knit community. You really make a connection with everyone. 
 What's next for you?
Next semester, I'll be taking research methods and, this spring, we're planning to go to the Northeastern Storm Conference. Back home, all my friends tell me they wish they had some kind of real-world experience for their career paths like the applied learning opportunities I've had at Oneonta. I do feel prepared and ready for the real world, and I can't wait to see what's next.