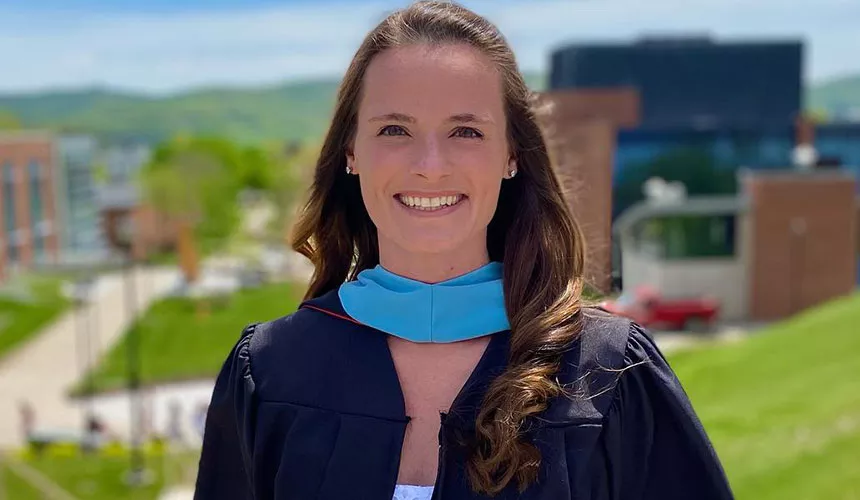 Hometown
Orange County, NY
Professional Title
Elementary School Counselor
About My Work
I will be starting as the school counselor at an elementary school in Dutchess County, NY, in  fall 2022. I'm excited to work with students individually, in groups and inside the classroom. I also want to emphasize the importance of collaborating with parents and other school professionals within the building as well. School counselors carry many responsibilities, but helping students develop appropriate social skills, learn how to navigate through their personal concerns, advocating for the entire student body and, ultimately, making students feel that there is a safe space to talk freely are my main goals as a school counselor.
Best experiences in the program?
Starting graduate school during the height of COVID-19, I had to take a different approach to making the best of my graduate experience at SUNY Oneonta. Being in a small cohort of eight students in my program, we were all fully engaged in remote learning via Zoom for the entire first year of our graduate studies. Although remote learning wasn't ideal for me, I felt as if I knew my professors and classmates even though we never actually physically met in person for the entire first year. During the second year of grad school, SUNY Oneonta finally returned to in-person learning on campus, which allowed my classmates, professors and me to come together and learn inside the classroom! One of my favorite things about this program is that it allowed me to be part of such a small cohort, in which we were all able to grow together as a team, both personally and professionally. It's comforting to know that my classmates and I will stay connected throughout our professional careers in years to come as well.
Why did you choose SUNY Oneonta?
The reason I chose SUNY Oneonta for my master's degree is not only because I have family members who are alumni, but also because it is known for its excellent educational programs. Oneonta is also such a beautiful and inclusive campus!
What's the most rewarding aspect of your job?
The most rewarding aspect of being a school counselor is seeing the positive impacts that you can make on students, especially those who may be struggling, either at home or in school. Seeing students finally start to open up to you on a personal level and being able to create a trusting bond with them is why I chose this field. Watching students grow and work through their concerns over time makes this profession the best one out there!