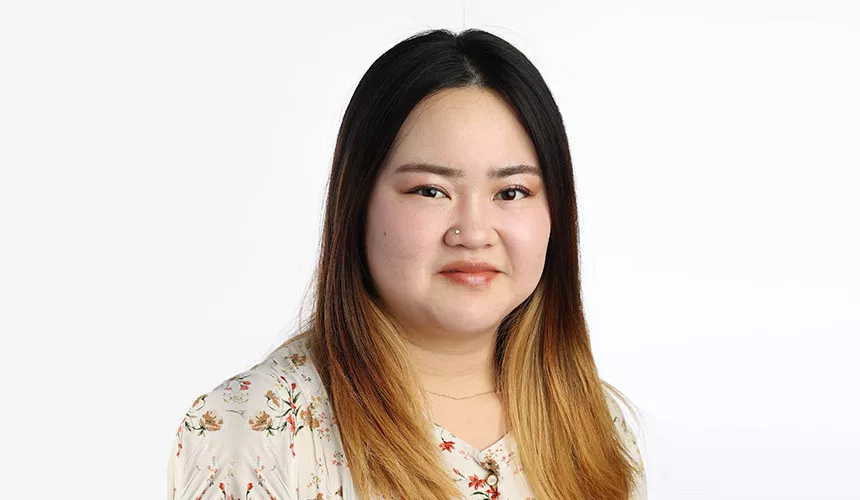 Growing up in Japan, music lover Mimi Oda would listen as her mom watched American television, dreaming of someday living and working in New York City. As a Music Industry major at SUNY Oneonta with two internships under her belt, a rock band of her own, and time logged in the studio and onstage, Mimi is closer than ever to achieving her dream.
Why SUNY Oneonta?
I came to America from Japan after high school and earned my associate's degree in music at a nearby community college. One of my music professors there suggested I come to SUNY Oneonta for my bachelor's in music industry. I visited and got a chance to meet international students majoring in music industry, and they told me the program is really great. I'm very happy I decided to come here.
My Activities
I play the drums. I'm in Jazz Ensemble and I'm the PR chair for the Music Industry Club. I also am doing an internship as an event intern at Hunt Union. In my free time, I have my own rock band, and my bandmates are people I met from the campus Jam Band ensemble. We play at the Teen Center and the Black Oak downtown, where I actually did an internship running the live sound, which was awesome.
Favorite Class
My Audio Production classes are my favorite because I'm minoring in audio arts. I'm learning a lot of studio recording skills and a lot about live sound. That's the biggest benefit of being a music industry student here. With my major and minor, I'm getting the actual skills I'm going to need to use outside of campus. I don't think I could learn practical skills like this in Japan if I went to a college there.
About My Major
I love my professors. They really care and want to help you and help you make connections. One of my favorites is Andris Balins from audio arts. Blake Fleming has improved my drum skills a lot. I also really like Joe Pignato. I took his class called Music Industry Communication last semester, and that helped me realize what I want to do. Up until then, I wasn't sure what I wanted to do. But he taught me a lot of things you can use in the real music industry.
Best Experiences
I would have to say performing with other passionate, talented musicians. Before I came here, I didn't really have a chance to perform with a group of people. Getting to be in ensembles here, I realized it's really fun and I noticed that I really love playing the drums. Now, most of my friends are music industry majors. You get a lot of chances to work with other people with similar interests, and I love that. I've made a lot of friends this way.
Plans, Goals, Dreams
Over the summer after I graduate, I'm planning to intern at a recording studio. My dream job would be to own a recording studio for musicians to record and rehearse their music, with me helping them record. I also want to teach drums on the side.
Advice for International Students
Talk and get to know your professors. That will make it easier to ask questions and feel comfortable. If you become close with them, they can offer you good opportunities and good networking. Especially with music, when you know a certain professor, they can ask you to join a certain band or group. I would also say don't be scared to be funny or make mistakes.