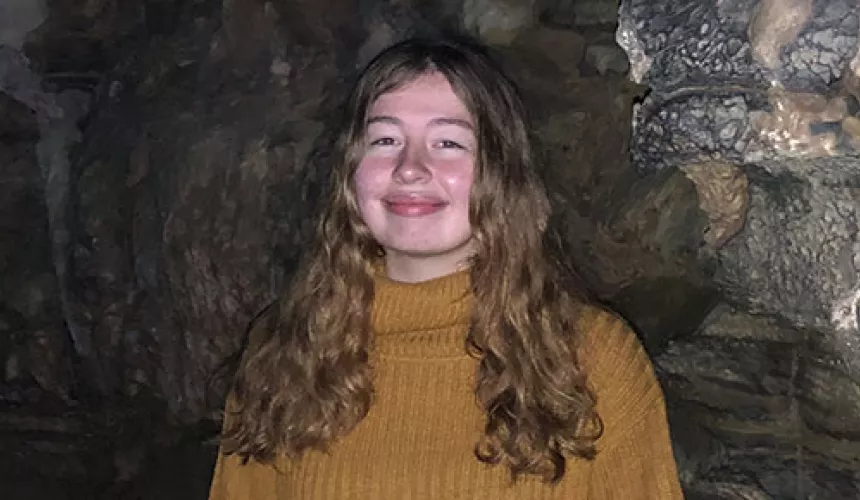 Why SUNY Oneonta?
The campus is really gorgeous and I love being outside, but what really attracted me was the quality of the programs. It's kind of hard to find a school that has both a really good education program and a really good science program, and I wanted both, and Oneonta has both! I'm also part of the Robert Noyce Scholars Program, which I'm grateful for.
My Activities
Earth Science Honor Society, Association for Secondary Education, employee at the Registrar's Office and Morris Hall, intern at the Science Discovery Center 
Best Experiences
Being on campus, being outside here and enjoying the beauty of the area, and being part of the campus community. Also, interning at the Science Discovery Center is amazing. It's really given me a lot of experience creating and hosting events. 
About My Major
I like how diverse the Earth Science program is. It's not just focused on geology, but I get to learn about meteorology and oceanography, too, and take classes in a bunch of different areas and get knowledge in those. Plus, it's a smaller department so you have a lot of one-on-one time with professors if you want it, and it's easier to have that connection and get to know them. My classes aren't in huge lecture halls, which I love. 
Planetary geology because it mixed astronomy in with geology! I learned a lot of new information, and the Mars Rover was happening when I took it, so it was also cool to connect what I was learning to a current event. 
Plans, Goals, Dreams
Growing up where I did, I worked at Howe's Caverns and always loved walking through the caves and exploring. That helped me realize Earth Science was what I wanted to do. I definitely want to teach middle school earth science in a rural school district. I may want to keep going in my education and become a professor at some point, but first I want to teach middle school. I think it makes it easy to teach a subject when you love it so much.