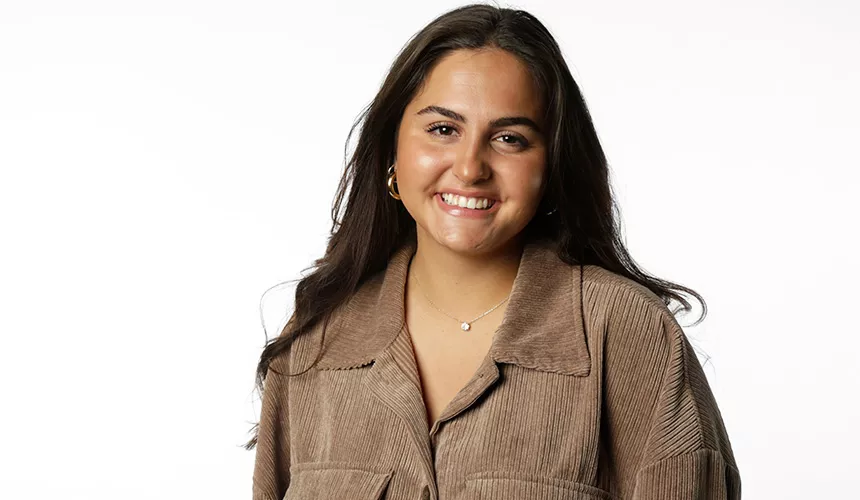 Hometown
Clifton Park, NY
Why Oneonta
I originally wanted to go to a college close to home. I had already transferred twice from other colleges. I had my schedule for a different college close to my house, but I chose to come here. I'm so grateful that I did. SUNY Oneonta made the transfer process easy, and I'm glad I'm here.
Why Exercise Science
Coming here to Oneonta and talking to my professors, who are all in different areas of Exercise Science, helped me realize there are many opportunities I'm interested in. We had an Exercise Science and Sport Management panel where guest speakers came in about a month ago. The panel piqued my interest so much that I started Sport Management as a minor.
I want to work with people no matter what but owning a fitness facility would be awesome. Working with people and helping them be the best versions of themselves, get healthy and be comfortable in their body would be great.
Favorite Class
Ethical Considerations in Sport and Exercise. That's with Dr. Griffes, and it's the most unique class I've ever taken. The structure is we go in, we're there for two and a half hours, it's on Monday nights, and we have a "real-world" topic of discussion every week.
We're all super comfortable with each other during the discussion at the conference table in the Alumni Fieldhouse. There is a pre-reflection and a post-reflection conversation. I love talking about how the stuff we're seeing coming up now may impact us in the future and impact the people that we're working with.
We discuss everything from common topics like drug use in sports to deeper discussions that get into fairness, inclusion and other topics we see in the news. We're not just chatting about it on a surface level, either. We ask questions like "What does this say about society? What does it say about sports in our country? What does it say about sports everywhere?" 
Our goal is to be able to ask and discuss those types of questions, but we don't have the answers to all of them.
My Activities
I am involved in Ski Club and do some stuff with outdoor programs. I've been skiing my whole life, and the club just got a lot of skis and snowboards that people rent. I just love doing outdoor activities and stuff.
I'm involved in Campus Ambassadors, one of our Christian ministries at SUNY Oneonta. We're packed every week at Bluefield's Cafe, and it has been amazing. Next semester I'll get more involved in the Exercise Science Club.
Advice for Transfer Students
The most important thing you can do for yourself is to get yourself involved. You choose what college will look like for you. Everyone's college experience won't be the same. 
If you want to make connections and create a network of people that will support you, that's up to you. Just introduce yourself to everybody. Get to know your professors and whoever you talk to. Make them feel genuinely cared about, and they'll care about you.