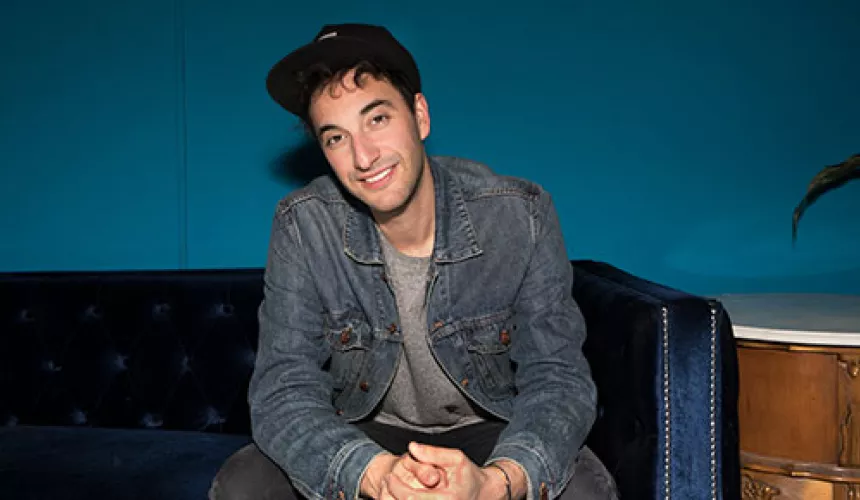 Professional Title
Songwriter
Grammy Award-Winning Songwriter
One of the most popular songs on the radio today was written by a graduate of SUNY Oneonta.
Scott Harris, Class of 2006, wrote the hit song "In My Blood" with singer Shawn Mendes. The tune was in the running for Song of the Year at the 61st Annual Grammy Awards,broadcast live Feb. 10 from the Staples Center in Los Angeles.
"In My Blood," which peaked at No. 7 on the Top 40 charts, is just one of Harris' smash hits. He worked on Mendes' songs "There's Nothing Holding Me Back" and "Treat You Better."
Harris' first big success, the Chainsmokers "Don't Let Me Down," won Best Dance Recording at the 2016 Grammy Awards.
"That was definitely wild," Harris recalled. "I had a bunch of songs rolling out at the time, and it was starting to feel like 'OK, things are really gonna happen.' Then that song kind of put everything over the top. … The Chainsmokers have become good friends."
College Stories for Days
The Oceanside NY, native, 34, majored in Music Industry at SUNY Oneonta, where he wrote "tons of songs." Harris, who plays piano and guitar, would go out for the night and write about what happened the next morning, whether it was something that happened to him or a friend.
Harris also played a lot of shows while in Oneonta. A favorite memory of his was getting to open for Pete Francis of Dispatch at a bar downtown.
"Me and some friends went on stage and sang 'The General' with him," he recalled. "It was the most packed I'd ever seen the place."
The thing Harris remembers most about his time at college is the friends he made.
"I still talk to many of them," he said. "People who go to school in the city or LA, they're in the scene, and that's a completely different experience, I think. I have stories from college to write about for days."
Meeting people and making connections has been a big part of Harris' success.
"The most important lesson for any aspiring songwriter is networking," he said. "You might meet someone in college who's a freshman when you're a senior, and that might end up being the most talented person you've ever met. I have a friend I graduated with who works at Columbia Records now, and we work together. Never count anybody out."
From Oneonta to LA
Harris has come a long way since his days playing in bands in high school and college. After graduating in 2006, he did some touring of his own and then transitioned into the songwriting world – writing "a bunch," collaborating with different artists, and going back and forth from New York to LA. That's when he met an unsigned artist named Shawn Mendes who was becoming popular on the viral video app, Vine.
"I ended up playing a demo I had done for an A&R who introduced me to Shawn," Harris said. "They were like, 'We're signing this kid and we'd love to try him on one of your songs. I had no idea who he was. I got in the studio, he recorded a demo, and that was 'Life of the Party,' which went to No. 1 on iTunes. That felt so wild to have that happen. Four years later, Shawn is a friend and a little brother. We spend a lot of time together."
Since then, Harris has worked with all kinds of artists, from Jason Mraz to X Ambassadors. He writes probably two tunes a day, but only about 10 percent or fewer actually turn into songs. He works in a two-pronged approach – collaborating with artists to make music with and for them, and working with other writers. He says he never struggles with writer's block.
"There's always something to write about – there's some story in every situation," he said. "I always just write from experience. It's the truth, and I think people like to hear the truth."
He said he relishes the feeling of living his dream, which hits him every time he hears one of his songs played on the radio.
"That honestly never gets old," he said. "It's truthfully always what I really, really wanted. I loved the radio growing up, and that was the dream. It's definitely a feeling I'll never take for granted."