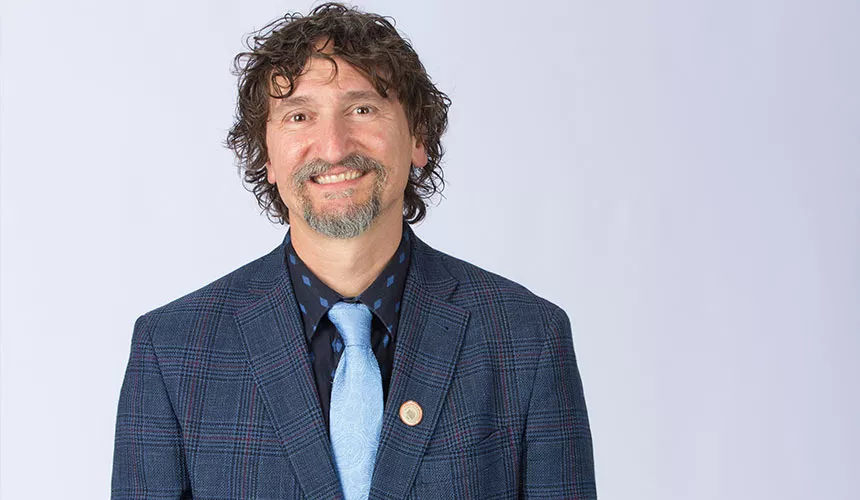 Professional Title
Dean, School of Sciences
The thing you can't miss about Tracy Allen is his passion--for traveling, mentoring, adventure, and the natural world.
It's the driving force behind his efforts to seek "change from the inside out" in working toward a more sustainable, globally aware culture. He gets his students to care about nature and the world by getting them out in it, whether it's a 14-day field course on Lake Atitlan in Guatemala or an hour-long environmental science class activity developing wetland transects along the banks of Silver Creek behind the Alumni Field House.
Allen grew up in the mountains of Virginia, in an area where only about 6 percent of high school students went to college and many people had never left the county, let alone the state.
Allen had other ideas. He set out on his first adventure at 18, traveling to Florida and landing a job cleaning barnacles off the bottom of a three-masted schooner while touring the Caribbean and learning about reef ecology.
"I couldn't stop," he says. "Wanderlust is a temptress. You want more. You start to see the world and you realize how many amazing things are out there."
Since then, Allen has visited most of the countries in the world including Antarctica, usually traveling on a shoestring, with no itinerary, guidebooks or hotel reservations—just his backpack, a sleeping bag and a smile. He has also teamed up with colleagues to take more than 300 students—most of whom had never been outside the United States—on short-term field courses in 15 countries. He's been a vocal advocate for making study abroad opportunities more accessible. In the past five years, the SUNY Oneonta foundation has established three new scholarships to support students studying abroad.
Experiencing another culture firsthand can be a formative experience, and one Allen believes is a vital part of preparing SUNY Oneonta students to succeed. "It changed me," he says. "It changed me 100 percent, and that's what I want for our students."
First-Generation
---
What does being a first-generation college student mean to you?
Opportunity.
What obstacles did you face in this context?
I grew up in poverty on a farm, deep in the mountains of Virginia. College was completely unknown to my family. When I decided to pursue higher education, I did so without any support from my family and against the direct guidance of my high school. Consequently, I was underprepared and underfunded. I had to academically catch up with my peers in college, who had taken calculus, physics and humanities in high school, while I focused on carpentry, welding and agriculture. My peers had time to study and enjoy downtime outside of the classroom, while I worked several jobs. Finding financial aid, unraveling bureaucracy, learning to study, and chasing sleep were barriers unique to my college experience as a first-generation student.
What advice do you have for other first-generation students?
I know it is scary, but talk to your professors. They want you to learn, and they care about you as a student and a whole person. Your life circumstances matter. I had a faculty mentor who saw unfulfilled potential in me. She made me think and filled me with inspiration. Academically, I am at this point in my life, writing these words, because she cared.
Education
Ph.D. (1999) Oregon State University, Corvallis, Oregon; M.S. (1993) George Mason University, Fairfax, Virginia; B.A. (1991) George Mason University, Fairfax, Virginia
Geography and Geoscience major