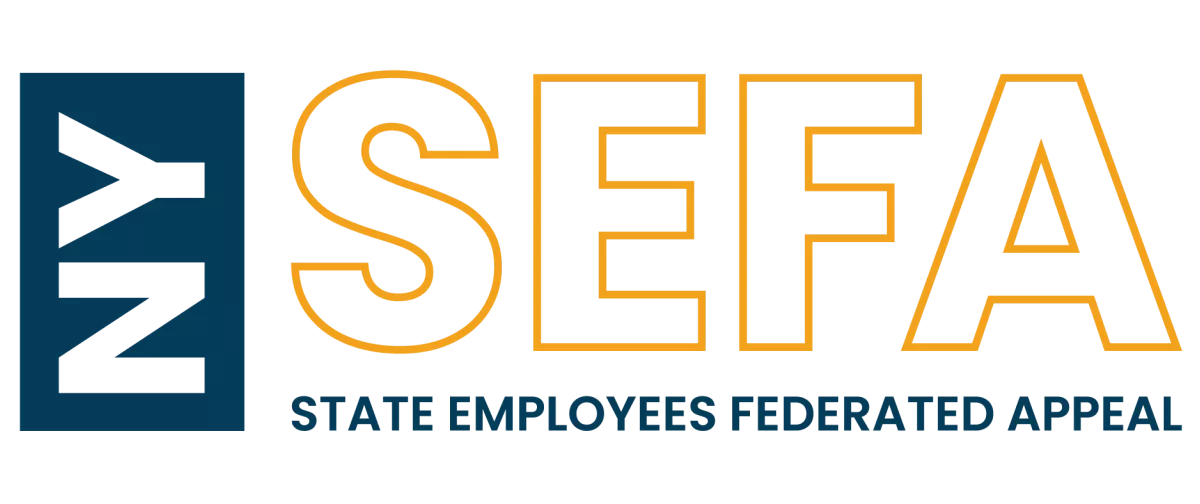 Each year SUNY Oneonta participates in the State Employees Federated Appeal SEFA campaign to support a multitude of local, regional, national and international charitable organizations. Over the last four years our campus raised more than $43,000 through the SEFA/United Way campaign from employees across the campus.
Please note that even if contributed last year, you must complete a new application for this year.
If every employee donated $1 a week, which is less than the cost of a cup of coffee,
as a campus we would raise close to $60,000! Let's join together and show our local community organizations that SUNY Oneonta cares!
Thank you for your contribution to SUNY Oneonta's 2022 SEFA Campaign. Your contribution will make a difference for the organization(s) you select and the communities they serve.
What you will need:
If you have not made an online pledge in the past, you will have to register. To register you will need to include your NYS Employee ID number, which can be found on your Oneonta paystub or by accessing myOneonta and logging into your "SUNY Employee Portal". If you have made an online pledge in the past, you will need your username and password.
Navigating the online pledge form:
When you click on the donate today button above, you will be taken to the NY SEFA EPledge webpage. Here you will have to register and create a username and password or enter your username and password (see above). Once you have logged in, select your division by scrolling down to and clicking on SUNY Oneonta - from there, click on the first choice - Oneonta - SUNY Oneonta - 28220.
If you would like to make the same pledge that you made in the past, click on replicate pledge. Otherwise, select a pledge type -Payroll Contribution; select the payroll periods for which you want the contribution to come from ; enter the amount per pay period. The total amount will appear. Got to next step, enter your employee ID number and work phone number. Go to next step and choose whether you want your information sent to the charity(ies) to which you donate. Go to next step and choose the charities and allocation. Choose the charity(ies) and be sure to type in the total amount that you want to give for each charity. Go to next step and sign with your mouse and confirm pledge.
Christine Barberio, Sponsored Programs Office
21 Bacon Hall
Christine.Barberio@oneonta.edu
Why Oneonta Gives
"I give because giving provides an ongoing reminder that I must do my small part to make our community a better place for all."
-Rob Compton
"I give to invest in the children in our community and their future."
-Aimee Swan
"I give because if I help, in some small way, one person, one charity or a community become better with my donation, I am honored."
-Sherry Wildenstein
"I give because I care about my community."
-Michelle Hendley
"I give because one time I was the one in need. As the child of a single mother, I benefited from many different programs through the years from after-school programs and enrichment programs to health clinics and scholarships. It's my turn to pay it forward."
-Dawn Hamlin
"I give because; it allows me to be a thoughtful donor. I look forward to perusing the SEFA catalog and discovering charities that share my values, it's the easiest way to support the multiple charities I believe in. Locally, regionally or globally—it all goes on one form, and to support my community, to help people in need near and far, and foster better stewardship of the planet. That's a lot of bang for a few bucks out of my paycheck."
-Donna Vogler
"I give to support the work of the local charitable organizations that provide essential services and programs for the local community. I can easily direct SEFA to distribute my contribution, made through payroll deduction, and be assured that my gift finds its way to my chosen providers."
-Mary Lynn Bensen
"I give because it is easy to donate on an on-going basis. If we consider the cost of a cup of upscale coffee and a tasty treat, the same amount contributed to the SEFA campaign could make a tremendous difference in someone else's life. I chose two charities that mean a lot to me. My child benefited from the education and care she received at the SUCO Children's Center and I am familiar with the work done by Catholic Charities. I encourage everyone to make a difference in the lives of people in our area by participating in the SEFA campaign."
-Barbara Durkin
"I always participate in the SEFA campaign because it is a painless way to support the local programs I value. Since my donation is automatically deducted from my pay, it is a small amount each month so it is pretty painless. I can designate exactly where I want the donations to go and can ignore the begging letters I get knowing that I am already contributing. It is also very helpful to have the donations summary on my last pay stub of the month when I am doing taxes, no sweat. All in all it is a win-win opportunity for me and for the programs I choose to support."
-Mary Ann Dowdell
Contribution Conversion Chart

| Contribution Per Pay | # of Pay Periods | Total Annual Gift |
| --- | --- | --- |
| $1.00 | 26 | $26.00 |
| $1.50 | 26 | $39.00 |
| $2.00 | 26 | $52.00 |
| $2.50 | 26 | $65.00 |
| $3.00 | 26 | $78.00 |
| $3.50 | 26 | $91.00 |
| $4.00 | 26 | $104.00 |
| $4.50 | 26 | $117.00 |
| $5.00 | 26 | $130.00 |
| $5.50 | 26 | $143.00 |
| $6.00 | 26 | $156.00 |
| $6.50 | 26 | $169.00 |
| $7.00 | 26 | $182.00 |
| $7.50 | 26 | $195.00 |
| $8.00 | 26 | $208.00 |
| $8.50 | 26 | $221.00 |
| $9.00 | 26 | $234.00 |
| $9.50 | 26 | $247.00 |
| $10.00 | 26 | $260.00 |
These are just some of the regional agencies designated for support by SUNY Oneonta's state employees during previous SEFA campaigns: