SUNY Oneonta students are well prepared for life after college. By the time they hit senior year, nearly three-fourths have been involved in at least two high-impact learning experiences—like studying abroad, doing research with a faculty member, participating in a service-learning project, or completing an internship. These powerful experiences will not only help you discover what you really want to do, they'll give you the tools to succeed—whether that means launching a fulfilling career, or continuing your education.
Recent Graduates


See how SUNY Oneonta prepared these recent graduates for success!

From planning National Hockey League events to opening an upscale clothing boutique, recent Oneonta alumni are following their dreams in all kinds of interesting ways!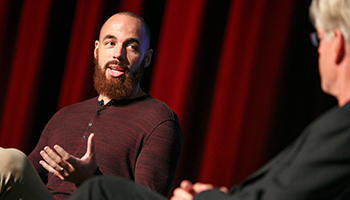 Alumni Spotlight


Noah Rakoski '07

Head of Digital Marketing & Innovation at Evolve Media & Music Group

Noah Rakoski's love affair with music began as a 3-year-old clanging pots and pans. By about age 13, he knew he wanted to be a record producer. And after stints as a SUNY Oneonta Funk Band saxophonist, talent manager, marketer and entrepreneur, that's exactly what he became.

In his role at Evolve Media & Music Group, Rakoski leads digital and technology efforts for Grammy and Platinum award-winning producer Rodney "Darkchild" Jerkins' multiple companies in partnership with Capitol Records.

He said every class he took as a music industry major at SUNY Oneonta gave him skills he has used in the real world. "The second I left college I was using marketing communications, I was using contract negotiations, legal issues, I was using music theory--because I had to talk to songwriters and producers, and if you didn't know what they were talking about, you were out of the studio."

Rakowski's career started with a Jive Records internship that turned into a full-time job in artist management. He then began to develop pop and urban acts, discovering a passion for creating start-up companies focused on innovative technology and marketing.

In 2012, he and his business partner set out on a new venture that focused on talent management and monetization for online artists and content creators. Their growing firm quickly caught the attention of major networks, and they closed a merger and acquisition agreement with Maker Studios, where they became executives and shareholders. In 2014, Maker Studios' was sold to The Walt Disney Company for $500 million.

Nine years after graduation, Rakoski considers himself "happily successful. Success is an ever-evolving and somewhat unattainable goal. It's more important to be happy. If you're happy doing what you want to do, then you can say you're successful."