Hannah Kinisky '12
Therapist
My English degree first led me to publishing, then to a major nonprofit, and now I work as a therapist in Manhattan. People are surprised that I studied English and later became a therapist. I'm often asked, "How did you make that jump?" It doesn't feel like a jump to me whatsoever. As an English Major at SUNY Oneonta, I was trained to look for patterns and symbols that uncover something about the way humans see ourselves and the world around us. When I went on to earn a Master's degree in Clinical Social Work, those analytic skills transferred so naturally that it felt like I had been working toward a career in psychotherapy from the beginning. The University of Pennsylvania, where I attended graduate school, is even developing a joint MSW/MFA program in an effort to harness the incredible tools that a Humanities education offers. I'm immeasurably grateful for my degree - both for the joy it brought me at the time and for the opportunities it's given me since graduation.
---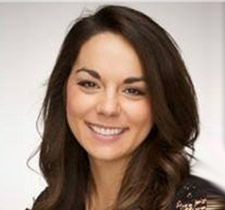 Brynn Sussman '15
Administrative Assistant, National Hockey League
Less than six months after receiving her degree in mass communications, four-year standout women's tennis player Brynn Sussman '15 landed a job with the National Hockey League.
She started the job as lead administrative assistant to the executive vice president of events in January.  Duties include day-to-day support to event staff and personnel, event planning and on-site help. Sussman will also maintain her previous position as a production assistant with the New York Giants.
During her time at Oneonta, Sussman excelled in the classroom and on the tennis court. She was a SUNYAC All-Conference performer, two-year team captain, and graduated with 91 singles and doubles victories—more than any other player since 2000. 
 
Academically, Sussman was a SUNYAC All-Academic and Commissioner's List honoree throughout her career and was inducted into Chi Alpha Sigma, the national student athlete honor society. The Athletic Department coaches honored Sussman with the Dr. Joseph Heissan '63 Senior Achievement Award for her overall athletic and academic success and with her leadership and contributions to SUNY Oneonta athletics.
Also notable was Sussman's production of the Athletics Department's "It's on Us" video to support the national movement to end sexual assault and sexual violence on college campuses. The video was featured on the social media channels of both the National Collegiate Athletic Association and SUNY and included in the NCAA's monthly "#Why D3 Show."
---
---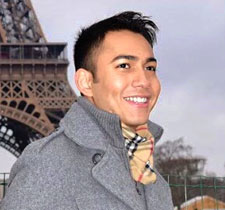 Steve Almeida '11
Compliance Analyst at Adyen
Steve Almeida has combined a background in economics, communication, and law to create an unconventional career path.
After graduating in May 2011 with a degree in business economics (finance concentration) and communication studies, Almeida, an international student from Mumbai, India, took a year to explore his options before beginning law school. "One of my friends had moved to Texas from Oneonta. I visited her for two weeks over spring break and I loved it. A week after graduation, I packed my car and moved to Austin."
Within three months of graduation, Almeida had landed a job as an offers specialist at Google, working with small- and medium-sized business on customer acquisition and retention strategies. Three months later, he moved into a different position at Google in sales data analysis and operations.
He left Google in July 2012 to pursue a law degree at the University of California. While in law school, he worked with three small startup companies in the San Francisco area. "I realized early on in law school that I didn't want to go down the traditional route," he said. "I really like working with small teams and working with startups."
Almeida passed the California Bar Exam in July 2015 and is now working as a compliance analyst for Adyen, a global financial services company. His dream job is to combine all his skills and interests in a start-up of his own. "I've sort of contemplated starting my own compliance firm. I have experience in both the legal aspects and the operational aspects. Most lawyers don't like numbers; I like numbers. But at the same time I can also read regulations. I've worked with start-ups. … Ideally, long run, I'd like to either do that at a more established firm or do it just for myself as a consultant."
---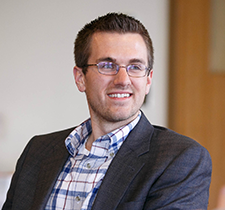 Ryan Guay '13
Director of Development & Construction, Active Solar Development LLC
Motivated to make a difference in a way that deeply mattered to him, Ryan Guay earned North American Board of Certified Energy Practitioners certification as a solar energy technician after graduating from SUNY Oneonta with a degree in adolescence education-social studies.
He started out as a commercial solar PV installer, and went on to bigger roles in field operations and project management at four different renewable energy companies.
"I consider the threat of climate change and widespread environmental destruction to be the greatest challenge that mankind has ever faced," he said. "Our current fossil fuel-based energy infrastructure is the leading cause of these issues, and I consider the undertaking of transitioning our planet to a clean energy future as my life's work. Solar energy development is my way to contribute in the fight against climate change and truly make a difference for societies across the world."
Since July 2013, Guay has successfully managed more than 175 solar projects for municipalities, school districts, colleges, businesses and residences. He returned to SUNY Oneonta in spring 2015 to speak to two classes—Geography of Urban Environments and Coastal Zone Management—about his career path and the solar power industry.
---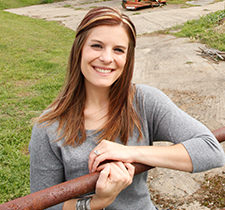 Cassie Treen '09
Manager of Local Events, Chobani Inc.
Whether it's handing out yogurt at the Utica Boilermaker post-race party or planning the grand opening of a new Little League field, Cassie Treen '09 is the local face of Chobani Inc.—helping to carry out the company's missions of giving back to the community and connecting with the fans who are responsible for its runaway success.
As manager of local events at Chobani Inc., Treen plans more than 200 community events within a three-hour radius of the company's Greek yogurt plant in New Berlin, N.Y., about half an hour from SUNY Oneonta. She also oversees volunteer opportunities for Chobani employees, manages the local events team, and coordinates large community projects funded by the Chobani Foundation.
"It's so rewarding," says Treen, who majored in communication studies and took human ecology courses in event planning. "I love this job because we go out into the community, and it's a product that people just absolutely love."
It's been an amazing journey for a girl who grew up on a dairy farm less than six miles from the Chobani plant. The daughter of a farmer and a school teacher, Treen graduated from Edmeston Central School in 2005—the same year Chobani founder, President and CEO Hamdi Ulukaya purchased an abandoned Kraft plant on a whim and launched his dream of introducing the American public to great-tasting, affordable yogurt made with only natural ingredients.
After two years of general studies at Mohawk Valley Community College, Cassie transferred to SUNY Oneonta with her own dream: "I wanted to be an event planner. I knew that that's what I wanted to do."
---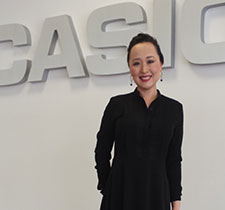 Rie Yamakawa '00
Executive Assistant at Casio America Inc.
As executive assistant to the chairman/CEO at Casio America Inc. in New Jersey, Rie Yamakawa translates documents between Japanese and English in executing business requirement and serves as an interpreter for visitors from the electronics company's main office in Tokyo.
Yamakawa came to SUNY Oneonta as an international student from Japan. She was seeking a medium-size school where she could develop relationships with the faculty and staff and have many options for a course of study. "When I visited the campus, I immediately felt people's friendliness," she recalled. "I sensed that I could be surrounded by good people who are lighthearted and positive."
At firs,t she wasn't sure which discipline she wanted to focus on, but after several meetings with her academic adviser, she decided to major in interdisciplinary studies with minors in business communication and speech communication.
Looking back on her time at Oneonta, Yamakawa said a career preparation class she took during her senior year was a key factor in planning for her future. "In fact, I had seamless transition by having a new career before my graduation," she said. "I worked for a major Japanese chemical company as a human resources supervisor for eight years, and my former employer sponsored my H1B working visa to legally work in the U.S."
Sixteen years after graduation, she still remembers her favorite class, Conflict Management with Art Dauria. She also can't forget the many fun experiences she had as a member of the International Student Organization. "I met my lifetime friends from all over the world and spent wonderful time with local host families. I truly enjoyed the diverse atmosphere while I was focusing on my studies."