Live Video Chat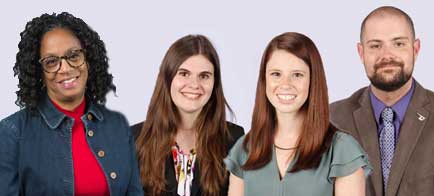 Need to talk with an Admissions Counselor? Live Video Chat is available from 10 a.m. to 4:30 p.m. Monday through Friday, except 12/23-12/27 and 12/31-1/4.
---
As a school counselor, you are an important partner in SUNY Oneonta's success. We appreciate your help in finding students who are looking for the programs and opportunities we offer, and each year, we count on you to guide your students as they navigate the Oneonta admissions process. Please refer to this page for resources that can help your students as they move through their college search. If you have suggestions for additional information, let us know! You can also join our mailing list to receive the latest updates about SUNY Oneonta.
Majors and Programs
Whether your students know what they want to study—or they're ready to explore and find out—Oneonta has plenty of options! You'll find programs at Oneonta that most SUNY schools don't offer, including Dietetics, Fashion, Meteorology and Music Industry. We're among only 5 percent of business programs worldwide to achieve the prestigious AACSB accreditation, and we have the No. 3 Elementary Education program in the United States, according to a recent ranking by Teacher.org.
Cost and Aid
SUNY Oneonta has a reputation for providing an exceptional educational experience at an affordable cost. In addition to frequent recognition by national organizations for our academic quality, we were named to the Kiplinger's magazine list of the "100 Best Values in Public Colleges" for 10 years running.
More than 85% of first-year students receive financial aid, and we award over $5.8 million in institutional and foundation scholarships each year. Students who apply for admission by Jan. 15, 2021, will be considered for merit scholarships ranging from $1,000 to $5,500 per year. There is no separate application process for most scholarships.
Applying 
SUNY Oneonta is now test optional and will not require submission of SAT or ACT scores from students applying for undergraduate admission during the fall 2021 and spring 2022 semesters. While we will consider scores if submitted, SAT/ACT results are not required.
To check the status of applications and access other resources for school counselors, check out the SUNY Counselor Portal. SUNY Oneonta accepts transcripts electronically through Parchment, a secure and direct way for high school counselors to send transcripts to SUNY Oneonta without the hassle of using paper and mailing envelopes. Counselors will receive confirmation of all transcripts sent. Interested schools should contact Parchment to set up an account.
Virtual Events
Although we can't welcome prospective students to campus right now, they can still get a sense of what we have to offer through a virtual tour or online meeting. To get a feel for SUNY Oneonta, your students  can sign up to chat online with a panel of current students, meet virtually with an admissions counselor, take a virtual campus tour or attend a live information session.
Connect With Us
Although COVID-19 has thrown a wrench into our usual plans for fall travel to high schools, college fairs and other events, we still want to connect with you! If your school is open this fall and you'd like to coordinate a visit, please let us know. We can also provide printed or digital materials about SUNY Oneonta for your college planning events and workshops. For more information, email Freshman Admissions Counselor Zachary Frangos.
Information Session and Campus Tour Videos