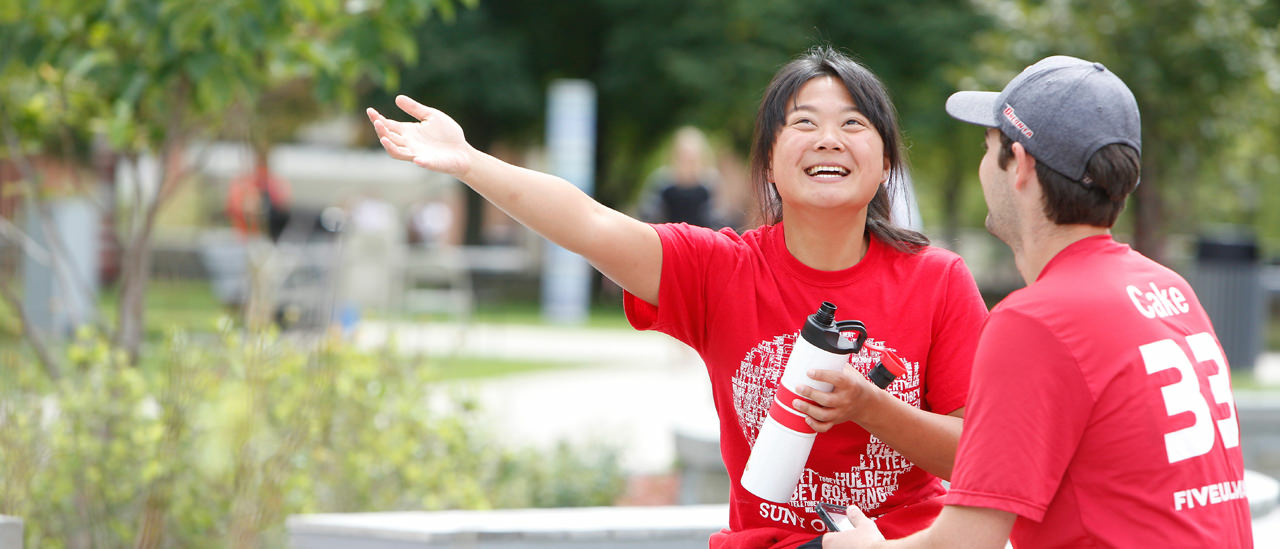 Congratulations on your acceptance to SUNY Oneonta! Please follow the steps below to complete your enrollment:
Pay online on your Application Status Page: Forms Section, Reply Form - Undergraduate
$100 USD deposit for tuition - $100 USD deposit for housing - $200 USD deposit for both
Spring Semester: Due December 1, 2023
Fall Semester: Due May 1, 2024
After you are accepted, you have until the deadline stated on your acceptance letter to pay your deposit.
myOneonta is our student portal; you must first create your user account:
Go to the User Account Maintenance page and click on Activate User Account
Click on Admitted Undergraduate Student (domestic and international) and submit
Enter the Username and Student ID from your acceptance letter and your birth date and submit
You will then set the password for your new account. Please follow the guideline provided.
After you have created your user account, you can access myOneonta or follow the link at the top of any SUNY Oneonta webpage.
To apply for a U.S. visa, you will need the following documents:
Valid passport (for at least six months)
Original letter of acceptance/admission issued by SUNY Oneonta
Original SEVIS I-20 form issued by SUNY Oneonta
SEVIS fee receipt print out. If you have more questions about the SEVIS I-901 fee, please visit the US Immigration and Customs Enforcement website.
Copies of all of your high/secondary school or college transcripts
Copies of the TOEFL, IELTS, or iTEP score
Proof of ties to your home country
For students who are currently studying in the U.S. on an F-1 visa, please complete the I-20 Transfer-In Form (PDF)
Submit your final official transcripts. You must obtain an evaluation of your non-US university transcript(s) from a credential evaluation service that is a member in good standing with the National Association of Credential Evaluation Service (NACES). Visit the NACES website for information about credential evaluation services. The evaluation reports must be mailed directly to:
SUNY Oneonta Office of Admissions
Welcome Center
108 Ravine Parkway
Oneonta, NY 13820 USA
Proof of Health And Immunization Form - You must have your healthcare provider in your country complete all portions of this form. This includes a mandatory Tuberculin skin test (PPD). The test must be performed if you are from, or have spent time in, a high risk country as defined by the CDC, WHO, and the American College Health Association. Please ensure that your doctor submits your PPD results in millimeters (mm) on the Proof of Health and Immunization form. Submit the completed form directly to the Student Health Center at healthcenter@oneonta.edu. 
Health History Form - This is your personal Student Health Account which you must activate prior to arrival in order to utilize the Student Health Center or to make an appointment.

Go to the Student Health Center Patient Portal
Click Register at the top right 
Enter your username, your SUNY Oneonta email address (do not use another email address!), your given first and last names (no nick names) and enter your date of birth and click submit.
After activating you should log in to the Student Health Center Patient Portal and navigate to find the Health History Form which you should fill out completely by answering all questions. 
Spring Semester: Due December 30
Fall Semester: Due June 30
Log onto myOneonta to complete your housing application. Click on the housing icon on the left side of the page. Please answer all questions to ensure the best possible roommate match.  Visit the campus housing site for more information about living on campus. 
Spring Semester: Due January 7, 2024
Fall Semester: Due July 15, 2024
All new students must notify the Office of Global Education about their arrival time and date by completing the New Student Arrival Form (PDF) by the deadline listed below. We pick up students who arrive at Albany New York International Airport, Albany/Rensselaer Amtrak Railroad Station and Oneonta Bus Station for free. Air Travel Information
Spring Semester: Due December 30, 2023
Fall Semester: Due July 31, 2024
SUNY Oneonta offers two options to make payments: wiring foreign funds and online web payments. Billing and payment information
Spring Semester: Due January 9, 2024
Fall Semester: Due August 7, 2024
Fall 2023 Dates: 
Dec. 13-19: Final Exam Week
Spring 2024 Dates:
January 17, 2024 – Airport pick-up & move-in 
January 18, 2024 – Pre-orientation sessions (course & device registration, store, bank, phones)
January 19, 2024 – Mandatory International Student Orientation
January 20, 2024 – Cultural acclimation activities with Peer Mentors
January 21-23, 2024 – Mandatory All-Campus Orientation (Sunday-Tuesday)
January 24, 2024 – Classes Begin (Wednesday) 
Academic Calendar and Key Dates and Deadlines