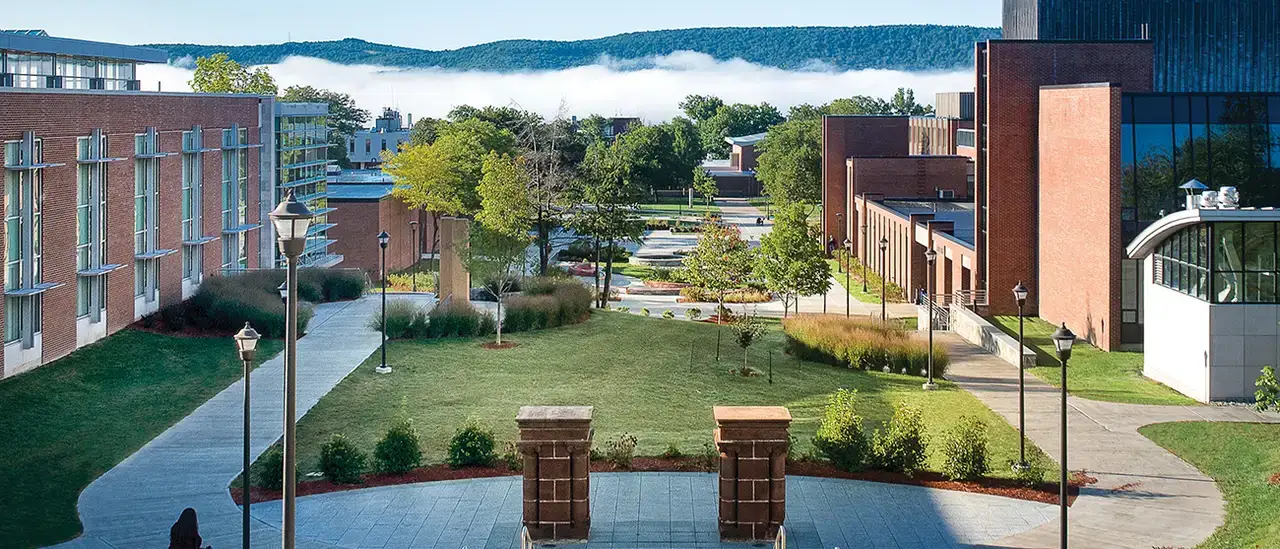 As a school counselor, you are an important partner in SUNY Oneonta's success. We appreciate your help in finding students who are looking for the programs and opportunities we offer, and each year, we count on you to guide your students as they navigate the Oneonta admissions process. Please refer to this page for resources that can help your students as they move through their college search. If you have suggestions for additional information, let us know! You can also join our mailing list to receive the latest updates about SUNY Oneonta.
Majors and Programs
Whether your students know what they want to study—or they're ready to explore and find out—Oneonta has plenty of options! You'll find programs at Oneonta that most SUNY schools don't offer, including Dietetics, Fashion, Meteorology and Music Industry. We're among only 5 percent of business programs worldwide to achieve the prestigious AACSB accreditation, and we have the No. 3 Elementary Education program in the United States, according to a recent ranking by Teacher.org.
Cost and Aid
SUNY Oneonta is committed to offering students an excellent academic experience at an affordable price. That's why Money.com ranked SUNY Oneonta #114 on its "Money Best Colleges in America 2022" list, which recognizes colleges and universities across the country that have a record of helping students graduate and launching graduates into jobs with above average wages.

We offer a variety of merit- and need-based scholarships, and no separate application is required.

We will soon have details on a new overnight counselor event on campus that will need to be a prominent block at the top of the page -- I will send that as soon as I have it but for now let's make these updates.
Applying
We are now test optional and will not require submission of SAT or ACT scores from students applying for undergraduate admission during the spring 2024, fall 2024 and spring 2025  semesters. While we will consider scores if submitted, SAT/ACT results are not required.
To check the status of applications, check out our Counselor Connect page. We accept transcripts electronically through Parchment, a secure way for counselors to send transcripts without using paper and mailing envelopes. Counselors will receive confirmation of all transcripts sent. Interested schools should contact Parchment to set up an account.
CAMPUS TOURS
We look forward to showing your students all that Oneonta has to offer through one of our campus tours. Students can use the link below to sign up for a tour. Some campus tours are preceded by a 45-minute information session. Customized sessions are offered for prospective first-year/transfer students and admitted students. Registration is required. Sessions fill up quickly so be sure to encourage your students to plan ahead. We also offer virtual appointments and a virtual tour.
LET US VISIT YOU!
Our admissions counselors frequently travel and can arrange visits for college planning nights, panels, workshops and other events. For more information, email Pam Hilton, director of admissions.