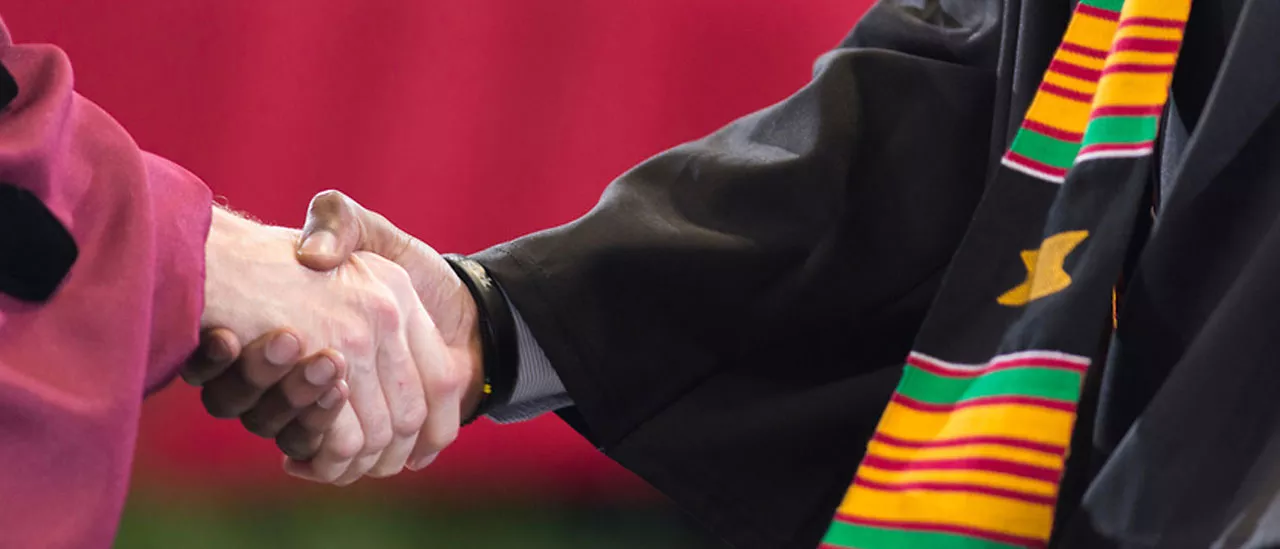 Jennifer Funes-Martinez, received her B.A. in Africana & Latino Studies and Psychology in May 2014. In 2015-16 she worked as a counselor in the Educational Opportunity Program. Currently, she is completing a MSW degree at New York University.

I did not understand the impact that the ALS department had in my life until I graduated and started my Master of Social Work. As an undergraduate student I realized the importance of having a strong support system. The ALS faculty easily became a part of my support system, which all started with Dr. Caridad Souza with whom I took Introduction to Black & Latino Experience. She helped me understand that there was so much more that I needed to learn. The department granted access for me to develop as a young adult by being president of the ALS Club for one year and serving in the Ghana Learn and Serve Program in 2011. Further, having these opportunities and learning as much as I did through coursework, I learned how to develop advocacy skills that became useful when I started my Master of Social Work at New York University. In my graduate classes my peers would acknowledge that I did not fear to speak about injustices towards oppressed groups. My confidence as an individual and professional developed with the guidance, love and support that I received from the ALS department.
---
Dominique Petit Frere, received her B.A. in Africana and Latino Studies & Philosophy in 2015. In Spring 2016 she is interning at the African Studies Center, Leiden University, The Netherlands where she will likely pursue graduate studies. 

Akwaaba! My name is Dominique Petit Frere and I am recent graduate from SUNY Oneonta with a BA in Africana and Latino Studies and Philosophy. My professional interest lies in the realm of Global Development specifically focusing on the socio-economic development of African nations. During my undergraduate studies, I sought the opportunity to study at the University of Cape Coast in Ghana, West Africa. With that experience, I was able to get an on the ground understanding of the country and its rich history. During my study abroad experience I was inspired by my professor's at the ALS department to travel to other countries in Africa such as Burkina Faso, Lesotho and South Africa. With the unconditional help, love, and support from the ALS department I was able to maximize my academic studies leading to an unforgettable experience. As a result, I am now a research intern at Leiden University focused on the socio-economic development and natural resource management of several African nations. As a whole, the ALS department offers cross-functional study in which students are not tied down to the academic classroom setting, but also have the opportunity to expand and apply the knowledge they are receiving. The ALS department is, without a doubt, one of the most thought provoking, unconventional, new age sites of study where you are given the confidence, freedom, and opportunity to apply your knowledge and make a difference in this world.
---
Daniel Pneuman: B.A., Africana and Latino Studies [Africana Track] and Political Science with a Social Justice Studies Minor, 2011. He is now the Visa Coordinator at AFS-USA, a non-profit in New York City which facilitates educational exchange programs. Since graduating, he worked as an Office Administrator at Arthur Heitzer, a civil rights law firm in Milwaukee, WI where he was also President of Peace Action WI working with staff to design and enact legislative campaigns on matters of peace and social justice at the state and national levels.
I started at SUNY Oneonta as an undeclared major who knew only one thing: I have a passionate desire to work to improve living conditions and human rights in the Global South. I quickly discovered that the ALS department was the best fit for me. Today it is critically important for students to understand the history of oppression in all of its nuanced forms (racial, ethnic, class, gender, sexual) and the skills to communicate how power works in different social and governance systems. No other department provides students with the conceptual tools to understand that and how to implement change. Through ALS I participated in service learning, e.g., supervising and helping our group build a village clinic in southeastern Ghana and interned for a semester with a Ghanaian human rights organization in Cape Coast, CHRAJ, gaining the depth of experience quite unlikely in the US. I learned about political governance in the SADC simulation course and advocacy on campus through Students for Global Education (SA) and the Center for Multicultural experiences (CME). ALS faculty helped me maximize my learning.