Application Instructions
Once we receive your application, you will receive an email with a Username (your email), PIN number and link to your personal status page. Your status page will be updated as we receive application materials and/or request additional information. Please be sure to check back often. 
Note: The Admissions Office uses email as our main source of communication for important updates including application status notifications. You can update your email address at any time through the status checker. 
Official high school transcript or results of GED/TASC are required.
Transfer students: Please also submit official college transcripts from all institutions attended. Official transcripts must arrive at the Office of Admissions from the college in a sealed envelope or through a certified electronic process. Photocopies and faxes will not be accepted.
Request your official test scores to be sent directly to SUNY Oneonta from your high school or testing agency. 
Oneonta SAT Code: 2542
Oneonta ACT Code: 2940
Transfer students: Official SAT or ACT scores are not required but may be requested if you have earned less than 24 college credits and have been out of high school for less than five years.
There are several ways for your letter of recommendation to be submitted:
The Common Application (required as part of application submission)
High school form/letterhead send directly to SUNY Oneonta Office of Admission
*for first-year applicants only; not required for transfer students
Submit the Free Application for Federal Student Aid
FAFSA CODE: 002847
TAP CODE: 0930
Please be sure to promptly respond to any inquiries from our Financial Aid Office. Visit the Financial Aid Site for additional information and assistance. 
ART & DESIGN (BFA): All students wishing to declare a major in Art and Design must submit a portfolio for review by the Art Department. The Office of Admissions will review all applicants for academic preparation. Students found admissible will be admitted, but the major will not be finalized until the portfolio review process is completed. 
MUSIC: All students wishing to declare a music major are required to schedule and successfully pass an audition with the Music Department. Students will receive additional information at the time of application. The Office of Admissions will review all applicants for academic preparation. Students found admissible will be admitted, but the major will not be finalized until the audition process is completed. All auditions are coordinated through the Music Department.
All students wishing to declare education as a major will need a grade-point average of at least 3.0 or they must rank in the top 30 percent of their high school graduating class.
You may be notified of our official admission decision via U.S. mail or online. 
Additional materials are required for students applying through the Educational Opportunity Program, special talent process and for homeschooled students.
Transfer students may be asked for two additional materials:
a gap statement to explain what a student was doing during times that are not accounted for on an application and
mid-term grades when a student has earned less than 24 college credits, is academically borderline, or is in their first semester at a new institution.
Apply Online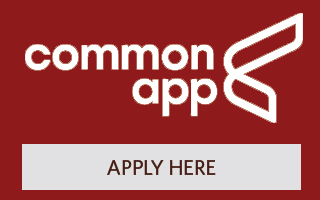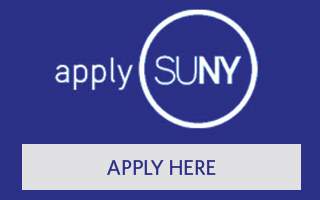 Important Application Note
SUNY Oneonta uses email as its primary method of communication. Please be sure the email address provided on your application is correct. You should also add SUNY Oneonta (admissions@oneonta.edu) to your contacts to avoid important notifications being sent to spam folders. 
Talk to A Counselor
Applying to college is exciting …. but we know that it can be a bit overwhelming, too. If you have questions about our application requirements or process, please don't hesitate to contact us. We're here to help!
Call Us: 1-800-SUNY-123
Monday, Tuesday, Thursday, Friday, between 8 a.m. and  4:30 p.m.
Wednesday, between 10 a.m. and 4:30 p.m.
2019-2020 Cost
In-state tuition: $7,070
Out-of-state tuition: $16,980
Room and board: $13,640
Fees: $1,670
Where Are We Located?
SUNY Oneonta is located halfway between Albany and Binghamton, and has the best of all four seasons New York State can offer.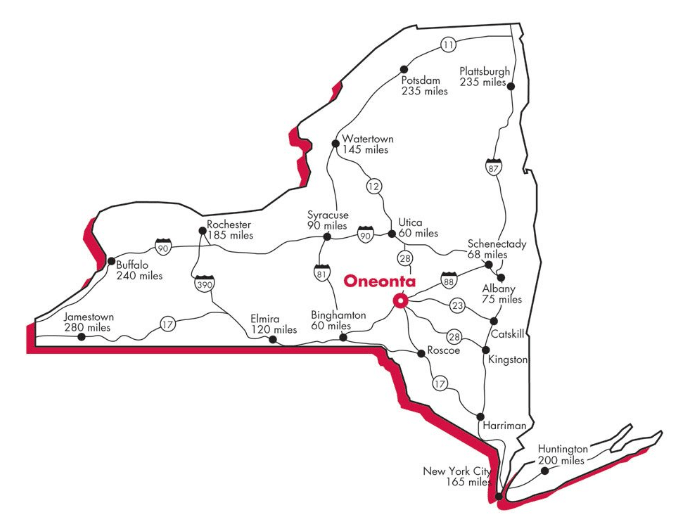 With a population of just under 14,000 people, Oneonta is a safe, friendly community known for its small-town ambiance and vibrant arts and entertainment scene. 
Here's What Our Students Are Saying

Accounting BS

Africana and Latino Studies BA

Anthropology BA

Art and Design BFA

Biochemistry BS

Biology BS

Business Economics BS

Chemistry BA, BS

Communication Studies BS

Computer Science BS

Criminal Justice BS

Dietetics BS
Digital and Studio Art BS

Earth Science BS

Economics BS

Education, Adolescence BS
Education, Elementary BS

English BA

Environmental Sustainability BS

Exercise Science BS

Fashion and Textiles BS

Food Service and Restaurant Administration BS

French BA

Geography BS

Geology BS
Gerontology Studies BS

History BS

Human Development and Family Studies BS

Human Ecology BS

International Development Studies BA

International Studies BA

Mathematics BS

Media Studies BS

Meteorology BS

Music BA

Music Industry BA

Philosophy BA

Physics BS

Political Science BS

Psychology BS

Sociology BA

Spanish BA

Sport Management BS

Statistics BS

Theatre BS

Women's and Gender Studies BS
We also offer pre-health professions advisement tracks and several cooperative programs in business administration, engineering, fashion, occupational therapy and physical therapy.
Contact an admissions counselor for more information.
Virtual Tour
SUNY Oneonta is a mid-size, four-year, public college that offers a nurturing community where students grow intellectually, thrive socially and live purposefully. Nestled in the hills of Central New York, the college's idyllic setting is ideal for study, adventure and self-discovery. Just "up the hill" from the charming City of Oneonta, our campus blends community and academe to engage, nurture, and inspire.