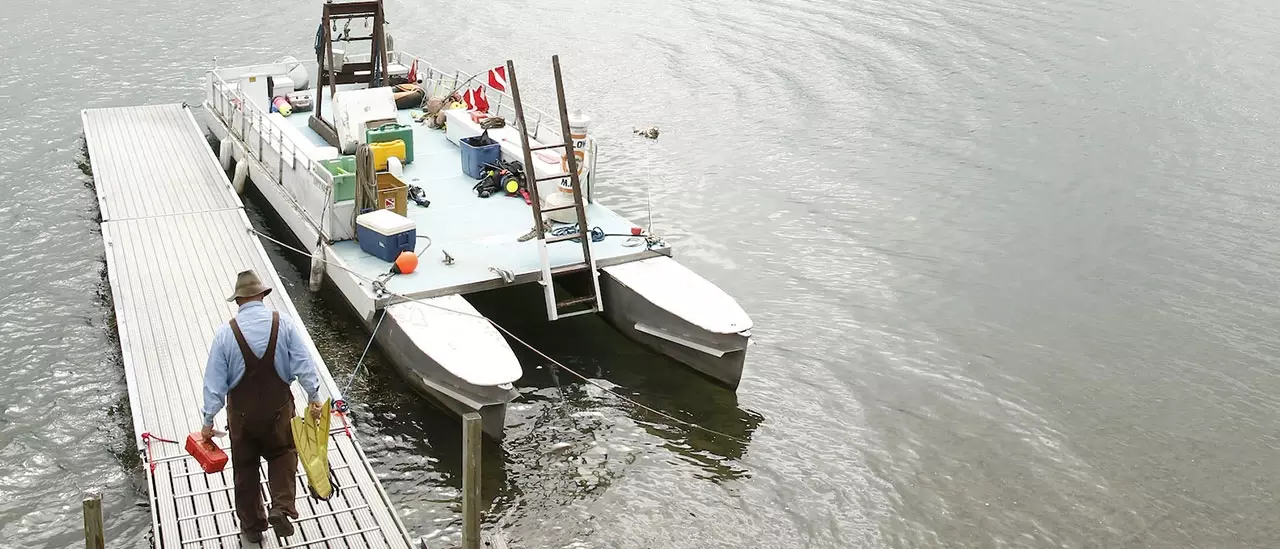 Scroll through the image gallery below to see images of The Field Station, Thayer Farm and Boathouse, Greenwoods Conservatory, Goodyear Swamp, and Moe Pond. Or click the bars below for more information and directions:
Otsego Lake is geologically a finger lake created by the over-deepening of the Susquehanna River Valley during the last period of glaciation. It is a cold water lake with approximately seven square miles of surface area and 168 feet at its greatest depth. Its cold water fishery is predominantly Lake Trout.
The Thayer Farm is a 256 acre farm established by William Thayer (1775-1861). It was recently donated to the Biological Field Station by Rufus Thayer for the purpose of research and education.
The farm has lakefront property on Otsego Lake, a boat house, trails, and many acres of mature woodlands.
There are more than 80 acres being actively used for agriculture. Twelve buildings are being renovated for student and faculty use.
Developed trails and boardwalks throughout the five-acre Goodyear Swamp Sanctuary provide an opportunity for self-guided or interpreted field trips. This site, on wetlands adjacent to Otsego Lake, is always available for public use. Self-Guided field books, which identify flora and fauna, are available in trailhead shelters. Lake access is provided via a forty foot dock on Otsego Lake.
Comprising the 360-acre watershed of Moe Pond are Northern hardwoods on mesic sites, old fields and conifer plantations, and several beaver impoundments, one containing an extensive floating sphagnum mat.
Rum Hill is a 302-acre site with Appalachian and Northern hardwoods on xeric sites. It also encompasses one of the highest elevations in Otsego County at over 2100 ft. Marked trails pass beaver ponds, traverse old fields and wind through early homesteads.
Greenwoods is located south of NYS Rt. 80 in the Town of Burlington. It comprises more than 1,200 acres of hardwood forests, conifer plantations, and meadows surrounding Cranberry Bog, a 70 acre pristine wetland supporting a unique flora including alkaline fens, a Sphagnum mat and bog community, marsh and open water (Figures 10,11). Elevation varies from a low of 1460 feet above sea level on Butternut Creek to the west to over 2000 feet on five different hilltops. Owned by the Peterson Family Charitable Trust (PFCT), and protected by conservation easements (Appendix 7), much of the wooded lands are managed for forest products under NYS 480a forestry management plans (Appendix 8). It is anticipated that long–term management will result in reducing the acreage in softwoods, enabling native northern hardwoods to reoccupy the majority of the forested areas.
In order to protect native biodiversity in Cranberry Bog we are attempting to reduce disturbance in the watershed by maintaining undisturbed forested buffers adjacent to it. Personnel are restricted to chiefly graduate students and faculty and access to the Bog is restricted to boats maintained on site to preclude the incidence of exotic introductions. It is anticipated that in the future, portions of Cranberry Bog Road adjacent to the bog will be closed to the public.
Outside the bog's watershed are large areas of forested land, meadow and agricultural lands available for a diversity of educational and research activities. There are more than 25 ponds and wetlands of various sizes. These range from beaver impoundments to man made ponds with maintained dikes. Collectively they form a diverse mosaic of more than 125 acres of wetlands. Cooperative efforts with the US Fish and Wildlife /Service, Ducks Unlimited and the Delaware Otsego Audubon Society, the USDA Natural Resource and Conservation Service and PFCT are in progress to improve and protect existing wildlife and plant habitats.
Infrastructure on the site includes a trailhead shelter and storage area. A conference center including classroom spaces, a wet laboratory and bathroom facilities has been recently been completed. Offices, a conference room and a graduate student living space will soon be available in a renovated residential building. A log cabin, provided with full utilities, is available for short stays for student and faculty researchers. The Peterson Family Compound is located in an envelope near the southwestern corner of the property.
Biological Field Station at Cooperstown