Communication and Marketing is a group of collaborators who use their particular skills on a wide range of projects across formal reporting lines. The office structure includes three main disciplines.
Marketing
calls audiences to action. The photo library, institutional social media, video production and online advertising fall under Marketing.
Lisa Miller
Director of Marketing 
607-436-3317
Lisa.Miller@oneonta.edu
Jessica Reynolds
Writer/Editor
607-436-3310
Jessica.Reynolds@oneonta.edu
Jared Stanley
Digital Media Producer
607-436-3285
Jared.Stanley@oneonta.edu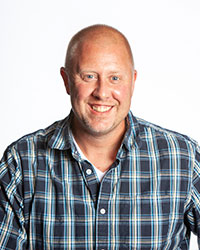 John Bugyi
Web Developer
607-436-3034
John.Bugyi@oneonta.edu
Communications
focuses attention on the college. Media relations, Merit and the Print Shop fall under Communications.
Kim MacLeod, APR
Associate Director of Communications
607-436-3603
Kim.MacLeod@oneonta.edu
Ian Lascell
Graphic Designer
607-436-2208
Ian.Lascell@oneonta.edu
Print Shop
Barry Haney
Print Shop Supervisor
607-436-2508
Barry.Haney@oneonta.edu
David Neske
607-436-2508
David.Neske@oneonta.edu
Web/Digital
integrates electronic tools into our work. The college website and project management fall under Web/Digital.
Jennifer Smith
Associate Director of Digital Strategy
607-436-3031
Jennifer.Smith@oneonta.edu
Michael Casta
Web Assistant
607-436-3662
Michael.Casta@oneonta.edu