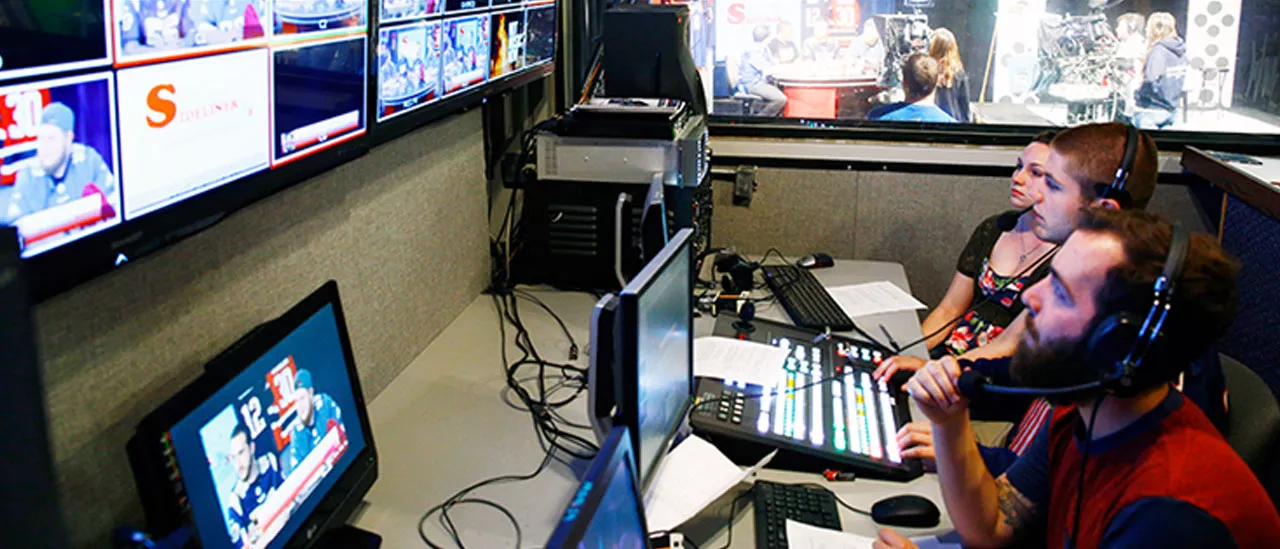 The Studio Production Facility consists of two studio spaces and control room:
Studio A
Studio A is a flexible studio space used for a variety of field and studio production applications. A unique function of this studio is the ability to deploy flooring and a cyclorama to create a green screen space covering half of the studio.
Studio B
Studio B and related control room is a three camera HD production studio. The core of this studio is a Ross Carbonite switcher and XPression graphics engine supported by JVC cameras, Yamaha DM-1000 mixer, and 360 Systems Maxx 2400HD server.
Sports and Event Production: The Alumni Field House is home to a television control room used for sports and event production. The core of this facility is a five camera Livestream HD510 portable production and streaming unit that may also be used on location for events outside of the field house. Support equipment also provides instant replay and specialty camera supports like Steady Cam, 8-foot Jib, and Dolly.
Control Room B
Field Production Equipment
Students in the Communication & Media program have access to a wide variety of professional production equipment including 4K DLSM cameras with cine-lenses, gimbals, lighting and grip kits, audio/podcasting recording equipment, Adobe editing suites, and drones.
Audio Production
The audio production rooms include a voice-over recording booth with microphones, audio board and a PC with Adobe Audition. Students can record and edit audio for their productions, and conduct audio interviews.
Non-Linear Edit Suites
The post-production editing facilities feature Macintosh computers with Final Cut Pro Studio video editing software. Students also have access to Adobe CS6 Master Collection software, which includes Photoshop, Illustrator, Premiere Pro and After Effects. The edit suites are open 24/7 with school ID, so students have the ability to work on projects when it is convenient for them.
Need to reserve equipment?
Access the reservation system