Disgraced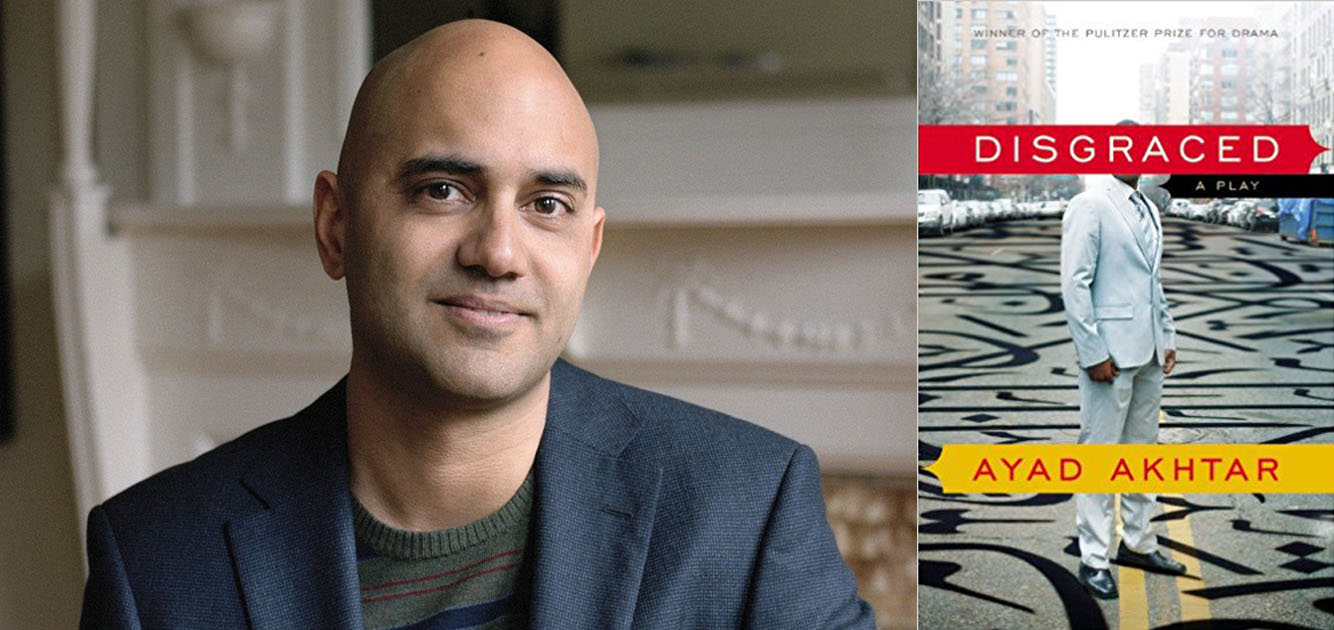 SUNY Oneonta's Common Read advances diversity by encouraging students to examine and better understand topics such as equity, inclusion, and personal history through many lenses. It aims to further infuse cultural literacy into our academic program by asking the campus community to read a diversity-related book, which then is discussed in fall courses across several disciplines.
For its 2019 Common Read, the college has chosen Disgraced by Ayad Akhtar. The story of a successful Pakistani-American lawyer whose dinner party spins out of control amid a heated discussion of identity and religion, Disgraced won the 2013 Pulitzer Prize for Drama and the Jeff Equity Award for Best New Play in 2012.
Akhtar was born in New York City and raised in Milwaukee, Wisconsin. He is a graduate of Brown and Columbia Universities with degrees in theater and film directing. His work focuses on Muslim American culture.
Akhtar will deliver the 2019 Mills Distinguished Lecture on Sept. 23, 2019 at 7 p.m. The event will take place in the Dewar Arena at the Alumni Field House.
The Mills Distinguished Lectureship is named to honor the memory of Professor Albert Mills and his wife, Helena. Their bequest to the College at Oneonta Foundation led to the establishment in 1988 of a fund to bring prominent speakers to our campus.
Finding Inspiration: A Student's Story
---
Shinique Smith was unsure about her goal in life — until she met lawyer, author and social justice activist Bryan Stevenson when he visited SUNY Oneonta in September 2018.
 
Stevenson's book, Just Mercy: A Story of Justice and Redemption, had been selected as the college's Common Read for 2018. After a great deal of soul-searching, Shinique had changed her major from Fashion to Child and Family Studies, and, finally, to Africana and Latino Studies. As graduation approached, she knew she needed to make a decision on what her career path would be. That's when Stevenson, whose work she had followed for some time, came to campus to speak with students and deliver the Mills Distinguished Lecture. But she almost didn't get to hear him speak.
"To be quite honest, I almost missed it because I had a class at the time he was speaking to students. I'm sitting in class and I get a phone reminder and I suddenly remembered! So I got up and ran over and made it on time."
Listening to Stevenson tell the stories behind Just Mercy made her realize, through tears, that she wanted to follow in his footsteps and become an activist. A critically acclaimed New York Times bestseller, the book presents the story of the Equal Justice Initiative (EJI) Stevenson founded as a young lawyer in Montgomery, Ala. Just Mercy describes the unfairness and inequality he and his clients encountered within America's justice system.
"I'm listening to this man and I'm bawling," Shinique said. "The thing he said that really touched me the most is that the people who are going to change the broken laws are the broken people. I cried and I could not stop crying until the lights came on."
Meeting Stevenson after his talk was the validation she needed, showing her that she had chosen the right major and was on the right path. "It was one of the most powerful experiences of my life."
Shinque graduated in December 2018 and plans to apply for fall 2019 admission to graduate school programs in history, African-American studies or law.