Learn Important Skills through Research
An important component of the departmental culture is undergraduate research. Employers are searching for people who can critically think, problem solve, and communicate. Research is a great way to pick up all these skills. The faculty conduct research with students as independent studies, senior theses, or in the classroom. The EAS faculty mentor students on original research that is presented at professional meetings, like the Geological Society of American (GSA) and the American Geophysical Union (AGU). Most faculty conference abstracts have one or more students as authors usually as first authors. Peer-reviewed articles are also produced from student research, with some occurring after graduation.
Jansen Costello (Class of '18) and Dr. Ebert published a paper on microplastic pollutants. Jansen, a geology major, worked on his research during his senior year.
Costello, J. D., and Ebert, J. R., 2020, Microplastic pollutants in the coastal dunes of Lake Erie and Lake Ontario: Journal of Great Lakes Research, v. 46, p. 1754–1760.
Allison Hannigan (Class of '19) and Dr. Godek published a paper on the reliability of widely referenced guides for depicting the rain–snow line, and improve forecasts. Allison, a meteorology major, worked on her research during her senior year.
Hannigan, A. C., and Godek, M. L., 2020, The utility of 1000 - 500 mb thickness and weather type as a rain-snow divide: A 30-year study at Albany, NY: Atmospheric and Climate Sciences, v. 10, p. 372–391.
The sky observation room (nicknamed the Skylab) is on the third floor of Perna Science Building facing south. The Skylab provides the opportunity for meteorology majors to strengthen their weather observations skills.  An interactive TV was recently installed in the Skylab to provide majors with an additional learning experience working with weather maps and radar images.
View of Skylab from outside Perna Science Building
View of campus and surrounding area from inside Skylab
---
Rooftop Weather Station
There is a rooftop weather station to collect data on weather conditions for the Oneonta area.  As a result of the dedication of Dr. Jerry Blechman (now retired), the department has over 30 years of continuous weather records.  Meteorology majors collect the data to become proficient in instrumentation and forecasting.  Our new weather station was installed this summer.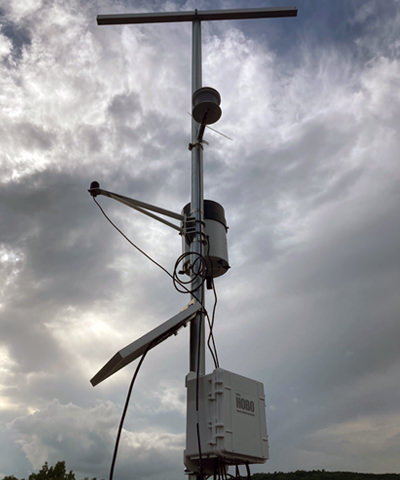 ---
Scanning Electron Microscope (SEM)
Our department houses a Hitachi TM 3030 scanning electron microscope with EDX Analysis and magnification up to 60,000x.  The SEM is one of the many technology tools that our geology majors learn how to use.
Student using the SEM
---
Stream Table
Our department houses an Emriver Stream Table to provide students in many of our courses an opportunity to make predictions and model stream erosion, flooding, migration of meandering rivers, infrastructure destruction, and other important societal and environmental concerns.