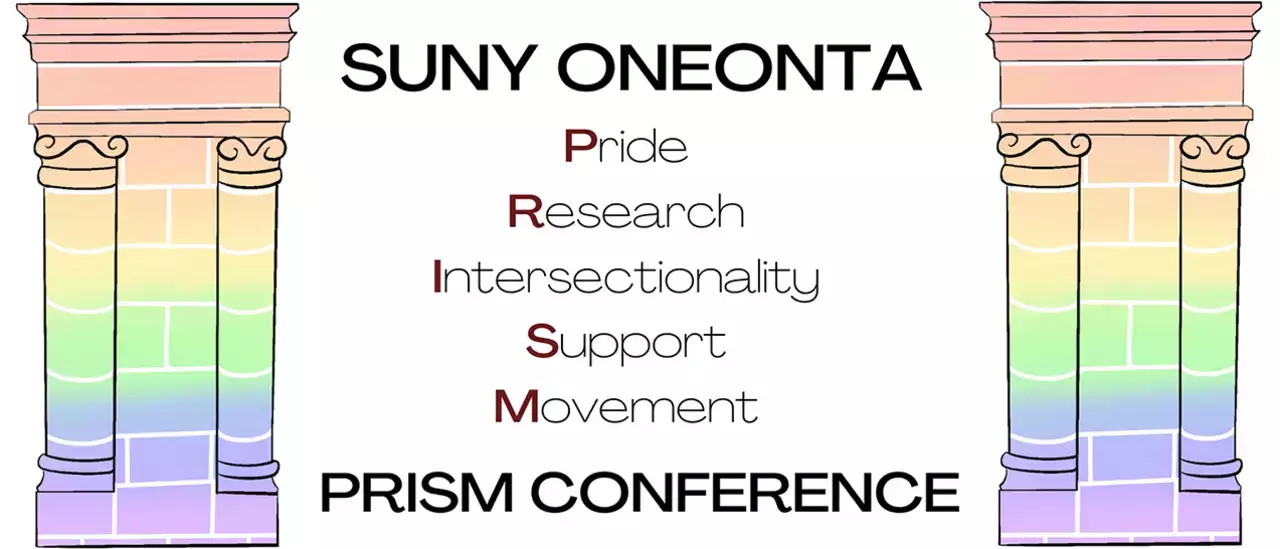 October 20 & 21, 2023
This Year's Theme: Living Legacy
The planning committee for the SUNY Oneonta PRISM Conference cordially invites students, community members, resource professionals, junior and senior faculty, and administrators to attend our upcoming conference.
2023 is a year full of turmoil, advocacy, and the ever escalating need to amplify our voices, especially across college campuses. While bills are being rapidly introduced with the intention to strip away, block, or erase protections for LGBTQIA+ people, the need for us to come together grows more crucial than ever. Higher Education Institutions have the responsibility to provide foundational opportunities for us to educate, advocate, and celebrate. This year also marks the 10th anniversary of our conference's existence.
Since 2013, this staple event has been a model across NYS for institutions to provide space for students, professionals, and community members. This collaborative effort improves environments, systems, and policies for LGBTQIA+ folks, with growing endorsement from different organizations including the NYS Governor's Office. To honor the students responsible for bringing this event to life, our theme is Living Legacy. We hope this theme prompts attendees to consider ways in which we continue to build on these foundations and make sure the work we strive to do continues.
We are happy to share that the conference will be hybrid again this year.
This conference is meant to highlight and celebrate LGBTQIA+ experiences through fostered dialogue across academic and/or practical experiences, disciplinary foci, and institutional perspectives, as well as provide support and resources to those that attend. Today's students entering college come with new attitudes and understandings around gender, sexuality, and wellness. In the past few years, we have all witnessed a large Civil Rights Movement for the United States, which has had an effect on all of us, and largely impacted people within our LGBTQIA+ community. Despite the progress made in different areas of policy, education, and pop culture, there's still a lot of work to be done in order to give the best support and education to students in a nation and world full of uncertainty. To this effect, this conference serves to provide an avenue for different voices to be heard and allow for greater representation of individuals who are so often silenced.
•    Identify multiple aspects of diversity, including the ongoing development of identity and creating an inclusive community. (Pride)
•    Explore and analyze current trends and issues that LGBTQIA+ college students face through historical and/or future-oriented lenses. (Research)
•    Create an understanding around the experiences of intersecting identities within the LGBTQIA+ community. (Intersectionality)
•    Facilitate opportunities for mentorship to strengthen leadership development in preparation for life beyond college. (Support)
•    Develop impactful approaches to promoting diversity, inclusion, and wellness through advocacy. (Movement)
STANDARD REGISTRATION: 8/28 – 9/23
SUNY Oneonta Students: $10 In Person, $2 Virtual

Note: SUNY Oneonta students can use Dragon Dollars to register for the conference beginning September 5th at the HUb desk in Hunt Union.

SUNY Oneonta Employees: $25 In Person, $5 Virtual
NON-SUNY Oneonta Students: $25 In Person, $10 Virtual
NON-SUNY Oneonta Employees/General Public: $50 In Person, $20 Virtual
LATE REGISTRATION: 9/24 – 10/13
SUNY Oneonta Students: $15 In Person, $2 Virtual

Note: SUNY Oneonta students can use Dragon Dollars to register for the conference beginning September 5th at the HUb desk in Hunt Union. 

SUNY Oneonta Employees: $35 In Person, $5 Virtual
NON-SUNY Oneonta Students: $35 In Person, $10 Virtual
NON-SUNY Oneonta Employees/General Public: $60 In Person, $20 Virtual
SUNY ONEONTA ALUMNI: Register here to receive a discount on your registration!
FOR STUDENTS FACING FINANCIAL HARDSHIP:
Are you a student facing financial hardship? Contact Kirstie Kemmerer (Kirsten.Kemmerer@oneonta.edu) or Emily Olson (Emily.Olson@oneonta.edu) directly for further support. 
Are you a professional that would like to help sponsor a student? If attending the conference, you can let us know by following the prompts in the registration form. If you would like to sponsor a student registration fee and are not attending the conference, contact Kirstie or Emily directly for further instructions.  
Our conference is primarily self-sustaining, so fees are nonrefundable. Registration fees go toward expenses such as catering, supplies, performance and speaker fees, and other purchases that benefit the conference attendees. 
Note: If interested presenters wish to wait to register until after the submission deadline and their presentation is approved, approved presenters will receive a link for the registration checkout that will charge the standard rate. However, all planning to attend are encouraged to register during the standard rate timeframe.
To submit a proposal, please complete the form here.
 Submissions are due by Sunday, October 1, 2023 at 11:59 PM EST. 
In line with previous years, we will have the option for multiple focus tracks: student, professional, and a combination of the two, pending our presentation submissions. Sessions will be 60 minutes, which includes time for Q&A.
Student presenters should seek guidance from a faculty or staff member at their home institution. The faculty or staff member should mentor the students through the process of writing the conference proposal, organizing a presentation on a specific theme, and presenting their scholarship to an audience. 
All presentations should: 
1.    Explore the PRISM Conference theme through the analysis of research, best practices, lived experience, and activism. 
2.    Promote audience engagement personal and collective reflection, and robust discussion. 
3.    Include a strongly articulated purpose, conceptual foundation, contextual background, and contributions to intersectional LGBTQIA+ scholarship and advocacy. 
Note: If interested presenters wish to wait to register until after the submission deadline and their presentation is approved, approved presenters will receive a link for the registration checkout that will charge the standard rate. However, all planning to attend are encouraged to register during the standard rate timeframe.
Mitch Hymowitz (he/him) is a people-first professional, born and raised in New York who received his B.S. in Communication Studies from SUNY Oneonta and will be starting his Master's in Public Administration program this Fall at Baruch College. He founded PRISM (previously called SUNY PRIDE) in 2013 to provide a way for queer and trans students across the 65 SUNY colleges and universities to feel supported, seen, heard, and respected. A quick historical fact - SUNY Pride was awarded the Outstanding Leadership Program award in Fall 2014 from the National Association for Campus Activities (NACA) Mid-Atlantic Regional Conference - Bill Campbell actually received that notification and let Mitch know the following year after he graduated. Since his time at SUNY Oneonta, Mitch has gone on to work in the nonprofit sector for 9 years supporting various marginalized communities and systems including, queer and trans youth, foster care, mental health, Alzheimer's, and now the rare disease community. Mitch joined his current company, Uplifting Athletes in July 2022, and has been running their development department as Development Lead ever since. He continues to curate events in his career, but this time as an out and proud real live trans adult, working with professional athletes to support the 30 million people in the United States living with a rare disease.
Savanah Wiggins (she/her) graduated from SUNY Oneonta with a Bachelors degree in Music in May of 2015. In her years on campus she was involved with GSA, the GSRC, SUNY Pride/PRISM, and the Terpsichorean Dance Team. Upon graduating she worked at FOX 40 WICZ-TV in Binghamton, NY before moving to Queens, NY in 2017. There she spent the next four years working in her next sales area of expertise – at Lewis Brass & Copper Company – and growing her portfolio. She moved back home to Vestal, NY in 2021 and landed a job as a Project Specialist at Raymond Corporation in Greene, NY. Since then, she has joined the Planning Board for Habitat for Humanity for Broome & Tioga Counties and has started her own Travel Business – SJ Savvy Travel. 
Alyssa Lupinski, LCSW (she/her) has been working with the community since my early days in Oneonta. She continued this work by going into Social Work and focusing on how to best serve LGBTQ students in our schools, and build resiliency in students across all settings. She enjoys spending time with her students and learning as much from them, as they may from her work with them.
Dr. Elliot Ruggles (he/they) is a sexuality professional and clinical social worker specializing in recovery from and prevention of sexual and gender-based harm. In his role at the University of Vermont, he works to coordinate university-wide efforts around the prevention of sexual violence. For fifteen years, they have been working in sexuality and gender research, education and therapy in diverse settings both urban and rural, including with teenage parents, children sexual abuse survivors, medical students, and recently with college and university students passionate about healing from and ending interpersonal harm on campus.
Rebecca Harrington (she/her) is currently the Assistant Director of Student Rights and Responsibilities at SUNY Delhi. She served as SUNY Oneonta's Health Educator for 19 years prior to that. She has also contributed to several SUNY system wide initiatives related to sexual violence prevention including the SPECTRUM conference. She is a 2018 recipient of the Chancellor's award.
Pathy Leiva (she/her) received her B.S. in Psychology and Spanish Literature from Hartwick College.  Her Masters of Science Education: School Counselor K-12, from SUNY Oneonta. Pathy currently works as the Director of Access and Opportunity Programs (CAMP, EOP and ACE). Pathy has been with SUNY Oneonta for almost 18 years, prior to that she was an advisor/recruitment coordinator for 4 years and recruiter for almost 9 years.  Pathy has worked with the Latinx/Hispanic community for the whole time that she has lived in Oneonta and provides support in different ways. As well as being connected in support and assisting the LGBTQIA community since college. Pathy has worked in the college community as well though advising and working with Lambda Theta Alpha Sorority Latin Incorporated, being the MGC advisor, and working with several clubs that promote diversity and inclusion. She has spoken at several conferences on diversity and leadership, as well as provided lectures in classrooms. She enjoys bringing a variety of students to Oneonta from many backgrounds and cultures.  Currently, she is working to help and grow the access and opportunity programs as well as the Latinx/Hispanic community at SUNY Oneonta. Recently, Pathy graduated as a Fellow for SUNY's Hispanic Leadership Institute (HLI), Cohort 2023.
Friday 10/20 Schedule
4:30pm - 7:00pm: Early Check In @ Hunt Union Event Check In
7:00pm - 8:30pm: Social Events (locations TBA)
Saturday 10/21 Schedule
8:00am - 9:30am: Conference Check In (location TBA)
9:00am - 9:20am: Welcome Remarks (location TBA)
9:30am - 10:30am: Breakout Session I (Various locations)
10:40am - 11:40am: Breakout Session II (Various locations)
11:40am - 12:40pm: Organization Information Tabling Session (location TBA)
12:00pm - 12:20pm: Lunch Begins (location TBA)
12:20pm - 1:20pm: Keynote @ Lunch (location TBA)
1:30pm - 2:30pm: Breakout Session III (Various locations)
2:40pm - 3:40pm: Breakout Session IV (Various locations)
3:45pm - 4:00pm: Closing Remarks (location TBA)
TBA: Dragball hosted by Lilly Bola (location TBA)
Participants can find lodging at the following hotels in the local area:
The planning committee would like to thank all of our co-sponsors for this event, including:
Gender and Sexuality Resource Center
Gender Sexuality Alliance
Residential Experience and Housing
Regaining Momentum: Strategic Opportunities Funding
Senate Committee on Public Events
Office of Equity and Inclusion
Residential Experience and Housing
Sodexo 
SUNY Oneonta Alumni Association from charitable contributions to the Fund for Oneonta
More Details are Coming Soon!
Below are some helpful links to resources in NYS that you may be interested in.
Know Your Rights: A Guide for the LGBTQ+ Community on NYS Human Rights Law
Gender Expression Non-Discrimination Act (GENDA) & the NYS Human Rights Law
NYS Office of Children and Family Services - LGBTQ Resources
LGBTQ Travel in New York State
A Practitioner's Resource Guide: Helping Families to Support Their LGBT Children
Please visit our website for more information and to stay on top of all our news! If you have any questions, please contact Emily Olson, Chair of the SUNY Oneonta PRISM Conference Committee, at Emily.Olson@oneonta.edu.