Grant Funding
History students are encouraged to apply to the Student Grant Program for Research and Creative Activity (funded by the college at foundation and Alumni Association and administered by the College Senate Committee on Research and the Grants Development Office.
Overview
This program aims to encourage and support student research and creative activity at SUNY Oneonta. The College Senate Committee on Research awards grants for independent research and creative activity projects conducted by students with faculty sponsorship in any discipline or interdisciplinary area.
Who can apply
Students with faculty sponsorship in any discipline or interdisciplinary area are encouraged to apply (although the program's priority is to fund undergraduate applicants, graduate students may apply).
The proposed projects should represent truly collaborative student-faculty efforts. Students are responsible for writing the proposal, carrying out the project, and presenting the project at Student Research & Creative Activity Day.
Faculty sponsors are expected to be continuously involved in planning the project, assisting with its progress, and assuring its completion within the specified time frame. Students are encouraged to work closely with their faculty sponsor.
Curricular, instructional or educational program development is not considered as meeting the primary purpose of this program. Projects that are required as part of a regular course's curriculum are not eligible (independent study work is eligible). Projects must represent independent student research or creative activity.
The Student Grant Program is competitive; awards are made once per semester.
More information
Download an application and get more information on the application process and deadlines here.
Contact Dr. Mette Harder for more information
Research Assistantships
HIST 396 Research Assistant for History (1-3 S.H.)
A number of history majors at the SUNY Oneonta serve as Research Assistants. Students have the opportunity to enroll in HIST 396: Research Assistant for History (3 s.h.), which allows them to receive course credit for working one-on-one or in a group with a faculty member on a major research project. Students actively participate in the process of historical research and writing. Activities may include the following: the collection, organization, and analysis of historical data; the collection and organization of bibliographic material; the organization of research material; and the critical reading and discussion of manuscripts. May be repeated for a total of 6 s.h. If P/F grade mode is selected credits can not count toward the major.

Prerequisites: HIST major and 9 s.h. upper division history coursework.
AHIS 396 Research Assistant: New York History: A Quarterly Journal (3 s.h.)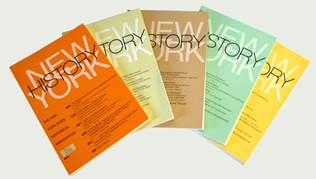 Recently, SUNY Oneonta expanded its long-standing partnership with the New York State Historical Association (Cooperstown, NY). Founded in 1899, NYSHA is one of the oldest institutions devoted to the study of New York State's history. As a result of this partnership, members of the Department of History (Dr. Thomas D. Beal, Dr. Danny Noorlander, Dr. Susan Goodier and Dr. William Walker of the Cooperstown Graduate Program) serve as editors for New York History: A Quarterly Journal.
New York History is the only publication of its kind devoted to the history of New York state. SUNY Oneonta's partnership with NYSHA is unique; no other SUNY college has a history department that sponsors such a well-known and highly respected journal. Most importantly, serving as co-sponsors of the journal positions the Department of History as a center for the research, study, and publication of works on New York state history. The partnership between the New York State Historical Association and the Department of History provides exciting opportunities for history majors.
The Research Assistant for New York History course offers students a hands-on experiential learning, opportunity. Working under the supervision of the editors of New York History: A Quarterly Journal (a peer-reviewed, scholarly journal), research assistants actively engage in academic publishing. Those selected to serve as research assistants participate in the journal's day-to-day activities and participate in editing workshops organized by the editors. In addition, the course provides research assistants the opportunity to integrate and apply knowledge, obtained in the classroom, by working with the New York State Historical Association. Experiential learning activities include the following: copy editing, proofreading, fact-checking, scholarly research, bibliographic research, and the critical reading and discussion of scholarly essays. Working as a research assistant in such an environment can be excellent preparation for a career in editing, journalism as well as graduate work in history or a related discipline.
Up to five students work as research assistants each semester for New York History. The assistantship may be repeated for a total of 6 s.h. Approval of the advisor and department is required. Prerequisites: 6 s.h. in history coursework.
Please contact Dr. Danny Noorlander or Dr. Susan Goodier to learn more about serving as a Research Assistantship for New York History.